New data from Sensor Tower revealed that China-based mobile apps now dominate retail app downloads and usage in the United States.
According to the State of Retail In The U.S. report, Chinese mobile apps generated 54% of all downloads for the top retail apps in the U.S. in the first quarter of 2023. E-commerce company Temu's mobile app became the most downloaded retail app of the quarter, and was followed by two other Chinese apps: SHEIN and Alibaba, respectively.
Sensor Tower said that Alibaba rose up to the top ten for the first time in the fourth quarter of 2022, and maintained its position during the first three months of this year.
---
Also Read: 4 of the 5 most downloaded apps in the U.S. are from China -Apptopia
---
Meta lures retail apps' digital ad spending
The report found that there is a notable correlation between digital ad spending on Meta-owned Facebook and Instagram and total downloads of retail beauty apps like Ulta and Sephora for each month between Q1 2022 and April 2023. However, there were also considerably weaker connections between the total downloads and ad spending on other platforms, which Sensor Tower suggests could be an indication of a ''greater return on investment for the Facebook and Instagram channels.''
''This may be reflected in the shift in the share of spending from Display and Video to Facebook for both Ulta and Sephora,'' the company said. ''Somewhat unexpectedly, there was no increase in share of ad spend on Instagram, which may represent an opportunity for competitors as they look to allocate their ad budget this year.''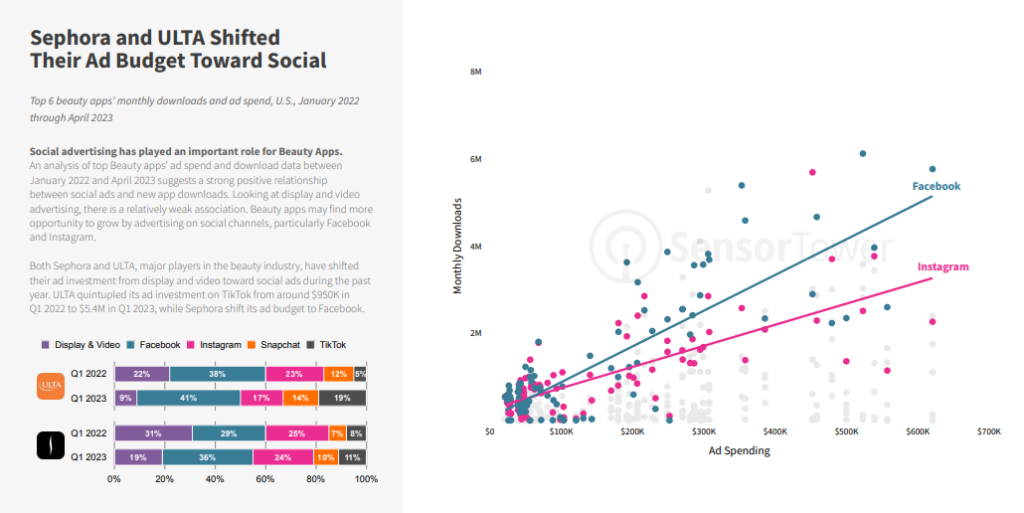 Retail media networks now attract more dollars
The report also suggests that the digital advertising landscape is undergoing a significant transformation as retail giants like Amazon, Walmart and Target continue to focus on how to better utilize their own platforms used by billions to help advertisers more precisely target ad campaigns through their retail media networks.
Ad impressions on Walmart's retail media network, for example, increased from 253 million in the first quarter of 2022 to 2.3 billion in the last quarter of the year, Sensor Tower said.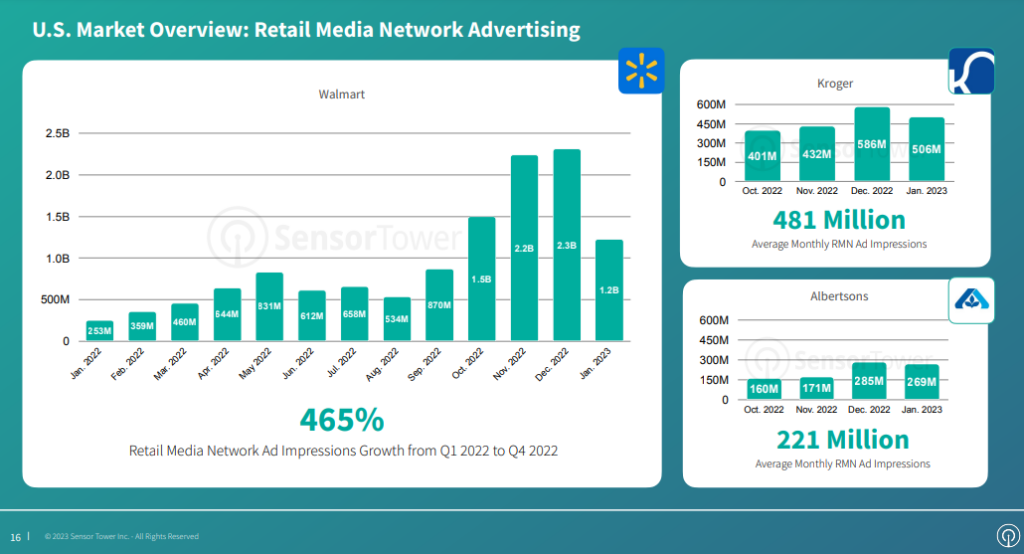 According to another report from Comscore, online retail spending in the United States surpassed $1 trillion for the first time in 2022, boosted by the prevalence of mobile apps.