Retailers in the United States spent nearly $2.7 billion in ad campaigns in the first half of 2022, 6.5% higher than $2.5 billion spent in H1 2021. That's according to new data from Pathmatics, which was acquired by Sensor Tower in May last year. 
Retail ad spending in the US grew 22% Y/Y in the fourth quarter of 2021 hitting a new quarterly high of $1.8 billion, largely thanks to the shopping holiday season. While the spending saw a relatively less noticeable growth in the first half of 2022, this could be a signal of advertisers allocating their budgets to the upcoming holiday shopping season that will take place at the end of the year.
Per report, Office Supplies & Consumer Electronics (OSCE) retailers allocated the majority of their ad budgets to Black Friday and Cyber Monday in 2020, rather than the Christmas season due to the pandemic-related travel restrictions. However, the spending on Christmas-themed ads rose 186% Y/Y to $11.5 million in 2021, while Black Friday and Cyber Monday-themed ad spending decreased 61%.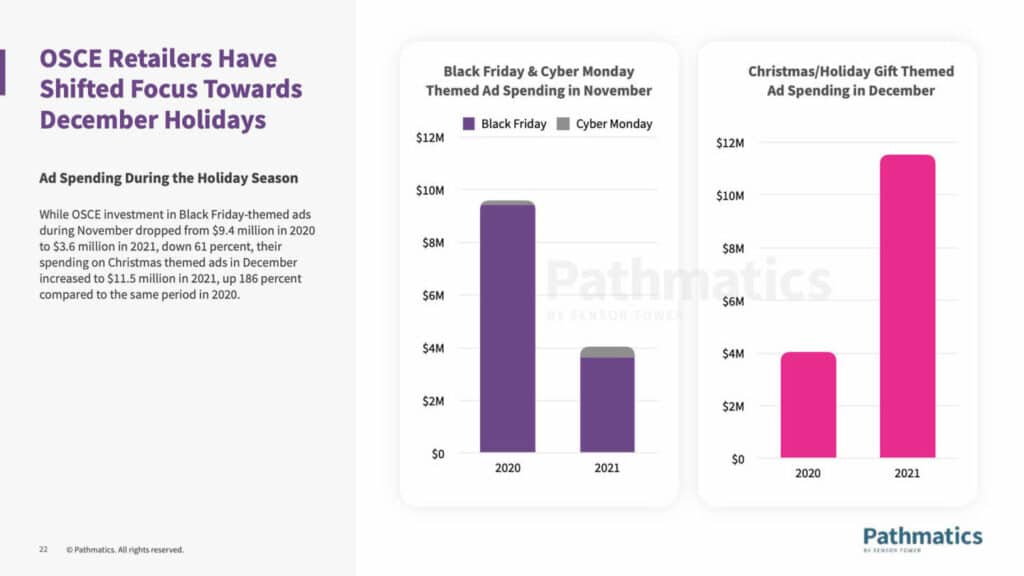 According to another recently-released report from Sensor Tower, almost all mobile game categories saw a decline in revenue in the first half of 2022.