Despite the economic slowdown, U.S. digital advertising spending hit $23 billion in the third quarter of 2022, with a growth of over %5 from the previous quarter. That's according to new data from Sensor Tower.
While Facebook drove the majority of ad spending in the United States in Q3, ByteDance-owned short video app TikTok saw the highest quarter-over-quarter growth with 29%.
---
Also Read: TikTok users are 51% more likely to discover products from ads – TikTok report
---
Retail giant Amazon, which became the top advertiser on Facebook for the fourth time and on Instagram for the third time in a row, also continued to be the leader on TikTok where it was followed by Google and Disney respectively. The top 10 list also includes Hulu, Samsung, DoorDash, HBO, Apple, Yum! Brands and P&G.
Per report, both Disney and Hulu spent more money on TikTok ads particularly in the second and third quarter of the year. While Disney grew its TikTok ad budget by 496% between Q1-Q3, Hulu's budget increased by 567%.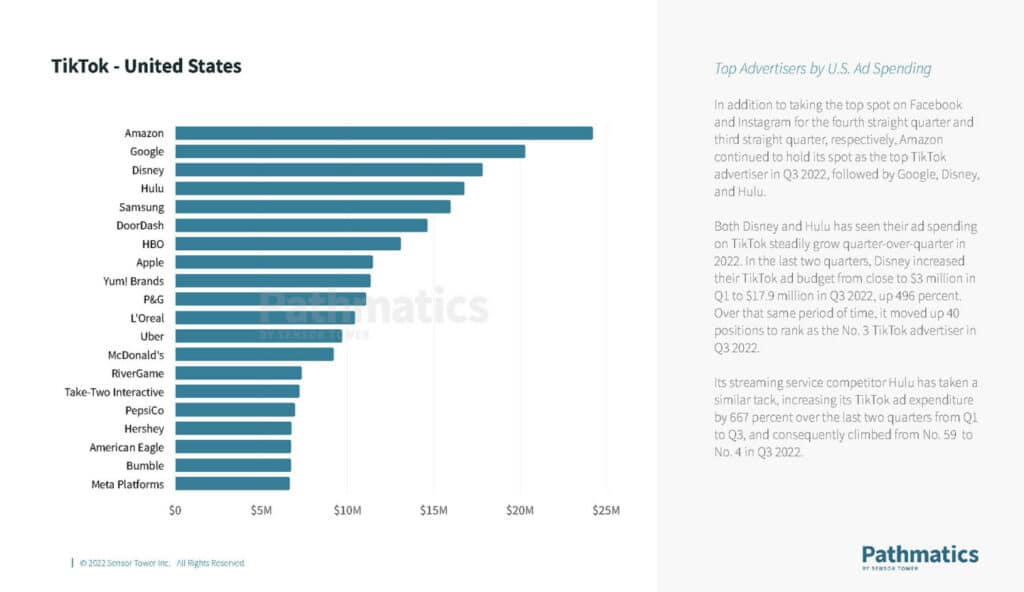 Streaming platforms now spend more money on social ads
According to Sensor Tower, top streaming platforms such as Disney, Netflix and HBO Max have shifted their focus from Display & Video ads to social platforms including Facebook, Instagram, Twitter, Snapchat and TikTok, particularly in the last two quarters.
HBO Max, for example, spent 12% of its ad budget on Display and Video ads in the first quarter, which later dropped to 7% in Q3. At the same time, it increased its Facebook spending by 6 points and Instagram spending by 5 points.
When it comes to Disney, it allocated 41% of its budget to Display and Video ads in Q1, but it decreased to 15% in Q2 and remained stable in the next quarter. Its TikTok spending grew from 3% to 11%, and Facebook spending increased from 15% to 22%.
Meanwhile, Netflix already spent more of its budget on TikTok ads in the first quarter when compared to the other two, but still grew its proportion from 16% to 22%. Its Facebook spending also increased from 17% to 24% and Snapchat spending doubled to 8%, but Display and Video ad spending decreased from 20% to 15% and Instagram spending dropped from 47% to 27%.