In the fourth quarter of 2022, digital ad spending in the United States reached $25.6 billion and advertisers generated 2.7 trillion ad impressions, both up 13.7% and 8.6% from Q3 2022 figures. That's according to new data from Pathmatics by Sensor Tower.
Per report, social media channels, including Facebook, Instagram, Twitter, TikTok and Snapchat, drove 63% of the total U.S. ad spending last quarter. While Display & Video accounted for 22%, OTT drove the remaining 15%.
---
Also Read: US advertisers spent $3.3B on OTT ads per quarter since Q4 2021
---
Popular short-form video app TikTok, which was the most downloaded non-gaming app last year according to another Sensor Tower report, also saw the highest growth with spending on its ads increased by 62% Q/Q to $2.1 billion in the last quarter of 2022.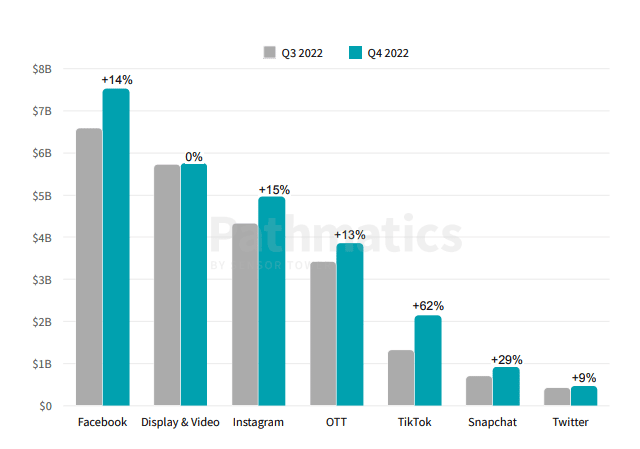 Facebook, on the other hand, saw over $7.5 billion in ad spend, up 14% Q/Q. While Display & Video ad spend remained stable, spending on Instagram, OTT, Snapchat and Twitter ads grew by 15%, 13%, 29% and 9% respectively.
---
Also Read: Ad spending on Twitter was down 71% in December
---
The report also revealed the top U.S. advertisers that spent the most dollars on digital ads last quarter. For the seventh time, Amazon was the top No.1 advertiser spending nearly $500 million, followed by P&G, Walmart, PepsiCo and Disney respectively.