Online non-travel retail spending reached $1.09 trillion in the United States last year, surpassing the 1 trillion milestone for the first time ever, according to new data from media measurement and analytics company Comscore. (via Forbes)
While the annual spending increased by 18% year-over-year, Q4 spending also broke the quarterly record by hitting $332.2 billion, up from $260.9 billion in the previous quarter.
According to the report, the increase was largely driven by mobile's 26% year-over-year growth. While mobile retail commerce spending in the U.S. totaled $101.1 billion in 2021, it reached $127.5 billion last year, accounting for 38% of the annual spending.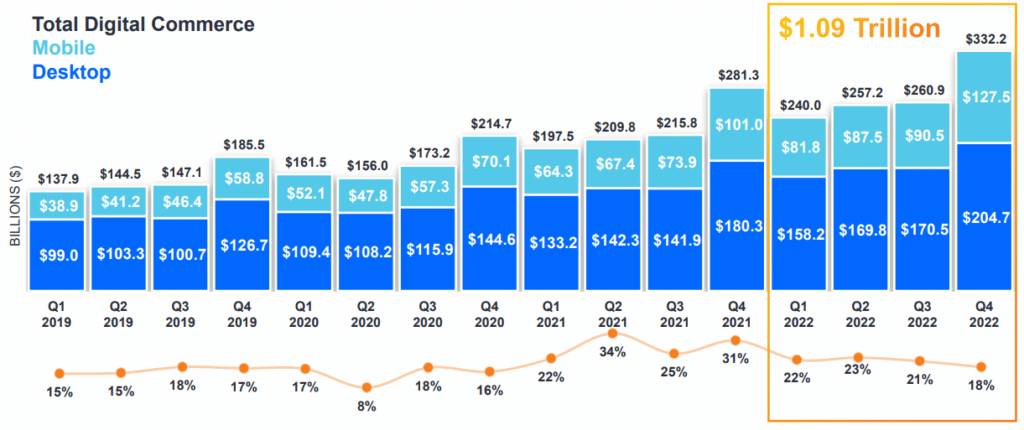 Meanwhile, Grocery / Baby / Pet were the top grossing digital commerce categories generating $219 billion in 2022, followed by Apparel & Accessories ($175B), Computers & Peripherals ($117B), Consumer Electronics ($85B), and Furniture & Appliances ($76B) respectively.
Event Tickets category, on the other hand, was the top growing one with a 75% Y/Y growth, followed by Digital Content (+60%), Apparel & Accessories (+37%), Video Games & Accessories (+31%), and Home & Garden (+25%).
The report also revealed that social commerce maintained its upward trend in the United States last year. While Instagram users' engagement with posts sponsored by U.S. retailers and CPG (consumer packaged goods) brands rose by 175% Q/Q to 149M in Q4, Facebook users took 27.2M actions, up 153% from the previous quarter.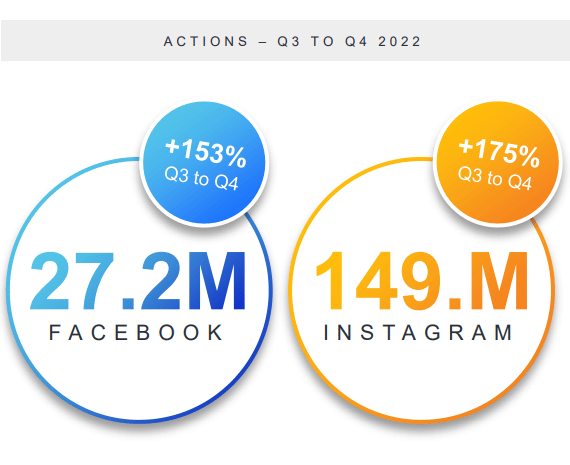 Users of TikTok, which was the most downloaded non-gaming app worldwide last year, showed 207 million engagements with posts highlighting consumer goods, and 155 million with those promoting retailers, both up 33% and 150% from 2020 respectively.
TikTok views of U.S. retailers and CPG brands also grew last year, increasing by 407% from 2.4 billion in 2020 to 12.1 billion.
Meanwhile, 86% of TikTok users who visited the popular short video app in December 2022 also visited Amazon, Comscore said.