After a 12-month period when one million British households cancelled streaming subscriptions, video streaming market in the United Kingdom started to bounce back in the fourth quarter of 2022, according to a new report from data analytics company Kantar. (via Reuters)
Per report, the number of British households that had a minimum of one paid-for subscription increased by 55,000 Q/Q to 16.24 million during the last quarter, accounting for 56% of all households in the country. At the same time, 5% of households purchased a new subscription.
The growth was largely driven by Amazon's Prime Video service, which drove 47.4% of all the new SVOD (subscription video on-demand) subscriptions in Q4. It was followed by Disney+ (11.7%), Apple TV+ (7.7%), Paramount+ (7.6%), Netflix (7.5%), NOW (3.3%), BritBox (1.2%) and Discovery+ (2.1%) respectively.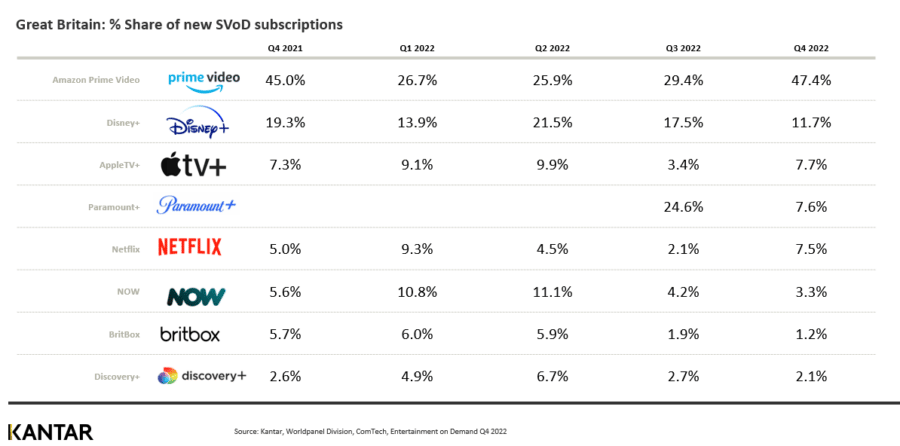 "Prime Video had a strong final quarter of the year, with an increasing number of households taking out Prime memberships and using the Prime delivery service in the run-up to the Christmas holidays," said Dominic Sunnebo, Global Insight Director at Kantar, Worldpanel Division.
However, the report also suggests that the rebound in the U.K. video streaming market may only last a short while, since the number of customers in the country who are considering cancelling a subscription or two also rose from 9.6% in Q3 to 12% in the last quarter, likely as a result of those who only subscribe to services during the holiday season.