The top 100 shopping apps on U.S. app stores including SHEIN have collectively seen at least 100 million downloads each quarter since the fourth quarter of 2019. That's according to Sensor Tower's new State of Shopping Apps report.
Per study, shopping app installs in the country peaked at 140 million in Q2 2020, and the second best performing quarter was Q1 2021 with 125 million.
While app adoption returned to normal levels in 2021 as many countries lifted restrictions, it rose again in the fourth quarter of that year thanks to the holiday season.
In Q3 2022, on the other hand, downloads increased by only 3%. But it's still more than the downloads shopping apps saw during the previous third quarters since 2019.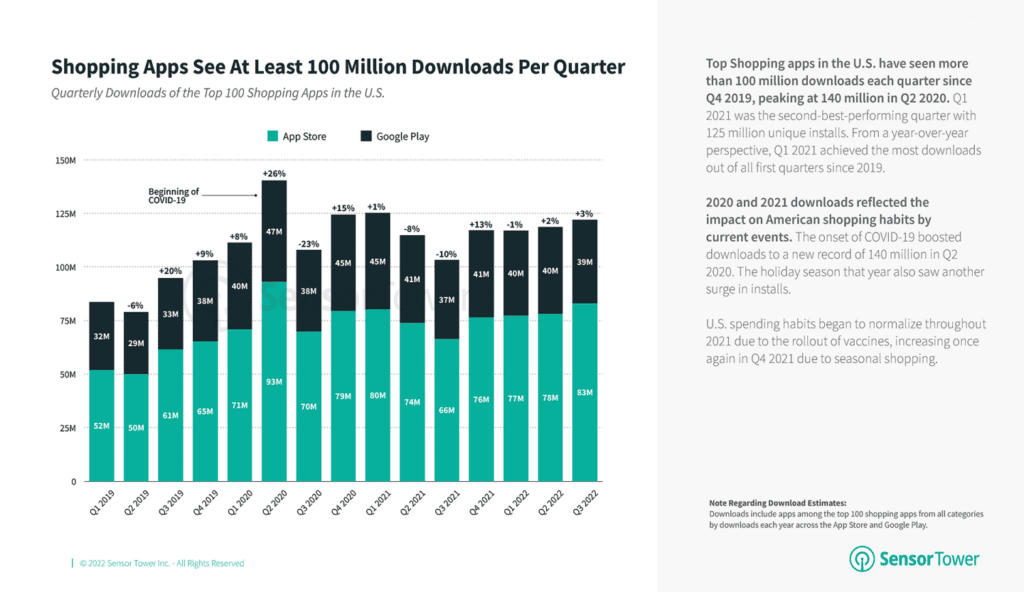 Black Friday boosts shopping app adoption
As in previous years, Black Friday led to a significant surge in shopping app installs in 2022.
During the Black Friday weekend, shopping apps garnered 9 million new downloads in the US alone. App adoption reached new heights and grew by 9% compared to two years ago.
Of course it wasn't just Black Friday that boosted downloads, but the exclusive discounts and products that shopping apps offered during the holiday.
Sneaker app GOAT, for instance, organizes raffles on social media offering users a chance to get a pair of sneakers for free, which helped it see a 6% growth in installs during last year's Black Friday.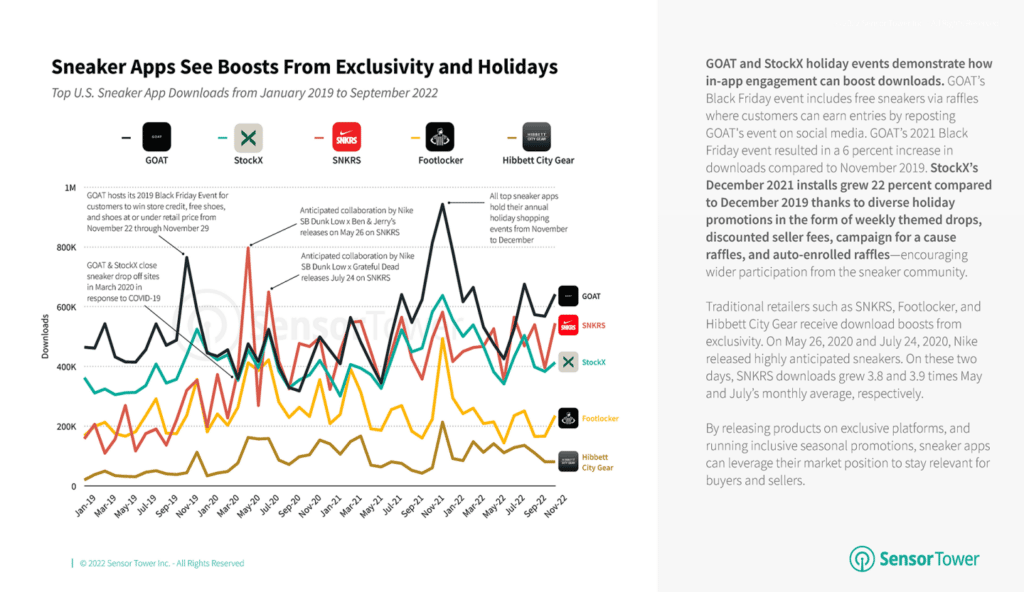 Other sneaker apps like Nike's SNKRS, StockX, Footlocker and Hibbett City Gear have also come up with similar exclusive deals that raised their downloads significantly.
---
Also Read: Nike's mobile apps drive 50% of its total digital demand
---
Discounts lure Americans to grocery apps amidst inflation
Usage of grocery apps in the United States peaked during the pandemic due to restrictions. After returning to normal levels for a while, it started to go up again simultaneously with the rising inflation.
Amidst the economic uncertainty, consumers in the U.S. turned to grocery apps like Kroger and Safeway that offer special discounts and rewards, according to Sensor Tower.