Customer spending in mobile apps across Google Play and the App Store worldwide is expected to reach $270 billion by 2025, up 2.5x as compared to 2020, per Sensor Tower Mobile Market Forecast report.
Due to COVID-19, global app spending in 2020 jumped to $111 billion with a 30% year-over-year increase. It's expected that consumer spending will return to pre-pandemic levels in the upcoming 5 years but the report foresees that Google Play and the App Store will continue to increase to $270 billion by 2025 with a CAGR of 19.5% each year.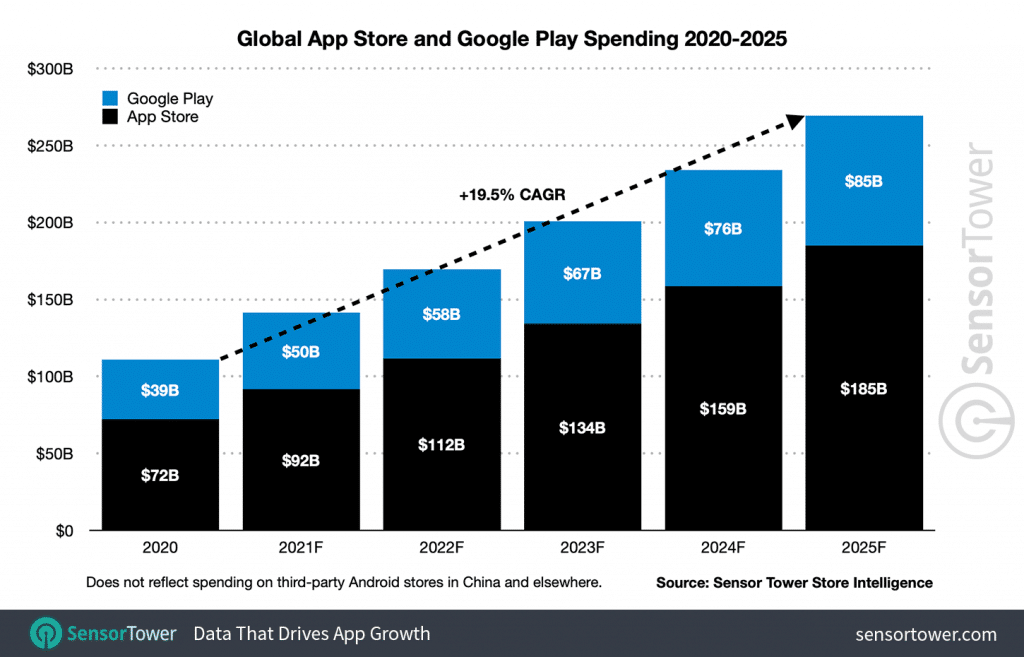 The App Store will account for $185 billion at an annual growth rate of 20.7%, while Google Play will reach $85 billion with 16.9 percent annual growth over the next five years.
By 2024, user spending in non-games will surpass that of games on Apple's App Store. Non- game app growth will also outpace that from games on Google Play. Across both stores, 49 percent of revenue will be from non-games by 2025.
European mobile app spending reached approximately $14.8 billion across both Google Play and the App Store in 2020, 31% up from 2019. While global mobile app spending reached $111 billion in 2020 with a 30% Y/Y growth, European countries saw nearly the same growth rate as it became the center of the pandemic in 2020.
The report forecasts that European countries will reach $42 billion by 2025.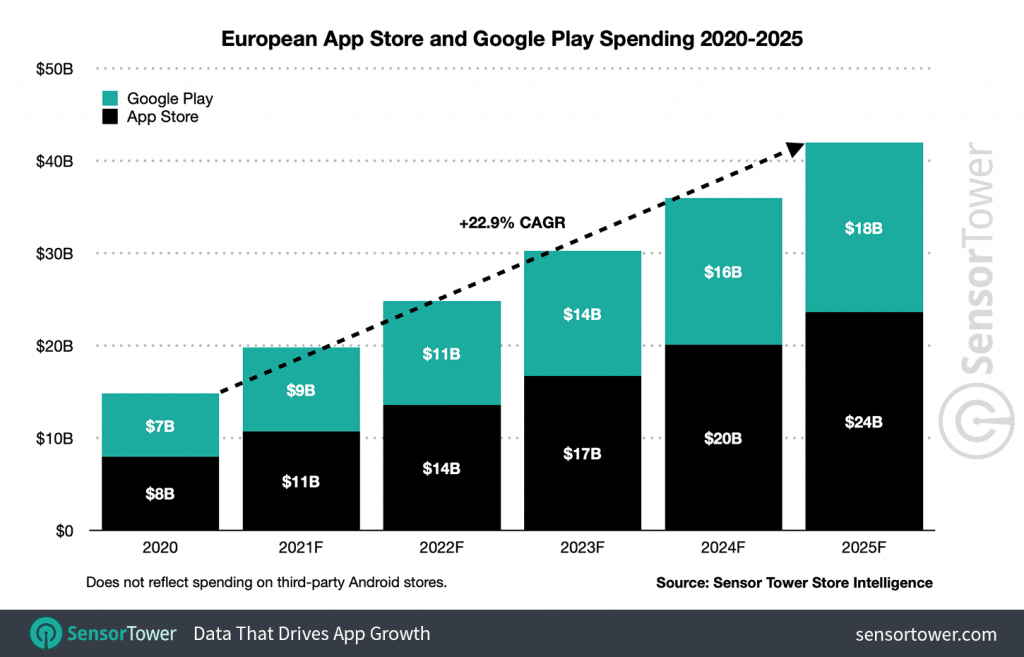 The UK will continue to lead the region in App Store and Google Play spending, with an increase of 181% from $ 2.9 billion in 2020 to $ 8.1 billion in 2025. According to consumer spending, the Netherlands will see the highest growth among the top 10 European countries, rising from $ 495 million to $ 1.5 billion, with an increase of 210 percent.
Global mobile app downloads to reach 230 billion by 2025
When it comes to app downloads, first-time installs grew the most in 2020 at least since 2016, with a 24% increase year-over-year to 143 billion.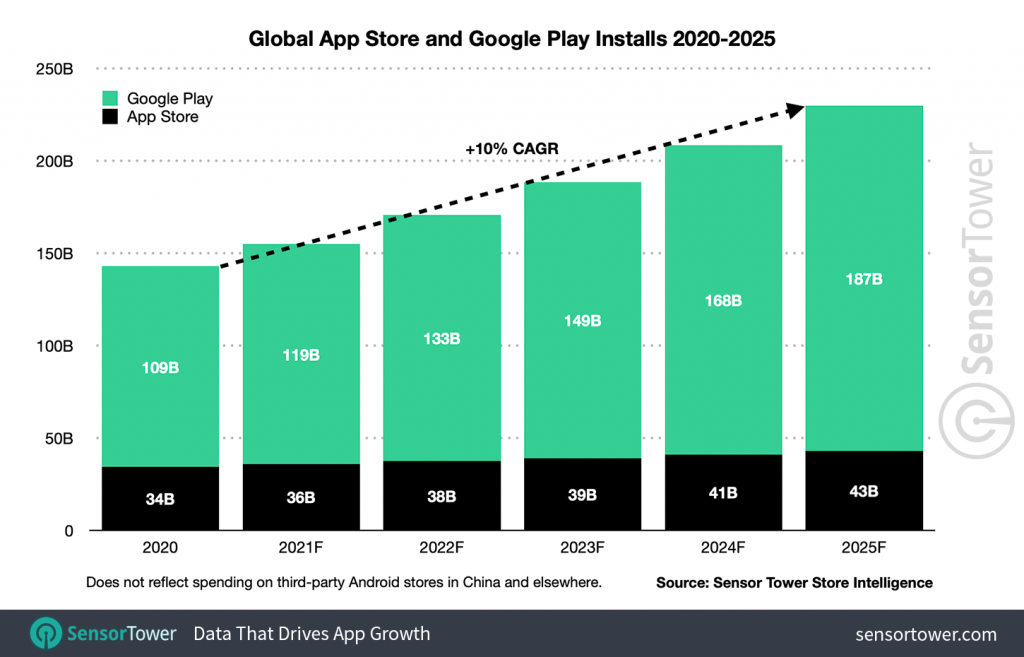 Global app installs are projected to grow 10% CAGR, seeing 230 billion in 2025. Google Play will grow by 11.5 percent to 187 billion, surpassing the combined CAGR, while the App Store will experience a CAGR of 4.6 percent and reach 43 billion.
Back in December, China removed TripAdvisor and 104 other apps from app stores. As government regulation has had an impact on the country's app downloads, revenue growth has remained strong. China's user spend on the App Store is expected to approach $55 billion by 2025, a CAGR of 22%.
India will continue to be the dominant market for app downloads, with an estimated 18% CAGR to reach 60 billion downloads on the App Store and Google Play. This is far ahead of the next two countries, the USA and Brazil, with 17 billion and 16 billion respectively.
The U.S. will remain a top market on both platforms, with a projected revenue CAGR of 20% on the App Store and 14% on Google Play. It will continue to be a top market on the App Store in particular, with app adoption growing at a CAGR of 7% on that platform. Between 2020 and 2025, the App Store's share of U.S. downloads will climb from 59% to 63%, with Google Play's share dropping from 41 percent to 37 percent.