Tencent's popular free-to-play battle royale title PUBG Mobile has surpassed $5.1 billion in lifetime player spending as it accumulated $2.7 billion in 2020 alone, according to Sensor Tower.
Last week, Tencent announced that PUBG Mobile has exceeded 1 billion downloads worldwide. The popular title falls behind only two games in terms of download – the first place is Kiloo Games' Subway Surfers, while the second is King Digital Entertainment's Candy Crush Saga.
PUBG Mobile accumulated an average of approximately $704 million in player spending per quarter between Q1 and Q3 2020. In Q4, the title still generated an impressive $555 million, but Q1 2021 looks to be its most lucrative quarter yet, with player spending already hitting $709 million. Overall in 2020, PUBG Mobile generated an average of $7.4 million in spending per day.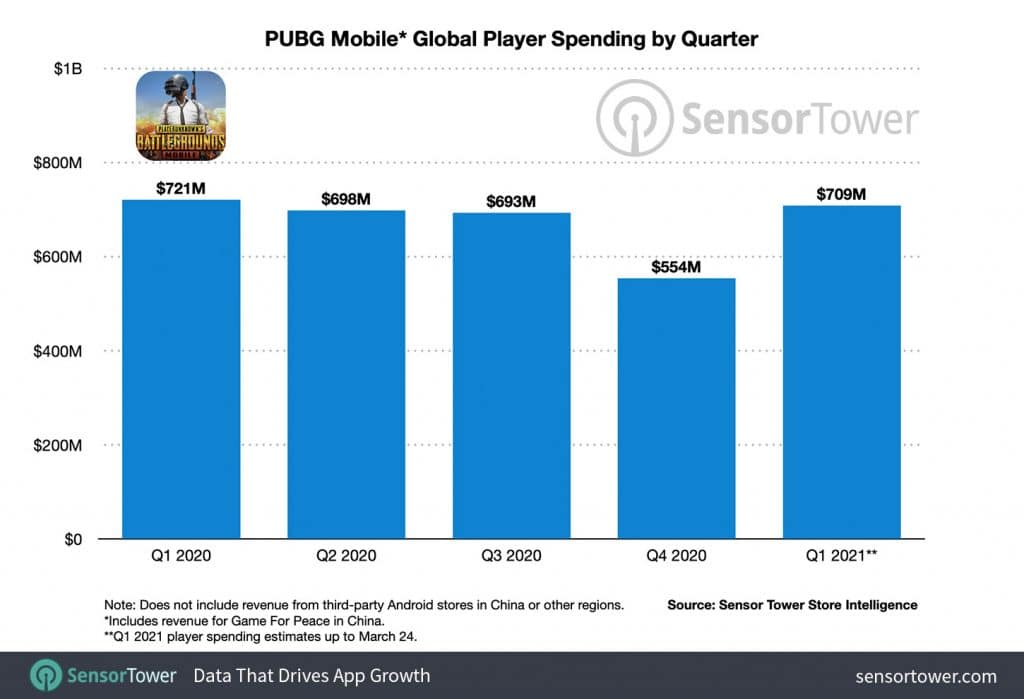 During the pandemic period as the interest in mobile games increased, PUBG Mobile became the most popular game in China, with the Chinese localization of the title Game For Peace. $2.8 billion of the total 5.1 billion dollars income on iOS came from China. China accumulated 55.4% of the earnings, while the USA ranks second with 12.7%, followed by Japan with 4.8%.
The App Store accumulated PUBG Mobile's share of player spending, accounting for 81.6% of total revenue, while Google Play accounts for 18.4% of spend. Outside of China, however, the App Store accounts for 58.6 percent of revenue, with Google Play representing 41.4 percent.