The number of mobile gamers worldwide has skyrocketed during the pandemic, bringing the gaming industry to a whole new level. As a result, mobile game revenue has also reached its peak bringing more developers to the $1 billion club.
According to eMarketer, there were only 6 mobile games that generated $1 billion or more in global revenue in 2016. However, this number has increased over ten times since then and reached 64 as of the first half of 2021.
Furthermore, there are now 8 mobile games that surpassed $5 billion in lifetime revenue, including PUBG Mobile and Pokémon GO.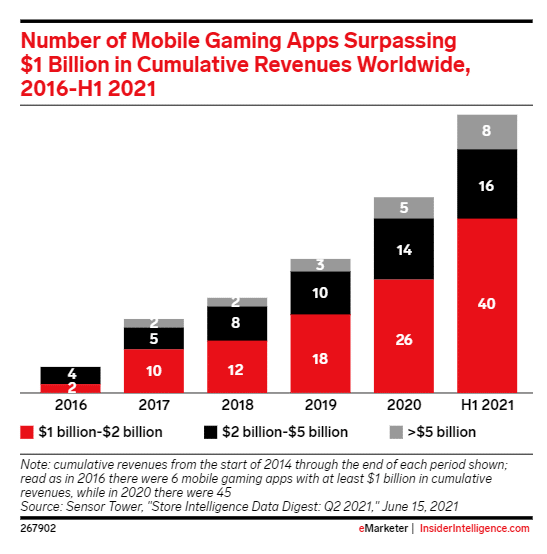 It's a well-known fact that the pandemic has led millions of people around the world to begin playing mobile games to spend their time at home during the lockdowns. According to Fluent, 81% of Americans started playing mobile games while in quarantine.
This upward trend that started last year also continues in 2021. According to App Annie, more than 1 billion games were downloaded across Apple's App Store and Google's Play Store every week in Q1 2021.
While many countries have now lifted restrictions and many people have returned to their social lives, mobile games are expected to generate $90.7 billion in 2021. That's still up 4.4% year-over-year from 2020.
Although the ongoing pandemic has been a great booster for mobile game downloads and revenue, there are also some other factors that contributed greatly to this growth.
These factors include better user experience, increase in Casual titles, diversification in Casino games, growing presence of female players and more.
---
Read more: How did mobile gaming become a $76 billion industry?
---
Check out our mobile marketing news for more analyses like this.