Influencer marketing spending in the United States is expected to increase by over 30% to $3 billion in 2021 and surpass the $4 billion milestone in 2022, according to eMarketer.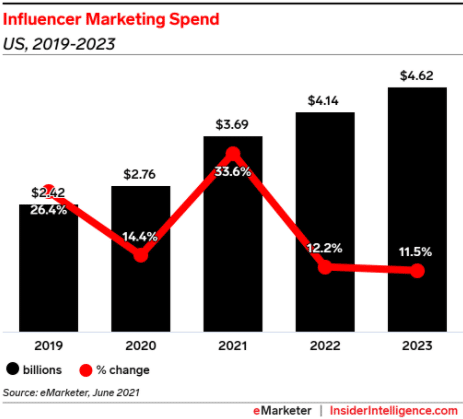 There was a downward trend in the growth in the spending last year when the category saw a 14.4% increase and generated $2.74 billion, mainly due to the breakout of the coronavirus pandemic because of which many marketers had to reduce their budgets. 
"In the early part of the pandemic, many marketers temporarily paused their influencer marketing campaigns," said Jasmine Enberg, senior analyst at eMarketer's Insider Intelligence. "But as the pandemic also accelerated many new creator-driven social trends, including short video and social commerce, marketers quickly resumed and are now increasing their spending on influencer marketing, as they realize that influencers are their ticket to reach those audiences."
As many countries have now eased their restrictions, eMarketer expects that US spending in influencer marketing will grow 33.6% to $3.69 billion by the end of this year.
"Travel restrictions and social distancing measures disproportionately affected travel influencers, and many had to pivot their strategies to collaborate with brands in new categories, like finance and CPG," Enberg said. "Continued improvements in branded content tools from the social platforms, combined with influencers' increasing role in lower-funnel marketing goals, will help drive more money into the influencer marketing space over the next few years."
The company also estimates that Instagram is currently the number one social media platform accounting for more than half of the total influencer marketing spending in the US. 
While YouTube and Facebook are also observing a significant growth in spending, TikTok is growing rapidly too, according to eMarketer. 
Meanwhile, the company also forecasts that social network ad spending in the United States will surpass $58.66 billion this year.
In addition, its previous reports estimates that US mobile payment app users will surpass 100 million in 2021 and global mobile ad spending will reach $156.38 billion by 2023.