According to App Annie's new report, metaverse mobile games are poised to see over $3.1 billion in annual consumer spending in 2022.
In 2022, world-building functionalities that allow users to interact in real-time through their virtual avatars will captivate audiences and capture share of wallet, the report says.
Smartphones give users the ability to participate in a metaverse from their fingertips, cementing mobile's role as a linchpin form factor for this sector of gaming. Popular metaverse games like ROBLOX and Minecraft top the download and customer spending charts in their categories across both the App Store and Google Play globally in 2021 to date.
The report also predicts that play-to-earn models — games that allow players to monetize in an open economy — combined with metaverses which emphasize players' self-expression will be the biggest drivers of mobile gaming innovation in 2022.
App Annie also forecasts that 'billion downloads club' set to expand from 20 apps to 22 apps in 2022 with the addition of Pinterest and Temple Run 2. Pinterest is expected to reach the 1 billion global download mark before the end of 2021 amidst rapid growth in emerging markets like LATAM and Brazil. Temple Run 2 is expected to join Candy Crush Saga and Subway Surfers as the only games to reach more than 1 billion lifetime installs.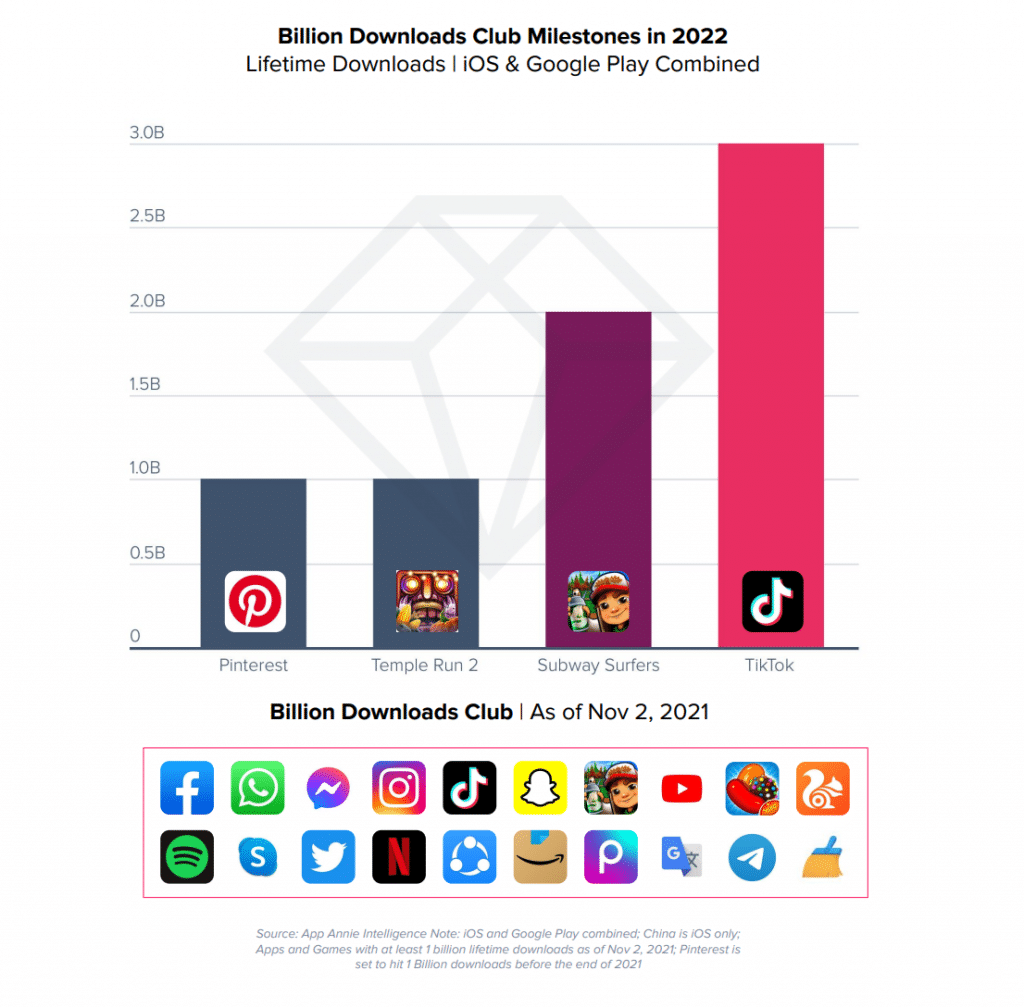 TikTok is poised to break two additional records in 2022: surpassing 3 billion global downloads and $3 billion in global consumer spend across iOS and Google Play, driven by in-app purchases benefiting live streamers in the creator economy.
It seems that 2022 will be a year when social apps such as TikTok, Discord, and Twitch are expected to grow aggressively. According to the report, social apps are forecasted to grow to a $9 billion market in mobile in 2022, up 82% as compared to 2020.
Entertainment and finance apps are also expected to see rapid growth thanks to Gen Z's increasing adoption and surge in in-app subscriptions.