As more than 50% of people in the United States have now received at least one dose of the Coronavirus vaccine and life is slowly getting back to normal, travel app downloads in the country increased by 123% year-over-year and surpassed 24.7 million in May, according to Sensor Tower.
US travel app installs to hit 124.7 million in H1 2021
In the first half of 2021, travel app installs in the United States are expected to surpass 124.7 million. That's up 35% year-over-year from 92.6 million generated in H1 2020.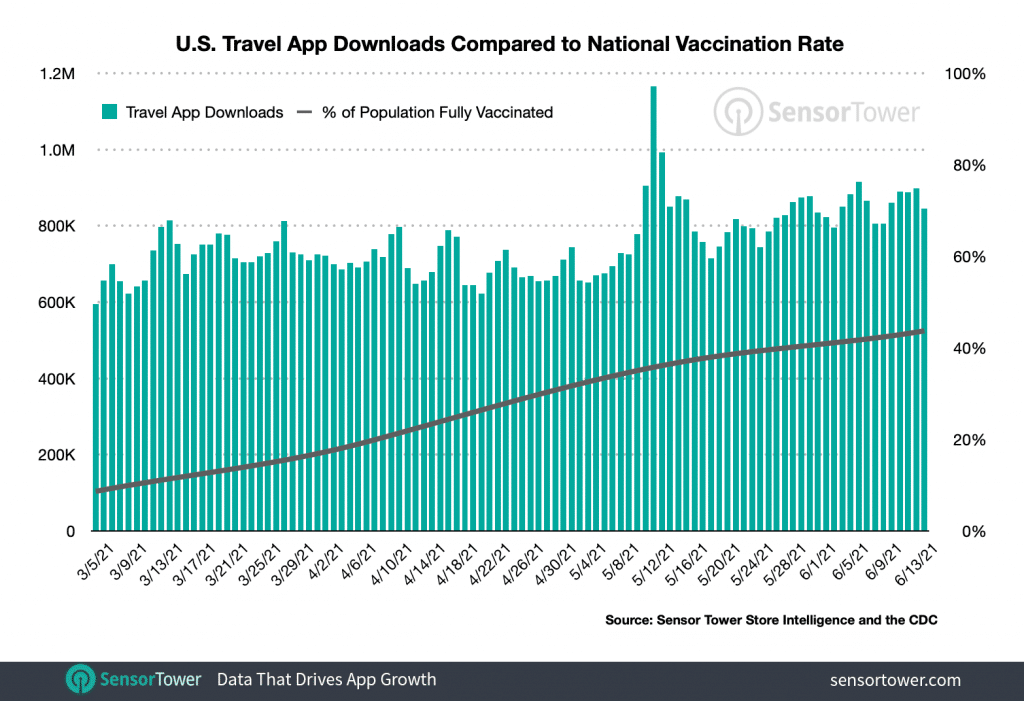 Airline app installs up 311% Y/Y in May
While the Travel category saw a quick rebound, its subcategories are also recovering. Airline apps saw the biggest growth among them with the installs of the top 5 titles in the subcategory, which are American Airlines, Delta, Southwest, United and Spirit, generating a total of 2.6 million installs with a 311% Y/Y increase.
In addition, these five apps are expected to surpass 12.8 million downloads in total in the first half of 2021, up 64% year-over-year.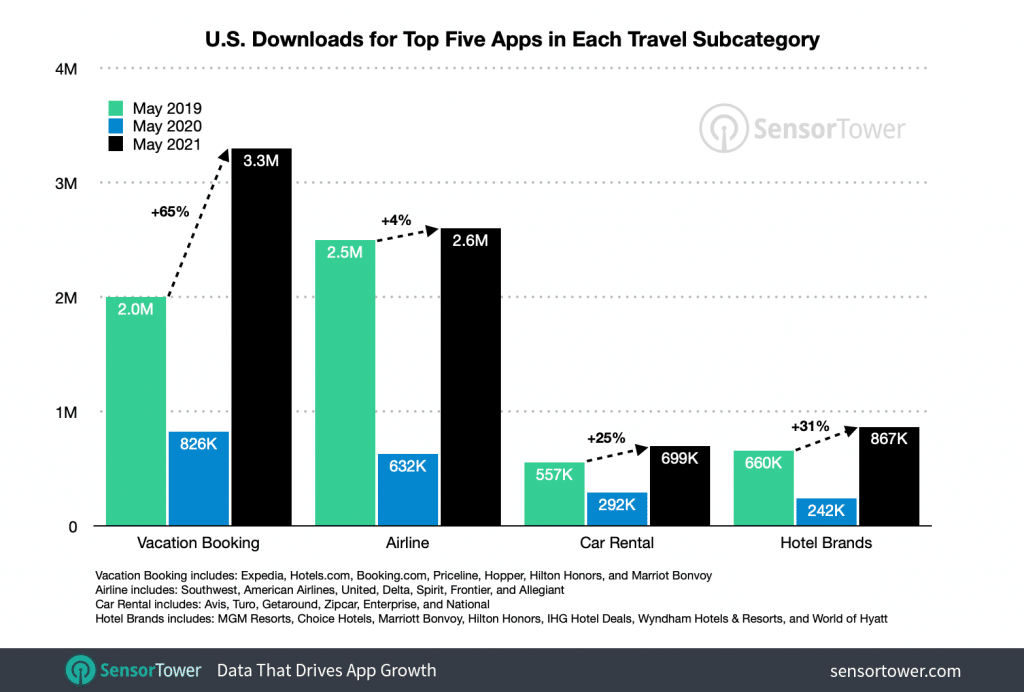 Meanwhile, US downloads of the Top 5 Vacation Booking apps, which are Expedia, Hotels.com, Booking.com, Priceline, and Hopper, increased by 300% and surpassed 3.3 million in May this year. The subcategory saw the biggest growth when compared to 2019. 
Rising demand for top Homestay & Hotel apps
The app market analytics firm also found that Airbnb and Vrbo's US downloads rose 38% and reached 1.8 million in May.
The two apps didn't see any decrease in downloads last year probably as people saw homestays safer than other options.
In addition, they're projected to hit 11.3 million downloads in the first half of 2021.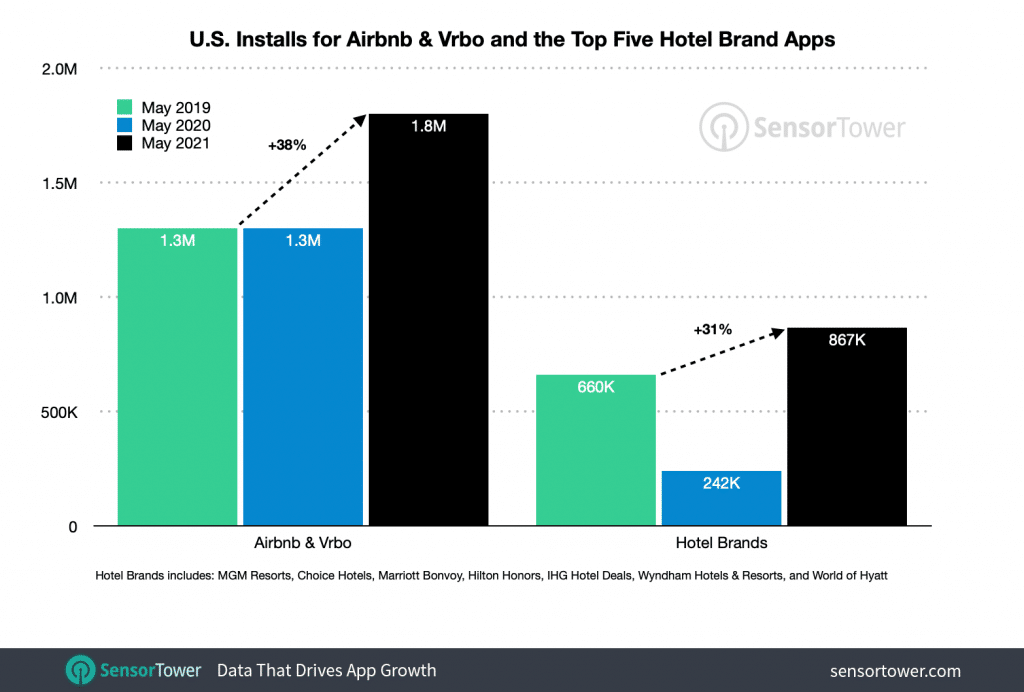 Meanwhile, app downloads of hotel brands were down 63% Y/Y to 242,000 in 2020. However, top apps in the category saw a 258% rise in downloads which reached 867,000 last month. Additionally, they're expected to hit 4.6 million downloads in H1 2021.
Not all countries with high vaccination rates show more interest in travel apps
Although Sensor Tower data reveals that US downloads of travel apps quickly rebounded and that can be attributed to the fast vaccination in the country, not all countries with high vaccination rates show more interest in travel apps compared to the last year. 
For example; among the top 10 countries with the highest vaccination rates, Canada is the No.1 with 65%, according to Our World In Data. However, travel app installs in the country have recovered only 43%. 
Meanwhile, although only 29% of the people living in Argentina have received at least one vaccine dose, downloads of travel apps recovered 80% in the country.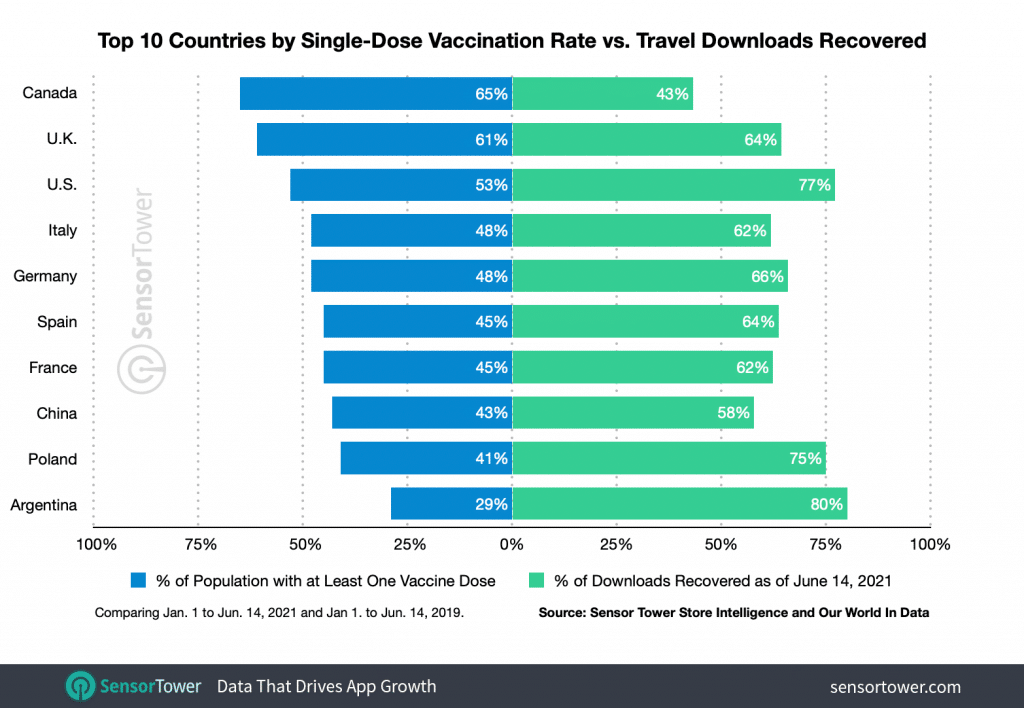 Check out our mobile marketing news for more analyses like this.