Installs of news apps on the App Store increased by 170% on the United States Presidential Inauguration Day as U.S. users turned to mobile apps to follow the latest news, according to the Sensor Tower data.
The data shows that CNN was the highest ranking app among all free iPhone apps available on the App Store, climbing 530 positions to the #41 on the Inauguration Day. On the U.S. app stores, it generated nearly 27,000 new installs on January 20 with a 170% daily increase.
The second highest ranked app of the day was the popular news aggregator app News Break which increased 13 positions to the #65 and generated 62,000 daily installs with a 5% daily growth.
---
Also Read: The 5 Best RSS Feed Reader & News Aggregator Apps
---
News Break was followed by Newsmax which rose 43 positions to the #108 generating 40,000 installs with a 14% daily growth.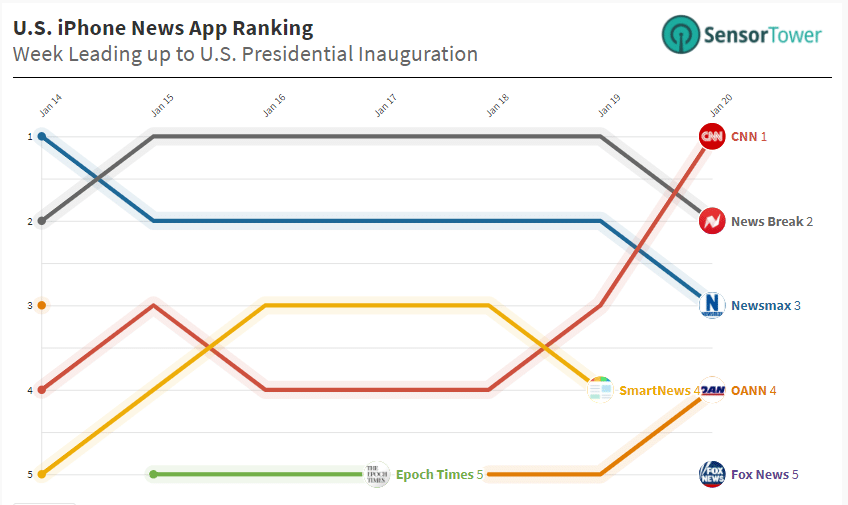 The report also highlights that top news apps also saw an increase in installs on Election Day 2020, Election Day 2016 and Inauguration Day 2017.
Top News Apps In the United States
According to Sensor Tower, News Break was the most downloaded news app in the U.S. in 2020, generating approximately 23.7 million downloads from both Google Play Store and Apple's App Store.
SmartNews was in second place with nearly 9 million installs, followed by CNN at No.3 with 5 million installs and Fox News at No.4 with 4 million installs.
Lastly, News Home ranked #5 generating 3 million installs in 2020.
Similar to 2020, Newsbreak is the most downloaded news app so far in January 2021, with 1.2 million downloads. It's followed by Nesmax at No.3 with 863,000 installs, Opera News at No.3 with 652,000 installs, OANN at No.4 with nearly 407,000 installs and CNN at No.5 with 394,000 installs.
Meanwhile, mobile users in the United States used not only news apps but also social media platforms to keep up with the latest news.
Downloads of Parler, which has been recently banned by Google, Apple and Amazon, saw a surge in installs around Election Day and reached 5 million downloads in the United States during November.
It also surpassed Twitter which generated nearly 2.2 million downloads the same month.
---
Also Read: Twitter Revenue and Usage Statistics
---