UPDATE (14.1.2021): Parler app may never get back online
Parler app which has been banned by the tech giants Apple, Google and Amazon may not return, John Matze, CEO of Parler, said in an interview with Reuters.
"It could be never," he said. "We don't know yet."
Parlar on Monday filed a lawsuit against Amazon's cloud computing division. Matze said that its relationship with Amazon appeared to deteriorate overnight and without much warning, an assessment that Amazon disputes in legal filings.
---
January 11, 2021 – Parler app banned by Apple, Google, and Amazon
Tech giants Apple, Google and Amazon have banned the social media app Parler after the accusations that it was used to promote violence before and during the US Capitol riot and failed to remove posts that promoted violence. 
The first ban came from Google on Friday evening. Here's the official statement shared with TechCrunch:
''In order to protect user safety on Google Play, our longstanding policies require that apps displaying user-generated content have moderation policies and enforcement that removes egregious content like posts that incite violence. All developers agree to these terms and we have reminded Parler of this clear policy in recent months. We're aware of continued posting in the Parler app that seeks to incite ongoing violence in the US. We recognize that there can be reasonable debate about content policies and that it can be difficult for apps to immediately remove all violative content, but for us to distribute an app through Google Play, we do require that apps implement robust moderation for egregious content. In light of this ongoing and urgent public safety threat, we are suspending the app's listings from the Play Store until it addresses these issues.''
Following the Google ban, Apple gave the developer an ultimatum to remove content that promote violence and to provide a full moderation plan within the next 24 hours, as reported by BuzzFeed.
The app was removed from the App Store the next day and Apple said the changes proposed by Parler were insufficient and it won't be back until the company ''effectively moderate and filter the dangerous and harmful content'' on the platform.
"We have always supported diverse points of view being represented on the App Store, but there is no place on our platform for threats of violence and illegal activity," Apple said in a statement provided to me via email. "Parler has not taken adequate measures to address the proliferation of these threats to people's safety. We have suspended Parler from the App Store until they resolve these issues."
As a response, John Matze who is the CEO of Parler accused Apple of being against free speech.
"Apple will be banning Parler until we give up free speech, institute broad and invasive policies like Twitter and Facebook and we become a surveillance platform by pursuing guilt of those who use Parler before innocence," he said. "They claim it is due to violence on the platform. The community disagrees as we hit number 1 on their store today."
Here is the full email Apple sent to Parler: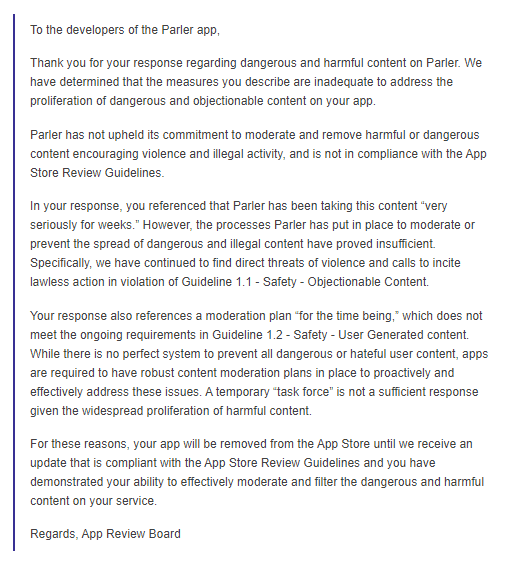 The app gained thousands of new downloads after Twitter banned Donald Trump's account and many conservatives moved to the Parler app. As shared by TechCrunch, Sensor Tower reported that the app saw 210,000 new downloads and jumped to No.1 in the United States on the App Store after Apple issued the ultimatum and before the app was banned.
In addition to Google and Apple, Amazon has also taken measures against the controversial social media app. The company suspended the app from its web-hosting service 'AWS'. The website is gone for now.
On Sunday, Parler Chief Executive John Matze wrote that the platform could be "unavailable on the Internet for up to a week as we rebuild from scratch."
"This was a coordinated attack by the tech giants to kill competition in the marketplace," he added. ''We were too successful too fast.''