When Steve Jobs introduced the first iPhone on January 9, users who had encountered a brand new device that was designed and developed for the first time, probably could not predict how all of their habits would change in time. But now, we all know how smartphones have changed our lives.

With the introduction of smartphones, mobile applications also got in our lives. Now we can do almost everything that we once could do only using our personal computers. This led to a huge increase in app use, and accordingly, a huge competition between app owners in the mobile marketing world.

According to Statista, there are more than 4 million applications in Google Play and Apple App Store. So, if you have an app, we can say that it is quite difficult to increase your app ranking and make it more visible to users in the app markets. You can use the power of ASO to increase your app ranking. But, there are also some other solutions you can get help from to market your application.

Using alternative app stores for app publishing is a very popular choice many app owners prefer to solve this problem. If you don't want to be the little fish in the big sea, you can turn your route to a smaller sea and be the big fish there. This will definitely maximize the success of your app publishing efforts.

In this blog post, we will share with you 4 best alternative app stores, with their pros and cons. Let's start!
Most Popular Alternative App Stores
Let's start with SlideMe. This alternative app store is considered the most popular and largest app market for Android applications. The number of Android apps on SlideMe is over 20 million already.

One of the things that make this alternative app store more popular than most of the other app markets is that you can upload your app to SlideMe for free. But don't forget that it demands 20% of each purchase you receive inside your mobile app.

SlideMe also supports PayPal and Amazon and this makes it very easy to carry our financial transactions.

The major con of this platform is that app developers usually have to wait for their approval process.

Mobile9 is another popular alternative app market for Android applications. It is more like a community where Android device users make comments and share their feedback about the applications on the platform. It has more than 40 million active users and over 200 million installs each month. The number of developers is also very considerable. Mobile9 has more than 30 thousand app developers.

Here is the good news for app developers. It is totally free to publish your app on Mobile9. The platform doesn't demand any money from you. You can share your app with the users on Mobile9 and get their feedback about your app. Using Mobile9, you have the chances to promote your application and optimize it according to the feedback you receive. Don't forget that your application might generate many discussions.

GetJar is considered as one of the largest alternative app markets you can use for your app publishing. While this market is usually used for Android applications, it also accepts iOS apps.

Just like Mobile9, GetJar is also totally free for your app publishing. More than 395 app developers have already used this chance and uploaded more than 350 thousand applications. It is also worth reminding that GetJar has more than 30 million active users.

GetJar offers virtual currency to its users. So, it encourages them to download apps on the platform. They are able to spend these virtual currencies to buy premium apps. They can also use it in the Google Play Store and Amazon.

GetJar also works with a recommendation system. So, you can increase the popularity of your app if it is good enough for users to recommend each other. But don't forget that many bad-renowned applications were reviewed on this platform.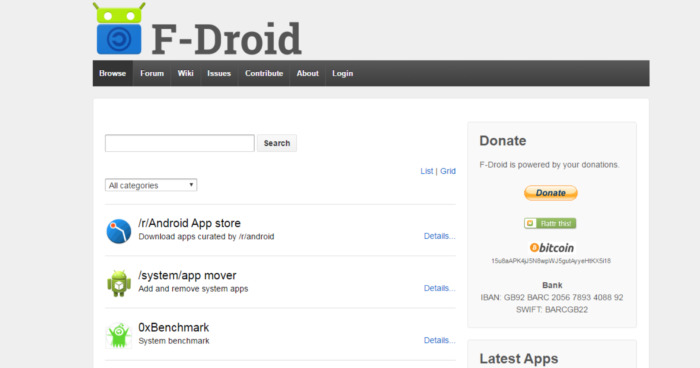 The last but not the least: F – Droid. It is a very popular alternative app store used for free Android apps. F – Droid is managed by volunteers allowing app owners to publish their apps for free on the platform.

The number of active users F – Droid has is also one of the things that make this market so popular. This alternative app store for android apps has more than 100 thousand users.

This huge user base is among the advantages that F – Droid provides. But there are some disadvantages. For example, F – Droid doesn't accept applications that show mobile ads to users. So, this is something you wouldn't prefer for your app monetization strategy.

Another condition of using this platform is that your application has to be open-source. Plus, you don't have any screenshots on the platform. Your app description is also written by the owners of the platform.

If you meet the requirements, you can use the power of the user base F – Droid has.

In this blog post, we talked about the 4 best alternatives to app stores. If you need more sources about mobile app development, we have prepared a comprehensive guide answering different questions from how to choose the best app store(s) to how to develop a mobile app without coding. If you have any recommendation, please let us know! You can also check our website for more about mobile marketing.