This post was updated on September 25, 2020. Keep reading for the latest info.
Top 20 home screen customization apps have reached 5.7 millions in total downloads and generated $400.000 from user spendings during the four days following the iOS 14 release, according to recent data from Sensor Tower. 
---
On September 16, Apple released the latest version of its operating system iOS 14, allowing its users to customize their home screens with various widgets. Following the release, popular social media platform Pinterest has set a new daily download record with 800,000 new installs due to the growing number of iOS 14 users looking for design ideas on the platform.
The iOS 14 release not only has stood Pinterest in good stead but also home screen customization apps, according to recent data by Sensor Tower. (via TechCrunch)
The report shows that top 20 app customization apps for iOS have reached 5.7 million total downloads in the 4 days following the release of iOS 14.
These apps include Widgetsmith, Color Widgets, Photo Widget, Photobox Widget, MemoWidget, Home Photo Widget, Motivation Widget, Ermine, Date Today, Hey Weather, TimeDeck, Widgeridoo, Glimpse 2, Widget Wizard, Widget Web, Locket, ItemMemo, OMDZ, Clock Widget for Home Screen and Photo Widgets.
---
Also Read: The 5 Best Home Screen Customization & Widget Apps For iOS 14 (2020)
---
While Widgetsmith, Color Widgets and Photo Widget accounted for %95 of the total downloads, the remaining generated nearly 285,000 installs.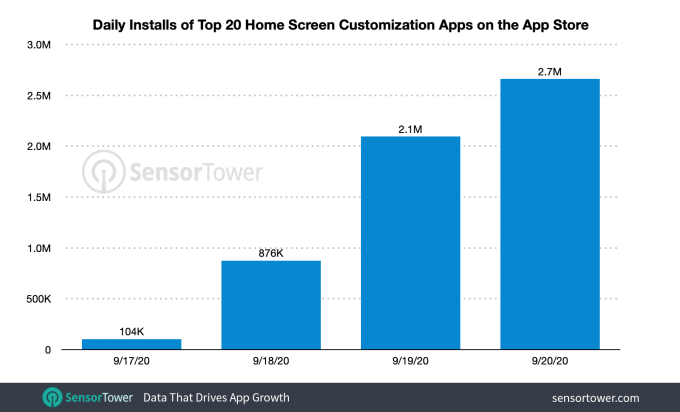 At the same time, top 20 customization apps for iOS generated a total of $400.000 from iOS user spendings between September 17 and September 20.
Similarly, Widgetsmith was the top earning app with $370.000, followed by Date Today with $20.000.
In the meantime, TuneTrack, a music app which lets you add Spotify and Apple Music widgets on your home screen showing your current song, generated 552,000 new installs during the four days with a %1.840 weekly increase and it is now the #18 non gaming app in the United States. The Motivation widget got 431,000 new installs which is %798 more than the week before.
Procreate Pocket, a design tool which was chosen as the best iPhone app of 2018, has reached the #2 on the US App Store and the Icon Changer app is currently No. 40 in the Top Free Apps category in the United States.
As there is not a specific category for iOS widget and customization apps yet, most of these apps are located in Productivity and Utilities.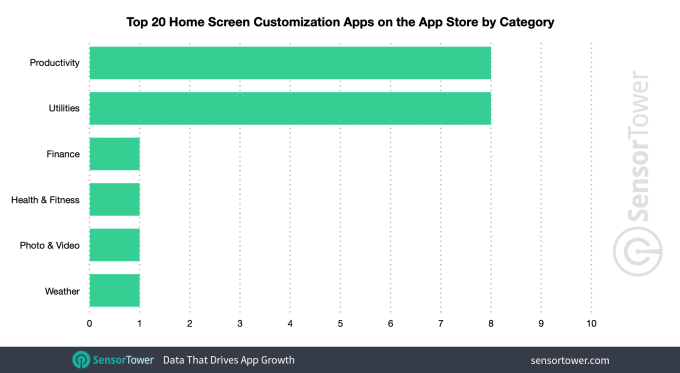 We'll wait and see if Apple will introduce a customization category for the App Store soon.
UPDATE: September 25, 2020
Top 20 home screen customization and widget apps continue to get millions of downloads with each passing day, according to the updated data by Sensor Tower.
The latest data shows that these apps have generated over 13 million installs and $1 million during the week after Apple released iOS 14.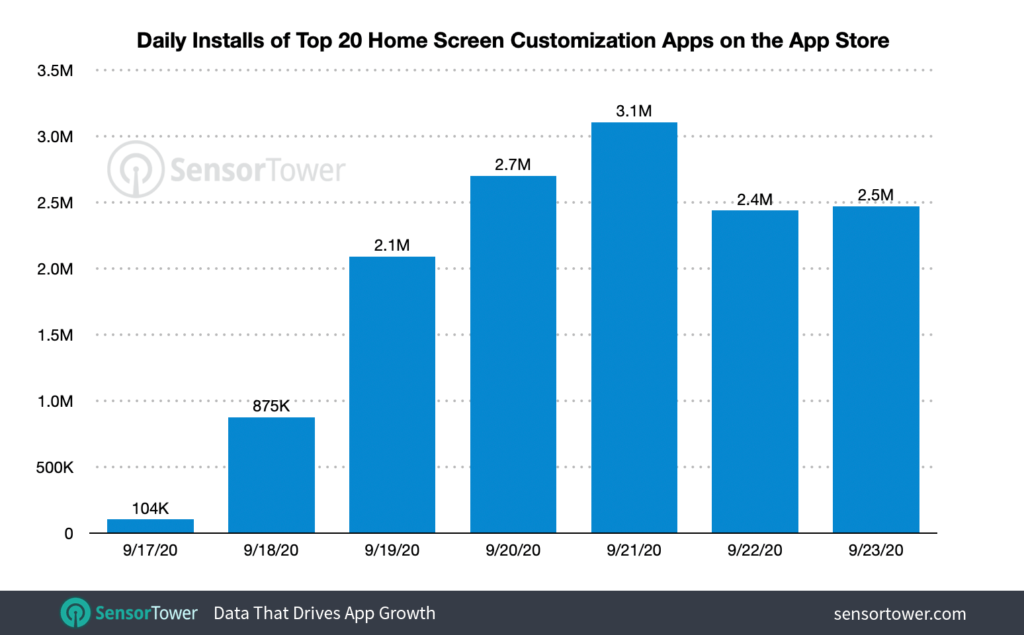 Widgetsmith, Color Widgets and Photo Widget have been installed over 12.6 million times which equals to %92 percent of the total downloads.
Similarly, Widgetsmith is the top grossing widget app with more than $840.000 in user spendings, followed by Color Widgets with over $155.000.
What do you think?