If you are searching for hotels, apartments, holiday homes, and holiday villages, with both affordable prices and luxury options, here you can find the best hotel booking apps and the best apps for hotel deals for iPhone and Android.  
Booking.com
Booking.com is not only one of the best hotel booking apps, but also one of the top rated travel apps for Android. As of this writing, the app is used and trusted by over 100 million people. Yes, that much.
What makes this app stand out is that it lets you book your whole trip in one app (accommodations, flights, car rentals, taxis and more), whether you're traveling for work, vacation or just a weekend getaway.
With this app you can search a total of 7 million hotels, vacation rentals, homes, apartments, and other unique places to stay. With just a tap you can search by hotel name, a specific landmark, attraction or city.
It is also very easy to use. You can narrow your options by filtering your search by review score, budget, or whatever else you're looking for in a hotel. It is reliable for both advanced booking and last minute booking.
Hotels.com

If you travel frequently, domestically or internationally, Hotels.com is the app you can trust with millions of users and over 1 million properties around the world. The popular app is often known for last-minute booking deals and rewards programs. With this application, you can quickly book a room, even on the same day.
Whether you are looking for budget or luxury hotels, it offers a variety of options to suit your needs and preferences. The main reason it's perfect for frequent travelers is its membership program. If you sign up as a member, you get free stays and discounts over the long term.
The app, where you can find vacation homes, apartments, resorts, and hotels, also allows you to pay using various payment methods such as Apple Pay.
---
Also Read: The Best Road Trip Apps
---
Agoda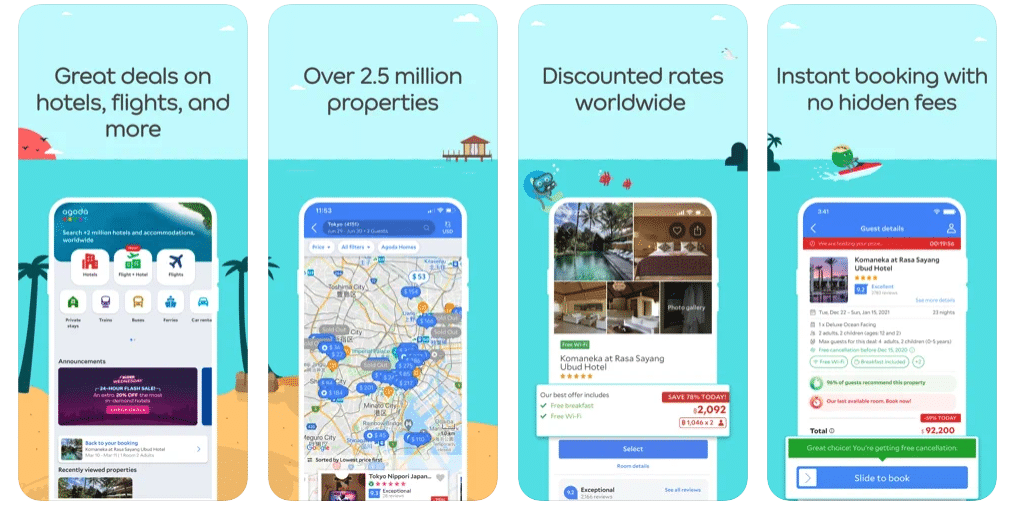 Listing the best deals for accommodation or flights anywhere in the world and allowing you to make reservations, Agoda is one of the best hotel booking apps with more than 2.5 million hotels, villas, properties such as BnB and vacation rentals, and last minute deals.
The app's useful search filters, high-resolution photos, map views, local experience information, and over 15 million verified traveler reviews help you find the perfect accommodation for your particular trip and budget.
The app, which allows you to find hotel deals in different languages, claims to have the best prices.
Trivago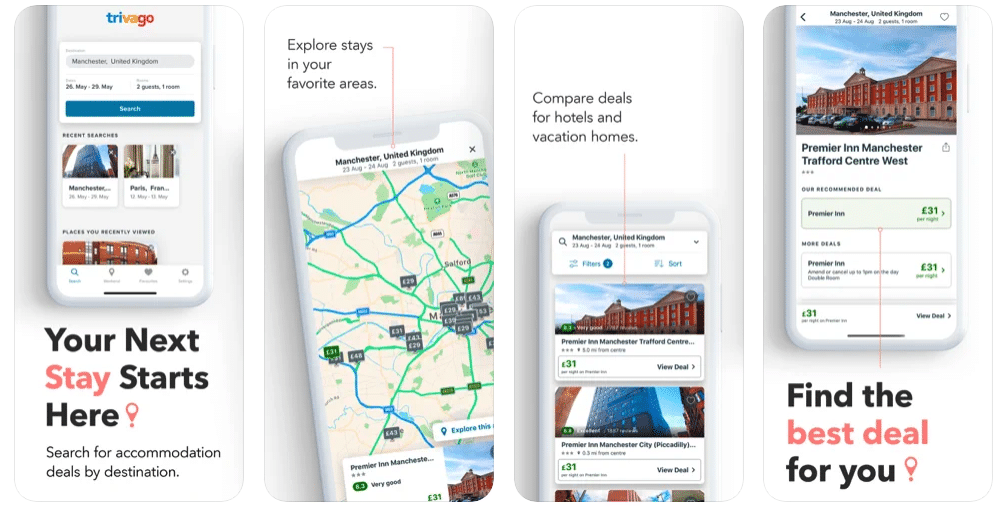 Trivago is one of the best apps for hotel deals as it allows you to discover great deals, compare hotel rates and save on your next vacation or trip.
With over a million hotels to choose from and hundreds of booking sites worldwide to compare, Trivago is the ideal place for cheap accommodation in over 190 countries. In the app, you can also set an itinerary to explore hotels near points of interest within your budget, or find hotels or holiday homes near you.
In the Trivago app, you can search and compare prices for hotels, motels or hostels on top booking sites including Expedia, Hotels.com, Holidaycheck, AlphaRooms, LateRooms, Travelrepublic, Amoma.com, ebookers, Booking.com, Priceline, HotelTonight and more.
---
Also Read: The Best Navigation Apps for iPhone and Android
---
HotelTonight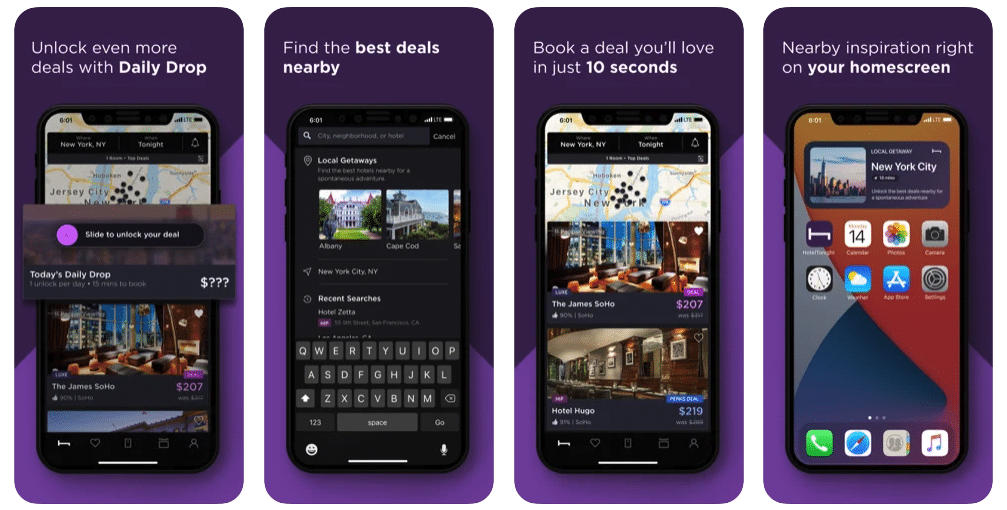 From top-rated luxury hotels to tried-and-true favorites, to swanky, one-of-a-kind boutiques, HotelsTonight is one of the best apps for hotel deals, providing you with affordable accommodation at great hotels around the world.
In the app, you can find hotels by filtering them according to your needs according to the city, touristic place or map location, and you can find better deals according to your frequency of use. HotelsTonight also supports payment with Apple Pay.
Priceline
On Priceline, which allows you to get app-only hotel deals, rental car discounts and cheap flights all in one place, you can also find personalized, relevant hotel recommendations and the travel deals that matter to you.
The app, where you can search by city, address or area of interest to reserve hotels and rental cars in the most convenient location, offers rental car deals of 22 brands in more than 28,000 locations.
For most of the users looking for a hotel, Priceline by far is the best app for hotel deals.
---
Also Read: The Best Weather Apps for iPhone
Also Read: The Best Weather Apps for Android
---
Expedia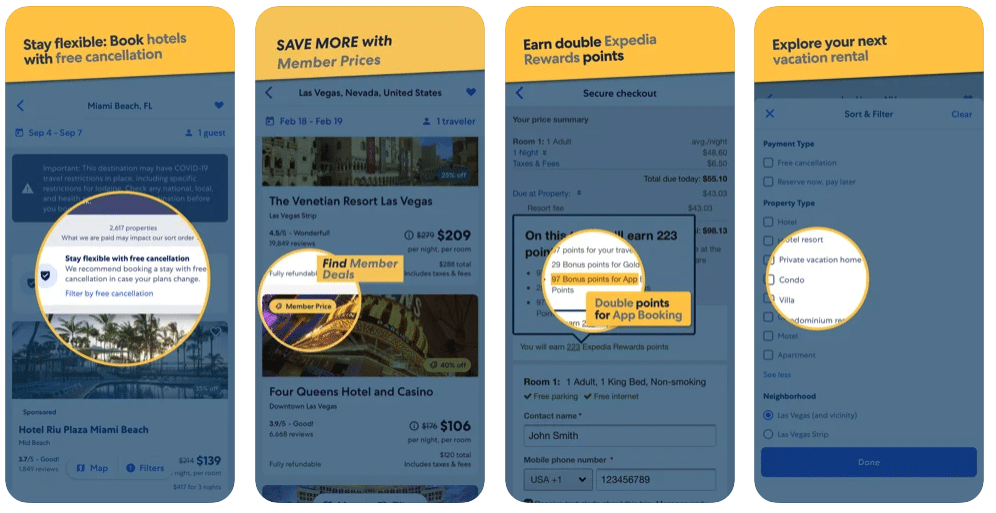 Expedia, one of the most popular hotel booking apps, allows you to find not only hotels but also flights and rental cars at your destination.
With over one million flights, hotels, rental cars, packages, and attractions, you can cancel reservations for free at most partner hotels, save extra money by bundling flights and hotels, and you can access deals for tours, shows, theme parks, and other attractions.