Looking for a hassle-free way to book your bus tickets? In today's digital age, numerous apps have emerged to make bus booking easier than ever before. In this article, we covered the best apps for bus booking, providing you with a comprehensive review of each app's features, usability, and overall convenience. Without further ado, here are the best apps for bus booking.
The Best Apps for Bus Booking
FlixBus
Price: Free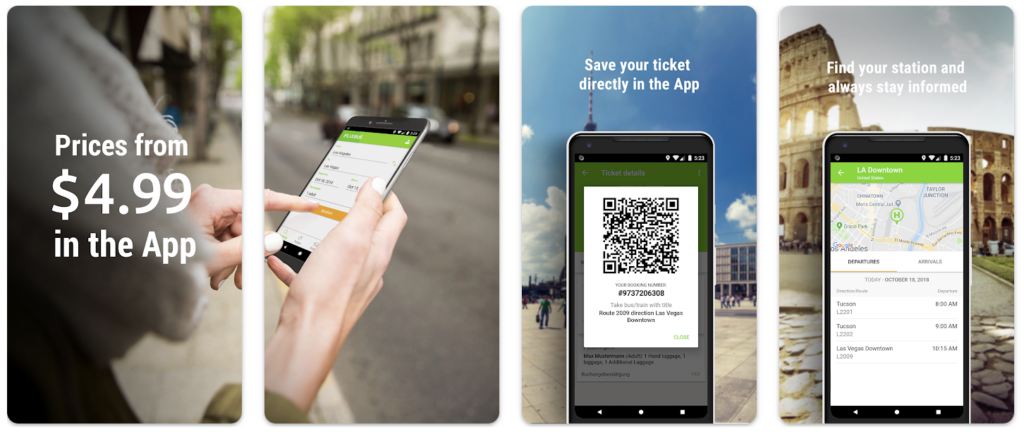 When it comes to finding the best apps for bus booking, FlixBus stands out as a top contender. With their user-friendly mobile app, travelers can easily book cheap bus tickets across Europe, Turkey, Brazil, and the USA. The app offers a seamless booking experience, allowing you to choose your desired connection, enter passenger information, and make secure payments without any booking fees. One of the app's notable advantages is that your mobile device serves as your ticket, eliminating the need for printing. Additionally, exclusive special offers are available only through the app. FlixBus ensures a comfortable journey with adjustable seating, ample legroom, onboard amenities like free Wi-Fi, and a wide selection of snacks and drinks available for purchase. To learn more about the app, visit FlixBus' website.
MakeMyTrip
Price: Free
MakeMyTrip is one of the best apps for bus booking and offers a comprehensive solution for all your travel needs. Users can conveniently book flights, hotels, buses, cabs, trains, and even visas with this user-friendly app. Catering to both domestic and international travelers, MakeMyTrip provides exclusive offers on flights, corporate hotels, holiday packages, and more. The app boasts a seamless booking experience, allowing you to manage all your bookings, track your travels, and enjoy perks with just a few taps. With competitive prices, easy refund and cancellation policies, and round-the-clock customer support, MakeMyTrip is a go-to app for hassle-free travel planning. Go to MakeMyTrip's website to learn more.
---
Also Read: The 7 Best Hotel Booking Apps for iPhone and Android
---
Omio
Price: Free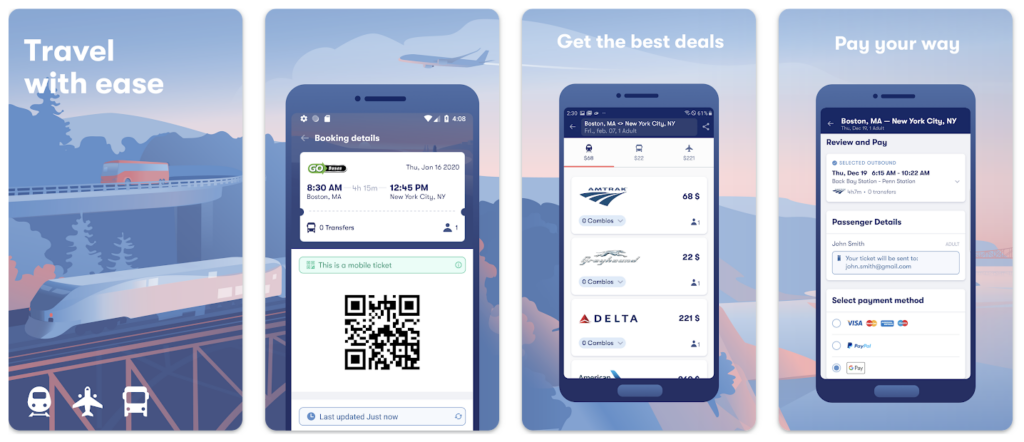 Omio is a travel booking platform that revolutionizes the way travelers explore Europe, the United States, and Canada. With Omio, users can effortlessly compare trains, buses, flights, and ferries in a single search, saving both time and money. The app offers endless possibilities for meaningful journeys, allowing you to skip the line and book on the go. With a wide range of trusted transport companies and exclusive offers, Omio ensures seamless travel experiences to thousands of destinations. The app provides excellent customer support in multiple languages and prioritizes safety and privacy. For more information, browse Omio's website.
AbhiBus
Price: Free
AbhiBus, the leading bus booking app in India, offers a comprehensive platform for both government and private bus bookings. With a wide network of over 3,000 bus partners across 28 states, AbhiBus ensures a hassle-free travel experience. With the app, users can enjoy the convenience of live bus tracking, free cancellations, and instant refunds, along with 24/7 customer support. The app provides a user-friendly interface with features like bus-type filters, travel insurance, and women's safety seat selection. With over 200 million tickets sold and trusted by 4.5 crore Indians, AbhiBus is one of the best apps for bus booking. Check out AbhiBus' website for more detailed information. 
---
Also Read: The 9 Best International Money Transfer Apps
---
Busbud
Price: Free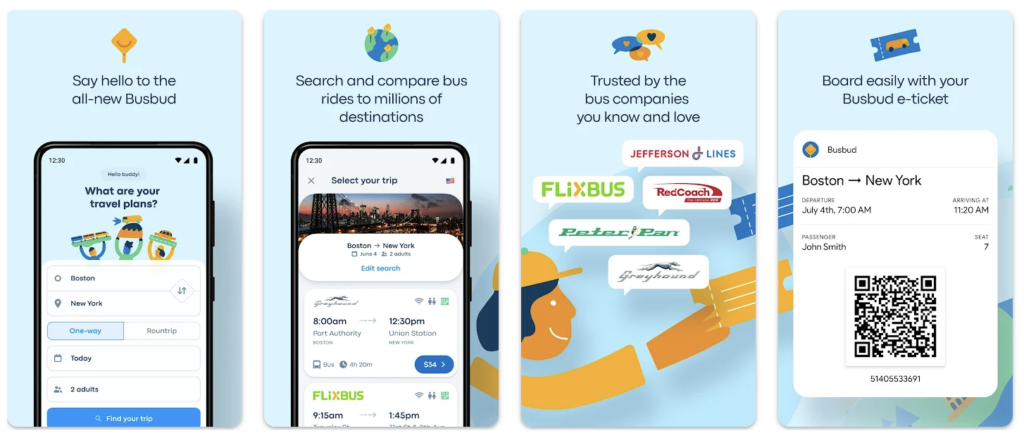 Busbud is one of the best apps for bus booking with its excellent features. With over 2 million routes spanning 89+ countries, Busbud offers the most comprehensive selection of bus, train, ferry, and carpool options. With the app, users can enjoy fast and hassle-free reservations, easy checkout, and convenient ticket management right at their fingertips. The app allows users to find cheap bus and train tickets from 2,200+ carriers and compare trips based on their preferences. Whether you're looking for onboard amenities or the nearest bus stops, Busbud has options for travel transportation.  Visit Busbud's website to learn more.
Zingbus
Price: Free
Zingbus is India's leading bus booking app that offers a seamless online experience. Whether you're planning a trip to Agra, Jaipur, or other destinations from Delhi NCR, the app has extended options for traveling. What sets Zingbus apart is its commitment to sustainability through Zing Electric, the country's first shared intercity electric cabs, helping passengers neutralize CO2 emissions. With Zingbus, you can expect high-quality premium buses equipped with AC, live tracking, sanitization, and a verified crew for enhanced safety. Users can enjoy a comfortable journey with amenities like comfortable seats and premium lounges. The app provides flexibility with zero cancellation charges and instant refunds, and it stands out among the best apps for bus booking. Browse Zingbus' website for more detailed information.
---
Also Read: The 8 Best Offline Map Apps for iPhone
---
WanderU
Price: Free

Wanderu simplifies the process of booking bus and train travel with its user-friendly app. Whether you're traveling in the United States, Canada, or Europe, Wanderu helps you find the best deals on bus and train tickets. With a single search, compare schedules and prices from hundreds of travel companies, ensuring you choose the option that suits you best. Wanderu's hassle-free checkout process allows you to book tickets on the go, offering the lowest prices directly from the carriers. With features like quick and easy booking, fast customer support, and access to your travel history, Wanderu stands as one of the best apps for bus booking. Explore Wanderu's website.
Goibibo
Price: Free
Goibibo, India's trusted travel app, offers a wide range of deals and discounts on hotels, flights, trains, cabs, and buses. Goibibo provides daily steals and exclusive offers for new users. The app features a user-friendly interface and offers a Rs 100 goCash bonus upon signup. With partnerships with popular hotel chains like OYO Rooms and top airlines including Air India and Indigo, Goibibo ensures affordable travel options. Whether you're booking hotels or searching for cheap flights, Goibibo's extensive services make it one of the best apps for bus booking and overall travel needs. To learn more, browse Goibibo's website.
---
Also Read: The 5 Best Translation Apps
---
redBus
Price: Free
redBus, India's number one online bus ticket booking app, is the go-to platform for convenient and affordable bus travel. With official partnerships with renowned bus operators like APSRTC, GSRTC, and TSRTC, as well as popular services such as Zingbus and SRS Travels, redBus offers a vast network of bus options at competitive prices. The app provides an easy-to-use interface, allowing users to search for buses based on their preferred routes, operators, and amenities. With a trusted reputation, flexible ticket options, and a large customer base, redBus ranks among the best apps for bus booking in India. Check out redBus' website for more detailed information.
Cleartrip
Price: Free
Cleartrip, with over 25 million travelers on board, offers a seamless booking experience for flights, hotels, and buses. With attractive deals and discounts, Cleartrip is a go-to app for budget-conscious travelers. With the app, users can enjoy up to 15% off on domestic flights and hassle-free cancellations on bookings. The app allows users to shortlist flights based on their budget or preferred routes. With CT Flex, users can reschedule or cancel domestic flights for free up to 24 hours before departure. Cleartrip's extensive hotel options, including renowned brands like Hyatt and Taj Hotels, cater to all preferences. Go to Cleartrip's website for more information.
---
Also Read: The 7 Best Navigation Apps for iPhone and Android
---
Rome2Rio
Price: Free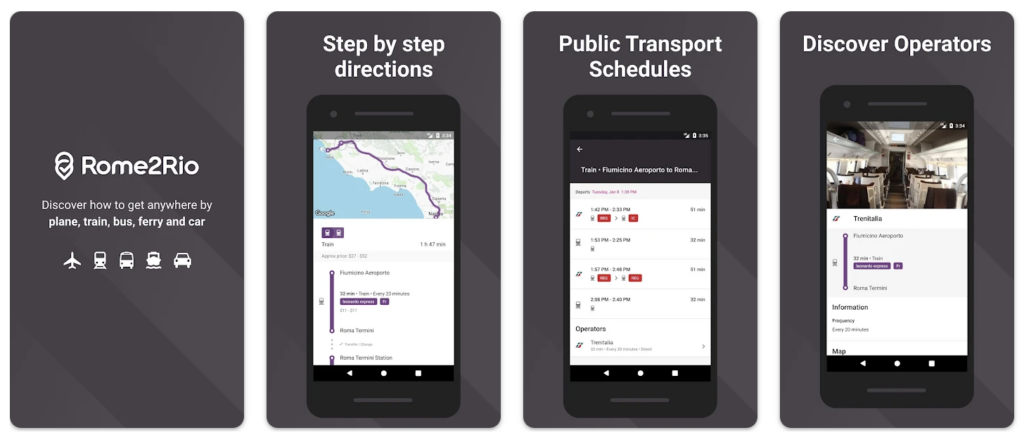 Rome2Rio is an excellent bus booking app that simplifies your journey. With a comprehensive database of over 5,000 transport companies across 160 countries, the app provides you with quick, affordable, and convenient travel options worldwide. From flights and trains to buses, ferries, and rideshares, Rome2Rio presents all possible combinations, allowing you to compare and choose the best travel option. Whether you're looking for price estimates, durations, schedules, or booking details, this app has got you covered. Explore Rome2Rio's website to learn more.