In these days of exploring the world, the best travel booking apps play a vital role. Traveling is no longer just about reaching destinations; it's also about finding the best tools to make this experience smoother and more enjoyable. Under the title "The Best Travel Booking Apps," we covered these exceptional apps that make travel planning more efficient. From discovering the most appealing flight and accommodation options to tracking instant price drops, these apps offer a range of services. Essential for travel enthusiasts, these apps are tools that everyone who loves to travel should explore. Without further ado, here are the bests!
Skyscanner
Price: Free
Skyscanner stands out among the best apps for travelers. Its user-friendly interface and comprehensive search options make it a top choice. With Skyscanner, you can easily compare flight prices from various airlines, ensuring you find the best deals.
Moreover, the app's intuitive design allows you to filter results by price, duration, and airline, providing a seamless booking experience. Whether you're planning a last-minute trip or a well-organized journey, Skyscanner's features cater to all types of travelers. Discover Skyscanner's website for more detailed information.
Tripadvisor
Price: Free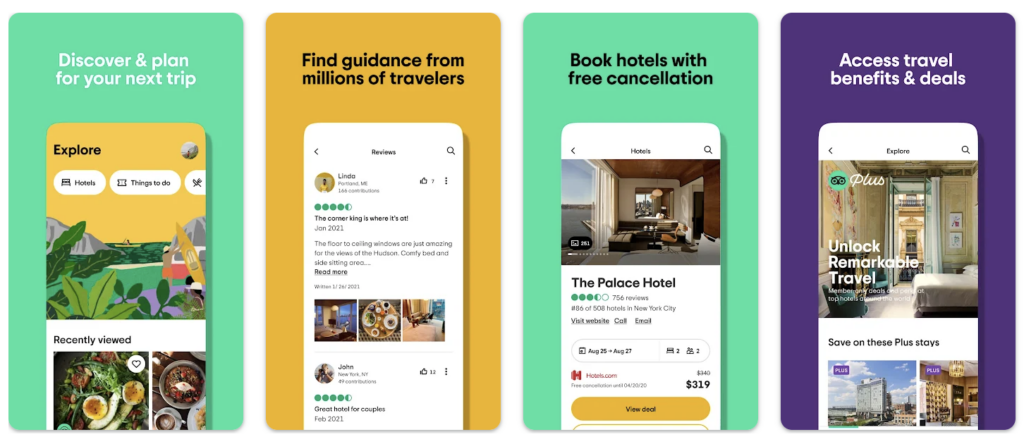 When it comes to travel planning, Tripadvisor is one of the best travel booking apps. This app goes beyond just flight and hotel bookings; it offers a wealth of user-generated reviews, ratings, and recommendations for restaurants, attractions, and accommodations. This information helps travelers make informed decisions and ensure a successful trip. The interactive maps and real traveler photos further enhance the experience, making Tripadvisor an essential tool for any frequent traveler. Go to Tripadvisor's website to learn more.
---
Also Read: The 7 Best Flight Tracking Apps
---
HotelTonight
Price: Free

HotelTonight is a game-changer and stands out among the best travel booking apps. This app specializes in last-minute hotel bookings at discounted rates. The user-friendly interface allows you to find available hotels in your desired location effortlessly.
Also, HotelTonight's "Daily Drop" feature offers exclusive deals for the day, making it an ideal choice for those seeking budget-friendly options without compromising quality. With its simple and efficient booking process, HotelTonight is a valuable companion for business travelers on the go. Go to HotelTonight's website for more detailed information.
KAYAK
Price: Free

KAYAK is a standout choice among the best travel booking apps. This app offers a comprehensive platform to search and compare flights, hotels, and rental cars. Its unique feature, "Explore," lets you discover new destinations within your budget and preferences.
Moreover, KAYAK's price alerts ensure you never miss a deal, while its user-friendly interface guarantees a seamless booking process. With its all-in-one capabilities, KAYAK simplifies travel planning. To learn more, visit KAYAK's website.
---
Also Read: The 8 Best Rideshare Apps
---
Expedia
Price: Free
Expedia stands as a one-stop solution for all your travel requirements. The app offers a wide array of options for flights, hotels, car rentals, and activities. The "Bundle Deals" feature lets you save on combined bookings.
Expedia's interface is understandable, and its rewards program and customer service enhance the travel experience. It's an invaluable app for business and leisure travelers alike, and it deserves to be one of the best travel booking apps. For more information, go to Expedia's website.
Hotels.com
Price: Free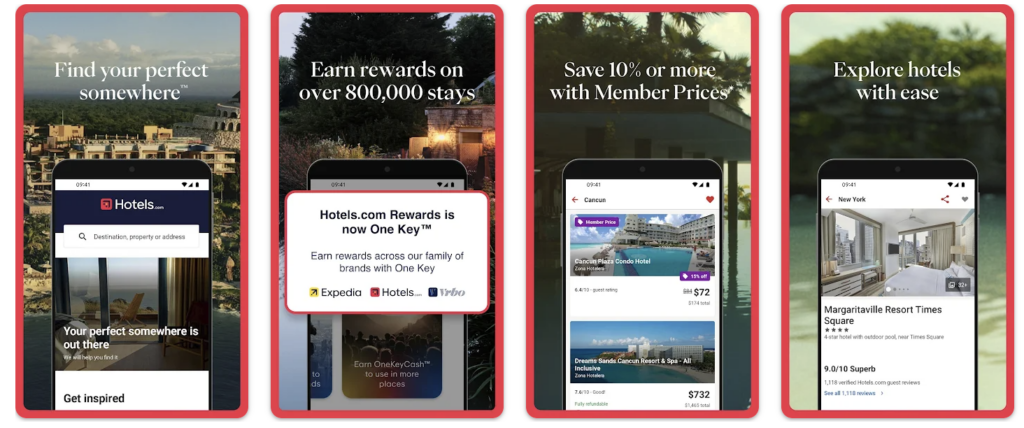 Hotels.com is a go-to travel booking app, especially for finding accommodations. With over 16,000 options globally, it caters to various budgets and preferences. Whether you're seeking private rooms or shared dorms, its filters make customization easy. The "Deals for Tonight" feature offers last-minute options at discounted rates, perfect for spontaneous trips. Hotels.com is considered one of the best travel booking apps. To learn more, explore the app's website.
---
Also Read: The 10 Best Apps for Backpackers
---
TripIt
Price: Free/In-App Purchase: Up to $48.99
TripIt streamlines travel itinerary management for business and leisure travelers alike. Users can sync their comprehensive itinerary with their calendars and remain accessible offline. TripIt securely stores reservations, and it allows users to attach documents like PDFs, boarding passes, and passport QR codes. Users can simplify navigation with integrated maps, directions, and points of interest. Visit TripIt's website to learn more.
Hostelworld
Price: Free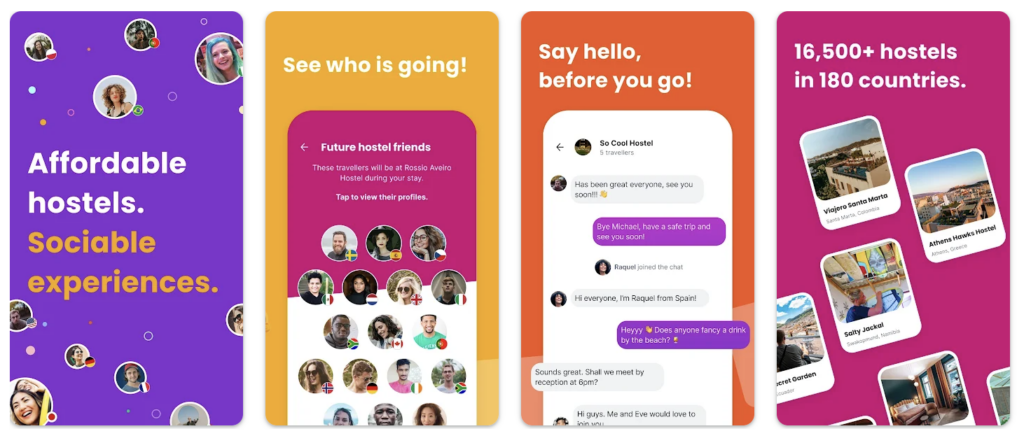 Hostelworld is a backpacker's haven, catering to budget travelers seeking memorable experiences. Users can forge instant connections with fellow hostel goers upon booking. The app allows users to dive into local chat groups based on shared interests, view global traveler profiles, and discover adventurous destinations. Users can create a dynamic traveler profile, share travel wisdom, and join an active online community. Also, the app provides over 16,500 hostels across 180 countries. Explore Hostelworld's website to learn more.
---
Also Read: The 8 Best Price Comparison Apps
---
Rome2Rio
Price: Free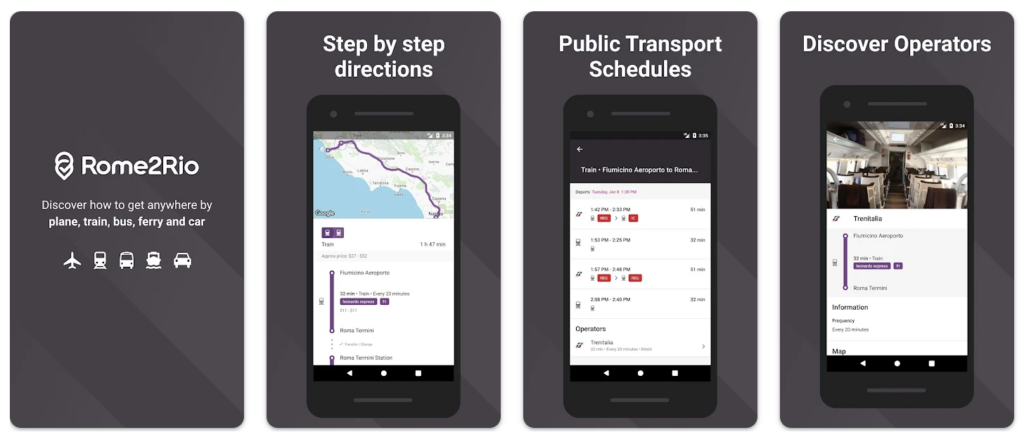 Rome2Rio is your ultimate travel guide for efficient route planning, and it ranks among the best travel booking apps. Whether it's flights, trains, buses, or ferries, Rome2Rio showcases all your options for seamless comparison. Enter your destination to access prices, durations, schedules, and connections. This invaluable tool covers over 5,000 companies across 160+ countries, ensuring a comprehensive range of travel possibilities. Visit Rome2Rio's website to learn more.
Trivago
Price: Free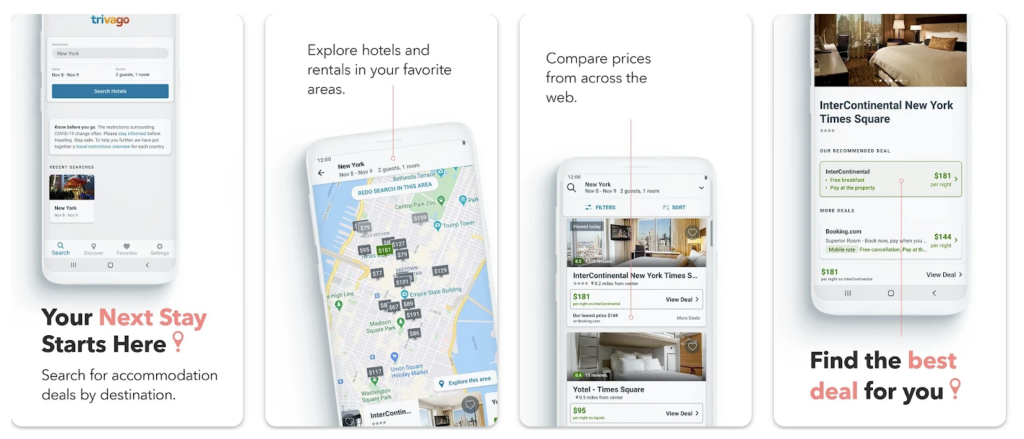 Trivago excels as a go-to travel booking app, offering an extensive platform to compare hotel prices from various booking sites. With a single search, users can access exclusive mobile rates and receive price drop alerts for their preferred accommodations. Trivago simplifies the process of finding the best deal for your desired location, amenities, and budget.
Additionally, the app's easy interface lets you save and compare favorite accommodations, while aggregated guest reviews provide valuable insights. With coverage across 190+ countries and a vast selection of properties, Trivago caters to different traveler preferences. Check out Trivago's website for more information.