Are you ready to transform your driving experience? Android head units have revolutionized in-car technology, and the right apps can take your journey to the next level. Whether you're navigating unfamiliar roads, enjoying your favorite tunes, or staying connected on the go, we've curated a list of "The Best Apps for Android Head Unit" to enhance your time behind the wheel. In this comprehensive guide, we'll introduce you to a lineup of versatile apps that cater to your every need while ensuring a seamless and enjoyable ride. Buckle up as we explore the world of apps designed to make your driving experience smarter, safer, and simply extraordinary.
AGAMA Car Launcher
Price: Free/In-App Purchase: Up to $2.99
Never before has controlling your car's multimedia been so comfortable. AGAMA Car Launcher offers a simple, clean design with flexible customization options, and it ranks among the best apps for Android head unit. Its 24 customizable buttons for quick application launch, speedometer widget, music player widget, and voice assistant make it a must-have for Android head unit users. With a 30-day free trial, you can experience the power of AGAMA before purchasing the full version.
AGAMA Car Launcher on Google Play
Car Launcher Pro
Price: Free
Designed for use in various car setups, Car Launcher Pro provides a user-friendly interface for phones, pads, and radio tape recorders based on Android. It allows you to customize your home screen, manage your apps, and even display your car's speed based on GPS data. With features like speed limit warnings and a comprehensive onboard computer, this app is a great companion for Android head unit enthusiasts.
Car Launcher Pro on Google Play
---
Also Read: The 8 Best Android Auto Apps
---
Sygic GPS Navigation & Maps
Price: Free/In-App Purchase: Up to $74.99
Sygic GPS Navigation & Maps is a cutting-edge GPS navigation app trusted by millions of drivers worldwide, and it deserves to be among the best apps for Android head unit. With offline 3D maps, live traffic updates, and speed camera alerts, it ensures you always reach your destination hassle-free. Its features include precise voice-guided navigation, pedestrian GPS navigation, and advanced safety features like speed limit warnings and a head-up display (HUD). While it offers a free trial, the Premium+ version unlocks all its exceptional features.
Sygic GPS Navigation & Maps on Google Play
Android Auto
Price: Free
Android Auto is your intelligent driving companion, integrating seamlessly with Google Assistant. With a simplified interface, you can access your favorite apps, navigation, calendar, news updates, and more using voice commands. It also supports various music and messaging apps, making it easy to stay connected while keeping your focus on the road. Android Auto is compatible with over 400 car models, enhancing your driving experience.
---
Also Read: The 7 Best Navigation Apps for iPhone and Android
---
Fcc Car Launcher
Price: Free/In-App Purchase: Up to $6.99
Fcc Car Launcher offers an adaptable interface for Rockchip, MTK, and AllWinner Android head units, making it a versatile choice. Its widget-based concept allows full customization of colors, information placement, and more. Features include a speedometer display, an interactive MiniMap, and support for third-party players and icons. Whether you're using a compatible head unit or any other Android device, this launcher adapts to your preferences and stands out among the best apps for Android head unit.
Fcc Car Launcher on Google Play
RK3066 HeadUnit
Price: Free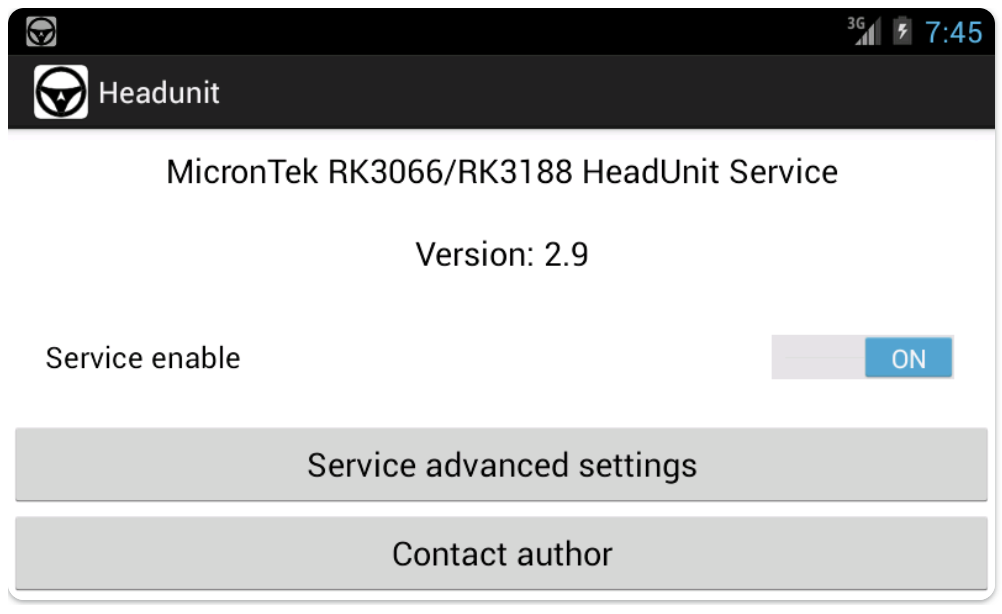 RK3066 HeadUnit is a service app tailored for RK3066 car head units, offering features like Bluetooth call integration and media control. It includes volume adjustments based on speed, background volume changes, and support for various head unit versions. This app is ideal for optimizing your head unit's functionality.
RK3066 HeadUnit on Google Play
---
Also Read: The 5 Best Parking Apps
---
Car Home Ultra
Price: Free/In-App Purchase: Up to $14.99
Car Home Ultra is a feature-rich car dock app designed to manage your phone during your drive. It offers automation features like auto-startup, display brightness control, and volume management. You can customize shortcuts, access data widgets, and enjoy a variety of skins and color schemes. It even supports voice commands via Google Assistant for a hands-free experience.
VIVID Car Launcher
Price: Free
VIVID Car Launcher is a personalized, multi-theme car launcher with an intuitive and easy-to-use interface, and it is one of the best apps for Android head unit. The app features a split dashboard with maps and media, making navigation between apps effortless. You can customize the layout, access navigation from various providers, and control your media with ease. VIVID also integrates with hardware components and supports Google Assistant.
VIVID Car Launcher on Google Play