We have listed the 5 best parking apps to help you find millions of parking spots in the United States and Canada, compare prices, book in advance and pay with your smartphone to save up to 50%.
ParkWhiz – #1 Parking App
Our first best parking app is ParkWhiz, available on both App Store and Google Play Store with over 1 million app downloads. It is free.
The ParkWhiz app allows users to ''take the hassle out of parking'' by easily finding park spots in major cities around the world and help them save up to %50 by comparing prices, booking in advance and paying with your mobile device.
It is one of the best parking apps for NYC and you can also use ParkWhiz to find places to park in Chicago, San Francisco, Boston, Los Angeles, Toronto and all the points between them.
SpotHero – Find Parking
Let's continue with SpotHero which is among the best apps for parking available on both Android and iOS market for free. You can also use SpotHero on your desktop.
To find parking spaces in airports, garages, lots and valets located in the United States all you need to do is to open your SpotHero app, enter the date when you need parking, compare prices, reserve your parking, and follow the directions going to your parking space. That's it.
Just like ParkWhiz, SpotHero enables users to save up to 50% by booking in advance.
You can use this parking app to find spots in New York City, Los Angeles, Chicago, Atlanta, Austin, Baltimore, Boston, Dallas, Oakland, Philadelphia, Sacramento, San Diego, San Francisco, Seattle, St. Louis, and Washington, D.C., Denver, Detroit, Houston, Indianapolis, Milwaukee, Minneapolis, Miami, New Orleans, Newark,
---
Also Read: The Best Navigation Apps for iPhone and Android
---
Best Parking – Find & Reserve Parking
Let's move on to Best Parking, another parking app by ParkWhiz available to download on App Store as well as on the Android market. It's free.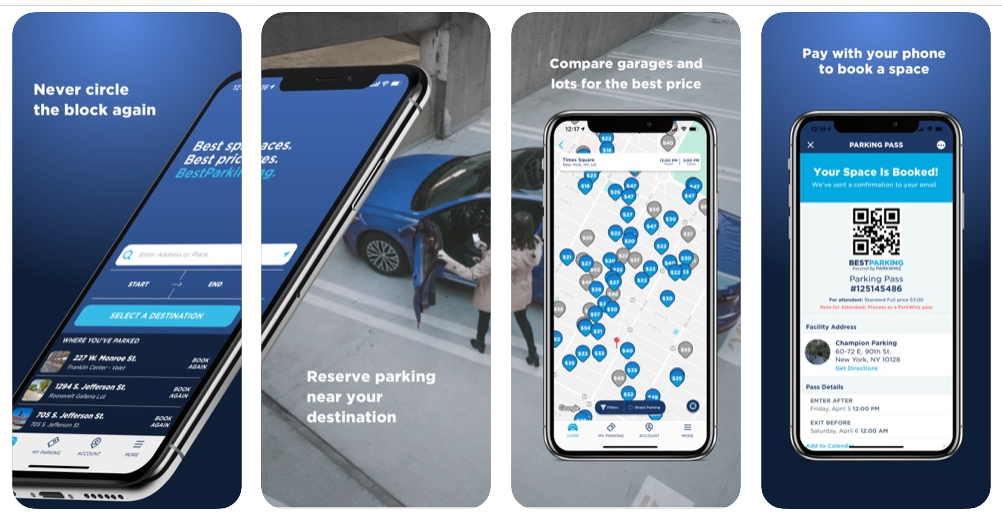 Best Parking app aims to help you find and book parking in 15 cities across North America including New York City (Manhattan), San Francisco, Chicago, Boston, Los Angeles,San Diego, Philadelphia, Baltimore, Seattle, New Orleans, Dallas, Sacramento, Washington DC, Atlanta and Toronto.
Just enter your destination and Best Parking will show you the best parking lots with the cheapest prices. Then, you'll be able to pick the best one comparing prices, reserve it in seconds and pay with your mobile device.
HonkMobile
Next one in our best parking apps list is HonkMobile which you can use to find more than 190,000 parking spots in the United States and Canada. You can get it on the Play Store and the App Store for free.
HonkMobile is a very simple but helpful app, allowing you to save up to 40% on parking. Start by creating a free account using your email or Facebook Connect, then add your license plate, add a payment method (supports major credit cards, Visa/Debit, PayPal, MasterPass and ApplePay), search for parking spots based on price or proximity, choose the best one that fits your needs and pay with your smartphone.
Here are some the cirities you can use the HonkMobile app to find parking spots in Corner Brook, Halifax, Montreal, Ottawa, Toronto, Mississauga, Oakville,Winnipeg, Saskatoon, Calgary, Edmonton, Fort McMurray, Lethbridge, Burnaby, Kelowna, Surrey, Okanagan, Vancouver, Nanaimo, and Victoria. Whitby, Oshawa, London, Niagara Falls, St. Catharines, Waterloo, Windsor, Thunder Bay.
---
Also Read: The Best Hotel Booking Apps for iPhone and Android
---
Parkopedia
Our last parking app is Parkopedia which allows users to find information on more than 70 million parking spaces in over 15,000 cities around the world.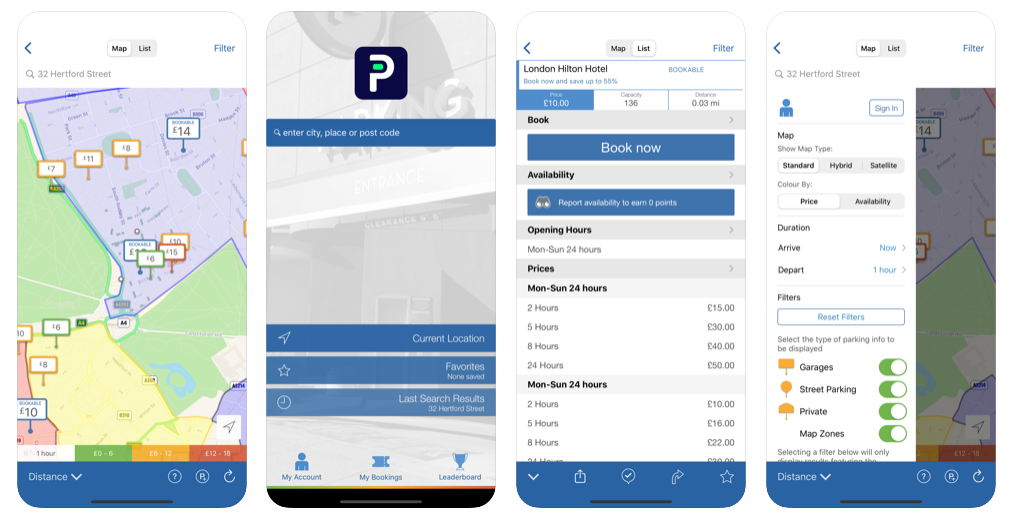 With the Parkopedia app, you can easily find parking spots by using your location or searching for a specific address, use various filters to compare prices and spots, pick the best one, get directions and more.
You can download and start using it for free. It also offers some premium features such as viewing parking space availability.