If you want to buy bitcoin or altcoins, you need to choose a crypto wallet where you can securely store your coins and tokens. These systems, which require complex passwords and require security measures such as two-factor authentication (2FA), make it possible for crypto and blockchain assets to be accessed only by their real owners.
But if you're new to the world of cryptocurrencies, choosing a wallet and learning how to use it can be complicated and tiring. In this article, we have brought together the best crypto wallets for Android and the best iOS crypto wallets that can securely store your coins and tokens.
Disclaimer: This information should not be construed as an endorsement of cryptocurrencies or any provider, service or offer. This information is not trading advice.
Things to consider when choosing the best crypto wallet
Which crypto wallet you choose is as important as following the crypto money market. Therefore, you need to consider the right criteria. The first of these is undoubtedly security systems. It is very critical to do some research on the wallet you intend to open an account with, and to check if it has been hacked in its history. If you do not want to take risks, it is very important to start with a more established and proven platform in its field.
Another consideration when choosing the best crypto wallet app is its design and functionality. The features and interface of the application are very important. If you are new to this field, you should choose simpler and more practical apps. If you're a professional investor, a broad functional app should be your focus.
The Best Crypto Wallets for Android and iPhone
Here are the best crypto wallets for Android and the best iOS crypto wallets.
Trust Wallet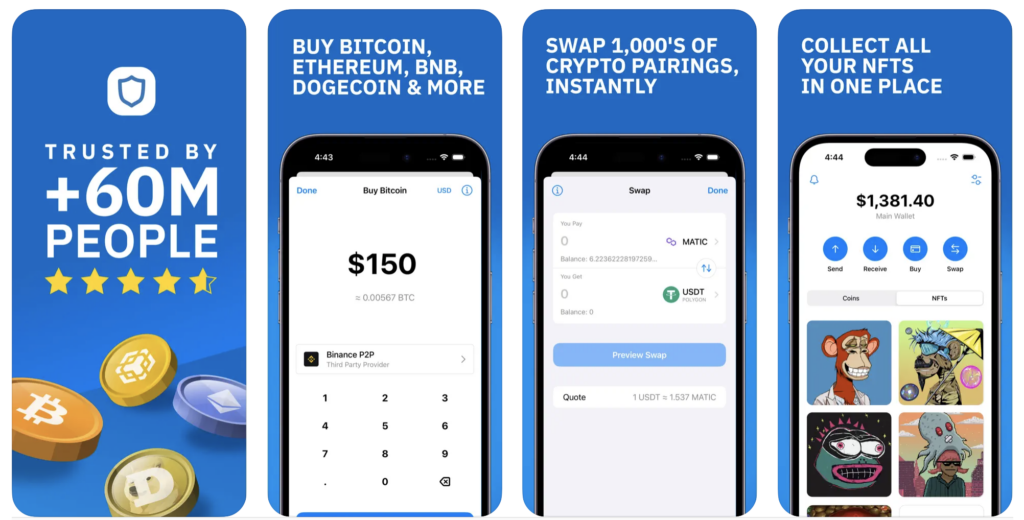 You can keep all crypto assets based on BEP2, ERC20 and ERC721 in this wallet. Trust Wallet, one of the most well-known Ethereum-based wallets, is highly preferred for newly released tokens.
You can access countless DEX and DeFi with this wallet. The wallet, which is completely open source, publishes its codes openly to everyone. Of course, this detail is very important in terms of reliability. It is also worth noting that the new owner of the wallet is Binance since 2018.
Exodus
Frequently recommended for crypto beginners, Exodus serves on desktop and mobile devices with its simple user interface. One of the key features that makes Exodus stand out is the option to swap between cryptocurrencies with ease. The app, where you can quickly send and receive dozens of coins, also helps you quickly in matters you do not understand, thanks to its fast customer support.
Exodus does not charge any fees for your transactions. It has an automatic fee determination algorithm to enable you to complete your transactions quickly. In addition, the user can optionally customize these fees.
---
Also Read: The 5 Best Investment Apps for Beginners
---
Coinbase Wallet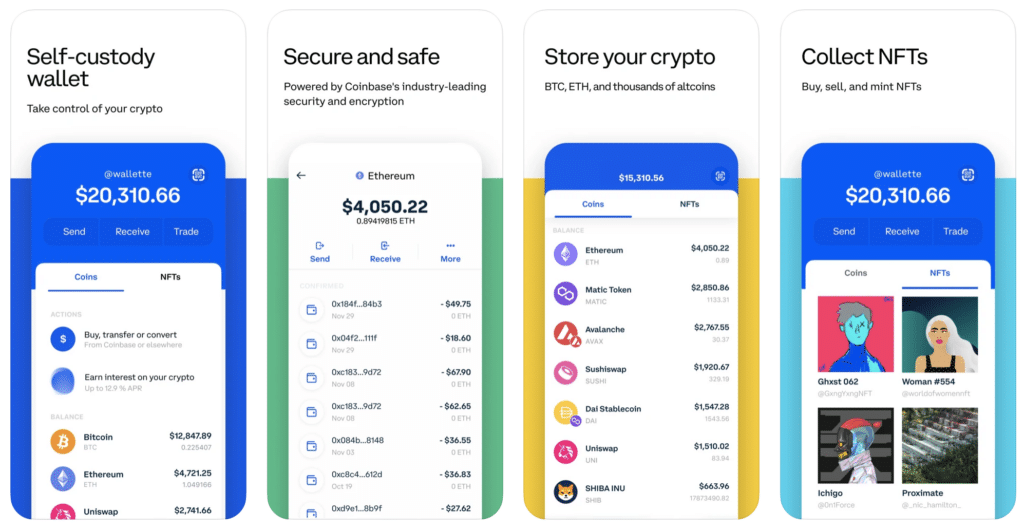 Coinbase Wallet is a user-only cryptocurrency wallet and DApp browser. Your wallet's private key is stored on your phone, not on Coinbase servers. So you have full control. The company has no transaction authority over your wallet.
Currently supporting over 100 different cryptocurrencies, Coinbase Wallet has integrated two multi-layered scaling solutions for Ethereum. You can use this wallet to avoid long confirmation processes thanks to low transaction fees and NFT support. It also continues to be developed continuously by America's largest cryptocurrency exchange.
Coinbase Wallet on Google Play
Coinbase Wallet on the App Store
Electrum Bitcoin Wallet

Next on our list of the best crypto wallets is Electrum, which is only available on Google Play. The app came to life shortly after the establishment of Bitcoin and has survived to the present day with almost no changes. But it only works for Bitcoin. If you are not interested in other cryptocurrencies, you can choose this app for its security measures and convenient use.
The app gives its users the right to set a special transaction fee. Thanks to its open source software, it is among the most reliable wallets. Investors who open an account on the platform have the right to determine their own security level. You can create a multi-signature wallet with a 2-factor authentication system.
---
Also Read: The Best Stock Trading Apps
---
Mycelium Bitcoin Wallet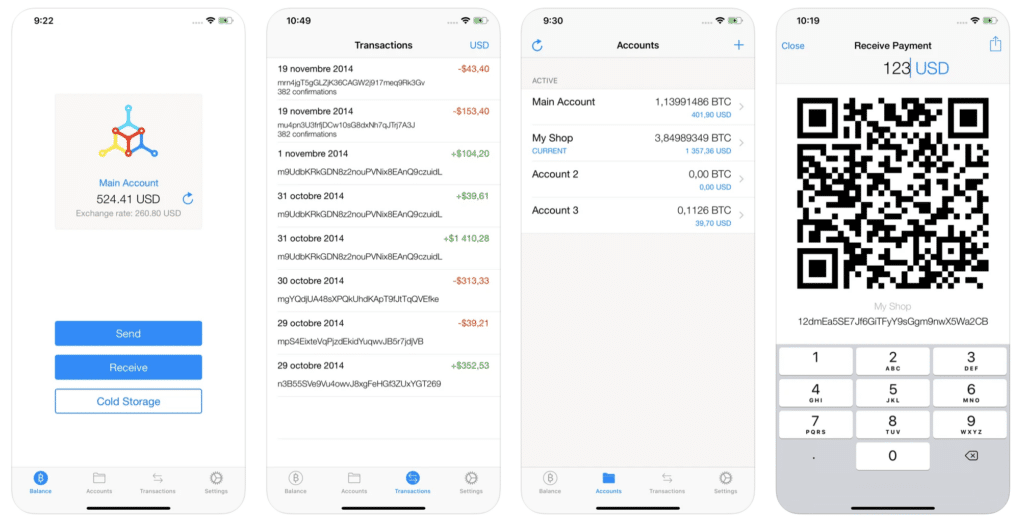 Considered among the best crypto wallets for Android and iPhone, MyCelium offers a very stable wallet. Its open source system prevents developers or hackers from exploiting security vulnerabilities.
MyCelium also supports hardware wallets such as Trezor and Ledger. However, if you are using a Bitcoin wallet for the first time, you may find the app a bit complicated. That's why professional investors prefer it more.
Mycelium Bitcoin Wallet on the App Store
Mycelium Bitcoin Wallet on Google Play
Coinomi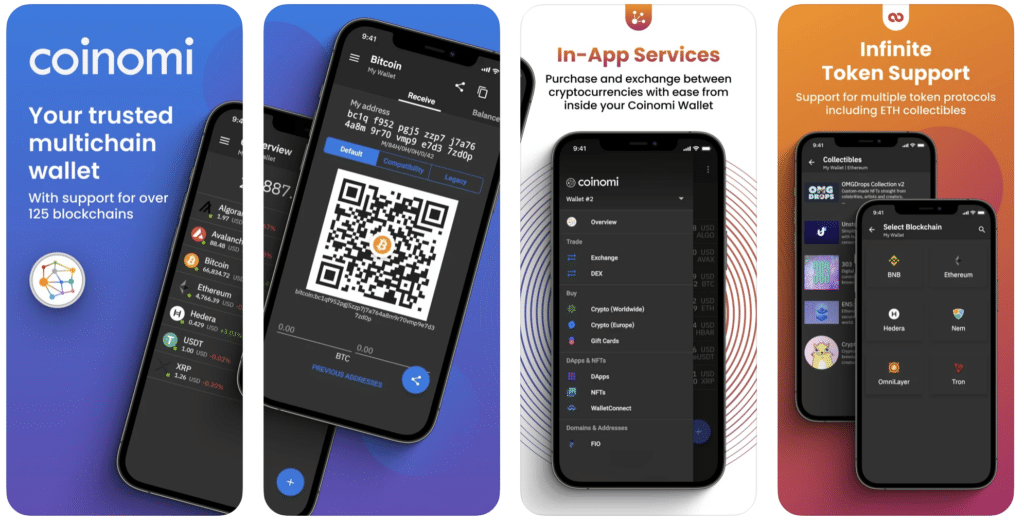 You can easily access your Coinomi wallet from mobile and desktop devices. Working in harmony with a total of 125 different networks, Coinomi supports approximately 1800 crypto assets. The fact that it works comprehensively causes many investors to prefer it. Since it is a multi-chain wallet, you can keep almost all your assets here, including ERC-721 NFTs.