Managing finances as a couple can be a challenging task, but thanks to the convenience of technology, there are numerous budget apps available to help streamline the process. In this article, we covered the world of budgeting and explored the best budget apps for couples. Whether you're looking to track expenses, set shared financial goals, or simply enhance your financial communication, these budget apps are designed to cater to the unique needs of couples aiming to achieve financial harmony. Without further ado, here are the best budget apps for couples!
YNAB
Price: Free/In-App Purchase: Up to $98.99
When it comes to managing finances as a couple, YNAB (You Need a Budget) is one of the best budget apps. With its simple method and powerful features, YNAB empowers users to take control of their money and build a secure future. With subscription sharing, couples can easily collaborate on budgets and financial goals. The app offers expense tracking in real-time, goal setting to turn dreams into actionable plans, and comprehensive reports to track spending and net worth. YNAB prioritizes privacy protection and provides excellent customer support and a wealth of resources. For more information, go to YNAB's website.
Mint: Budget & Track Bills
Price: Free/In-App Purchase: Up to $4.99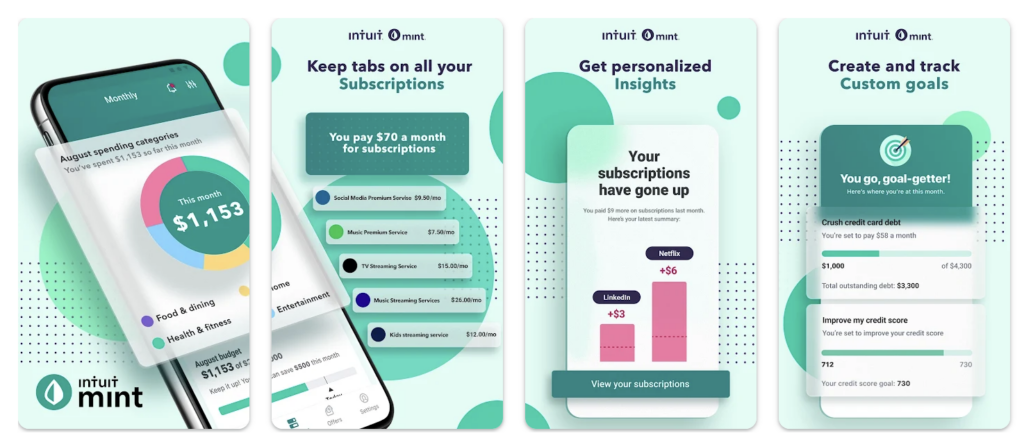 Mint is a comprehensive way to manage your finances as a couple and stands out among the best budget apps for couples. With Mint, you can effortlessly bring together all your financial accounts and get a complete picture of your money essentials in one place. From tracking transactions and expenses to setting custom budgets and monitoring cash flow, Mint provides personalized insights to help you reach your goals. With the added convenience of bill tracking and subscription monitoring, you'll never miss a payment or overpay for unused services again.
Also, Mint offers a new premium feature for bill negotiation, helping you save on monthly bills. With its intuitive interface, smart budgeting tools, and ability to track your IRS tax refund, Mint empowers couples to stay focused on their financial goals and build stronger financial habits. Visit Mint's website to learn more.
Mint: Budget & Track Bills on Google Play
Mint: Budget & Track Bills on the App Store
---
Also Read: The 7 Best Apps for Couples
---
Goodbudget
Price: Free/In-App Purchase: Up to $69.99
Goodbudget is the ideal and functional budget app for couples. With Goodbudget, you can easily share a budget with your spouse or family members and sync it across multiple devices, including smartphones and the web. This makes it effortless to stay on the same page about your finances and manage money with the people you love.
Moreover, Goodbudget follows the proven envelope budgeting method, allowing you to allocate funds to virtual envelopes and track your spending. The app provides insightful reports that help you analyze your budget and modify it accordingly. With features like expense tracking, debt progress tracking, and scheduled transactions, Goodbudget empowers couples to live within their means, pay off debt, and achieve their financial goals.
Also, the free version offers ad-free usage with limited envelopes, while subscribers enjoy additional features such as unlimited envelopes, device syncing, and extended transaction history. Goodbudget deserves to be one of the best budget apps for couples. Check out Goodbudget's website for more detailed information.
Quicken Simplifi
Price: Free/In-App Purchase: Up to $47.99
Quicken Simplifi is a powerful budget app and money management tool. Couples can effortlessly connect their bank, credit card, investing, and retirement accounts in one place, gaining a comprehensive view of their personal finances. Users can also track transactions, monitor balances, and get real-time insights to ensure their budget stays on track. Whether you're paying off debt, saving for important milestones, or growing your net worth, Simplifi empowers you to reach your money goals.
Also, with personalized alerts, custom insights, and a user-friendly interface, the app makes it easy to manage your finances. Users can benefit from over 40 years of Quicken's successful track record in personal finance and start budgeting better as a couple with the app. Quicken Simplifi is considered one of the best budget apps for couples. Browse Quicken Simplifi's website to learn more.
Quicken Simplifi on Google Play
Quicken Simplifi on the App Store
---
Also Read: The 7 Best Expense Tracker Apps
---
EveryDollar
Price: Free/In-App Purchase: Up to $129.99
EveryDollar takes the stress out of planning and managing money and ranks among the best budget apps for couples. Couples can create their first budget in just 10 minutes, customize categories, track spending, set savings goals, and more. Built on zero-based budgeting, EveryDollar ensures that every dollar has a job, giving you complete control over your finances. With the app, users can gain insights into their spending habits, make smarter choices, and find ways to save more money.
Besides, with the free version, you can create unlimited budgets, sync data across devices, and access personalized categories. The app provides facilities for couples to upgrade to the premium version for features like automatic bank syncing, goal setting, custom reporting, and debt payoff tracking. Explore EveryDollar's website to learn more.
HomeBudget with Sync
Price: $4.99 for iOS/ $5.99 for Android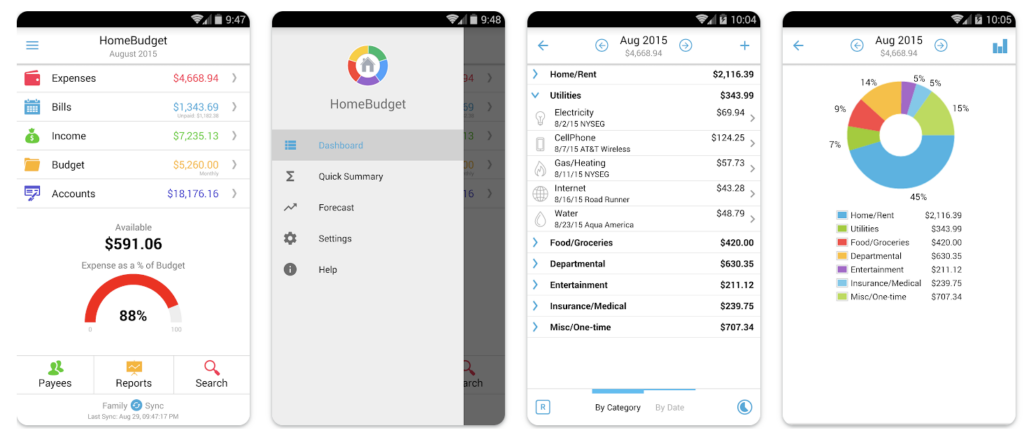 HomeBudget with Sync is a comprehensive expense tracker designed to simplify your financial management. Available on Android, iPhone/iPad, and desktop versions, HomeBudget offers instant data sync across devices for seamless tracking. With its integrated set of features, HomeBudget allows expenses to be linked to bills and accounts, ensuring accurate balance adjustments.
Additionally, the standout feature is Family Sync, which enables multiple devices within the household to exchange expense and income information, working together within a single budget. Create, edit, and track expenses, income, bills, and accounts with ease. Analyze your financial data with interactive charts and graphs. Set budgets at the category/sub-category level and classify expenses for better financial control.
Also, couples can enjoy the convenience of bill reminders, customizable categories, and password protection. With HomeBudget, users can sync and collaborate with their partners, managing their budgets as a couple effortlessly. HomeBudget with Sync is one of the best budget apps for couples because of its unique features.
HomeBudget with Sync on Google Play
HomeBudget with Sync on the App Store
---
Also Read: The 6 Best Co-Parenting Apps
---
Budget & Bill App: PocketGuard
Price: Free/In-App Purchase: Up to $99.99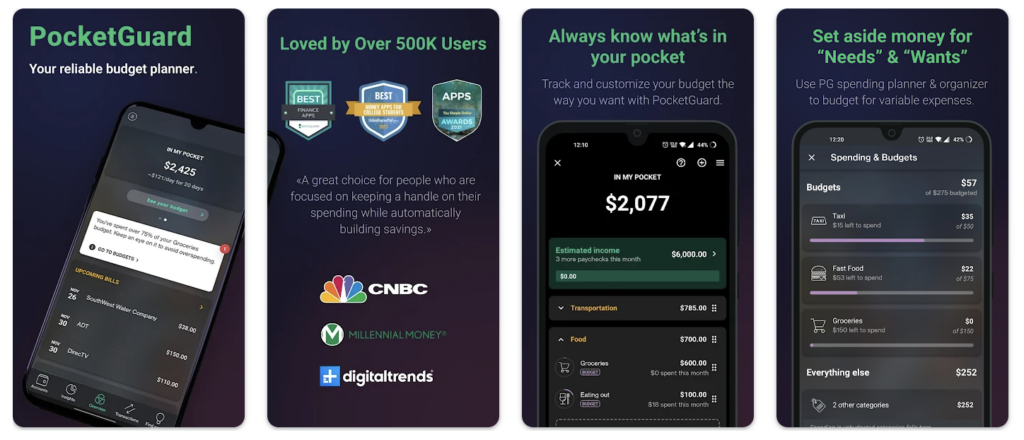 PocketGuard is an excellent bills and budgeting app for couples. This efficient money management tool simplifies budgeting and expense tracking, offering a range of useful functions, including a subscription manager. With its user-friendly layout and clever algorithms, PocketGuard transforms the way you manage your spending.
Moreover, users can effortlessly build and monitor their budgets, track their income and savings, and stay on top of their financial health. The app's streamlined account organization, comprehensive financial planning features, and effective subscription management make it an ideal choice for couples seeking efficient budgeting. Visit PocketGuard's website for more detailed information.
Budget & Bill App: PocketGuard on Google Play
Budget & Bill App: PocketGuard on the App Store