Budget apps can be a savior for those who cannot find where their money is going, who want to save or just want to follow their spending habits. With these apps, you can control your credit, invoice and daily expenses very easily, as well as connecting your financial accounts to keep up with your budget.
In this article, we have brought together the best budget apps that can help you track your spending habits and expenses and use your budget effectively.
If you are looking for the best investment apps for beginners, or if you are looking for Robinhood alternatives, don't forget to check out the articles below.
---
Also Read: Robinhood Alternatives: The 5 Best Stock Trading Apps
---
The Best Budget Apps
Mint
PocketGuard
Goodbudget
Personal Capital
YNAB
Honeydue
EveryDollar
Mint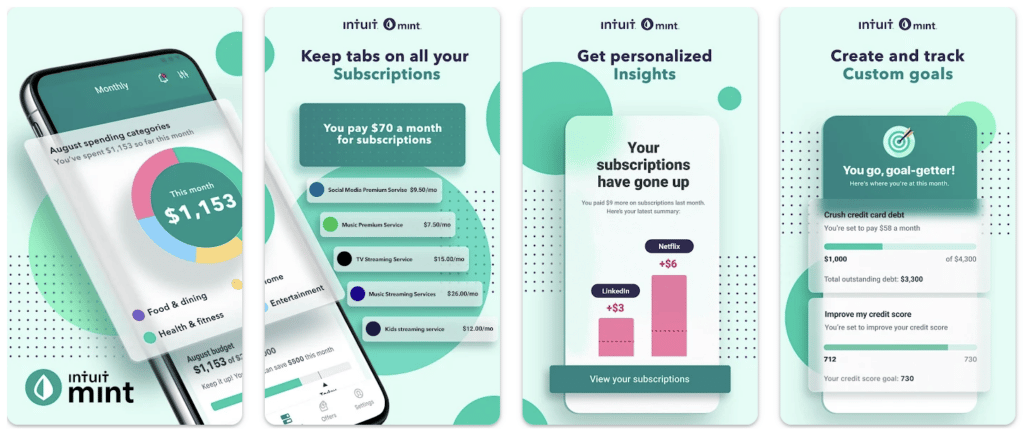 Accepted as the best budget app by authorities and major magazines, Mint is a personal finance and money manager app that aims to provide a complete picture of your financial health by bringing together all bank accounts, credit cards and transactions in a single app.
While managing all your financial transactions with a single app, it also offers income/expense management. After you create your Mint account and enter your bank, credit card and credit information, you can see information such as where you spend your money the most and between what time periods.
Using the popular money management app, you can get alerted when you're close to going over budget or before you overdraft from an account. It also sends you notifications when a subscription price goes up.
Another important feature of Mint is that it provides budgeting tips and advice as well as new ways to make every dollar you have count.
---
Also Read: The 7 Best Expense Tracker Apps
---
PocketGuard
PocketGuard is one of the best free budget apps that brings your credit, savings, and checking account together and provides detailed analysis of your budgets and expenses.
If you want to see how much disposable income you have after paying your bills, saving for your goals, and setting aside enough money for needs and wants, PocketGuard provides it with its "In My Pocket" feature.
When you set up your PocketGuard account by connecting your bank accounts, the money management app starts to identify your bills and subscriptions automatically and includes them in your monthly budget to let you never miss a due date. It also negotiates with providers for better rates to lower your bills.
Goodbudget
GoodBudget, which comes across with a convenient and simple user interface, is one of the best money management apps for mobile users who are looking for a money manager and expense tracker.
Unlike other budget apps on our list, Goodbudget doesn't let you sync bank accounts. You manually add account balances, cash amounts, and debits. With the accounts and income entered, you assign money to expenditure categories known as envelopes.
Using Goodbudget, you can check Envelope and Account balances, schedule transactions, track expenses, analyze spendings, and monitor cash flow. The app's free version includes 10 regular envelopes and 10 annual envelopes.
---
Also Read: The 5 Best Investment Apps for Beginners
---
Personal Capital
Despite being ranked fifth on our list, Personal Capital is one of the best budget apps that allows you to track all your finances, investments and retirement in one place and offers as useful and comprehensive features as any other.
Using Personal Capital, which is used by more than 2.8 million people, you can manage your total income and total expenses across all your accounts, month over month.
It also provides you an Investment Checkup Tool that compares your current portfolio allocation to the ideal target allocation designed to minimize risk and maximize returns to meet your financial goals.
Personal Capital on Google Play
Personal Capital on the App Store
YNAB (You Need A Budget)
YNAB is one of the best apps for money management with advanced features such as real-time expense tracking, loan calculator, and goal tracking. Using the app, which follows the zero-based budgeting system, you can pay off more debt and reach your personal finance goals faster.
To take maximum control of your budget, once you have your money, you tell the app how much of your income should go into various categories, including expenses, goals, and savings. YNAB says that on average, new budgeters save $600 in the first two months and more than $6,000 in the first year.
The app, which allows you to see your complete financial picture in one place by syncing your bank accounts, offers a 30-day free trial.
Honeydue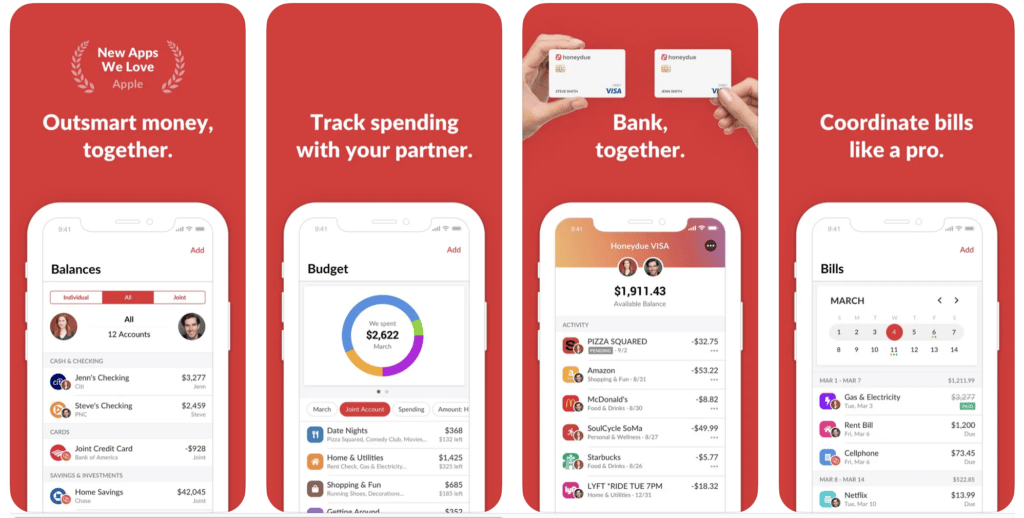 Next on our list of the best budget apps is Honeydue, designed for couples. If you are looking for an option to keep track of your balances, budgets, and bills together and have meaningful conversations with your partner about your habits and goals for your spending and savings, Honeydue is one of the most popular apps in this regard.
Using the app with your partner, you can set monthly household spending limits on each category, decide how much to share with your partner, see all your bank account balances in one place, receive notifications when bills are due, and ask each other questions about unfamiliar expenses.
The app, which supports many banks in the United States, is also free.
---
Also Read: The 5 Best Apps for Couples
---
EveryDollar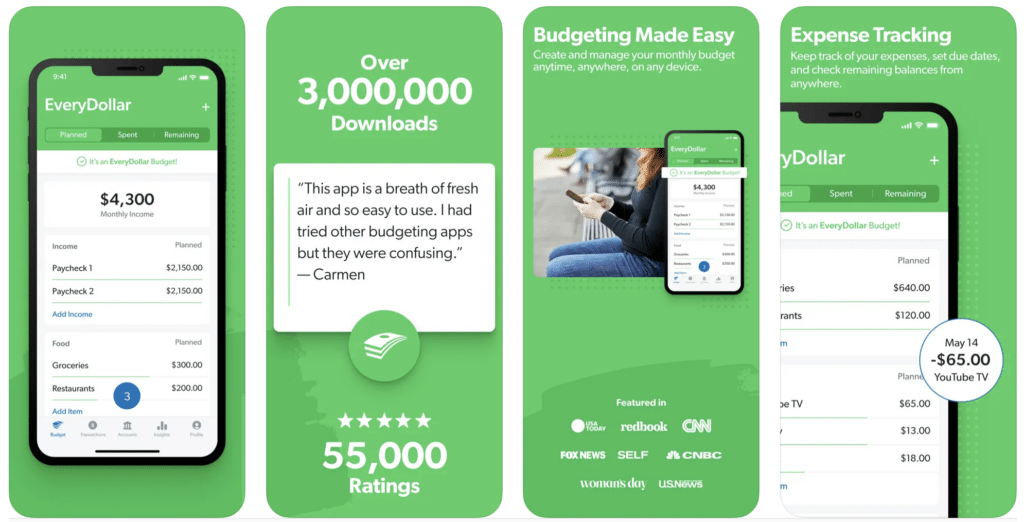 EveryDollar is one of the best apps for money management with more than 3 million downloads. Built on the zero-based budgeting system, it allows you to give every dollar a job to do before the month begins.
Using the app's free version, you can create your budget in minutes, sync your budget data across all your devices, customize categories as you wish, manually track your transactions, and set up goals to pay off your debt faster and plan your budget in the long run.
If you want to connect your bank so transactions automatically stream in straight from your bank account and access more features like setting due date reminders and getting priority callback support, you need to pay for its premium version which costs $12.99 per month.