Especially in the last decade, the rapid development of mobile devices made our lives much easier. For instance, during these days when we are strongly recommended to stay at home in order to slow down the spread of the Coronavirus, we are able to meet most of our needs without having to leave our homes thanks to mobile apps. As a result of this, monthly time spent in apps jumped up by 40% to 200 billion hours in the second quarter of 2020.
With these life-savers, we are able to shop, order food, spend time with our friends on social media and complete many of our tasks online. And now, we can even invest our money no matter where we are thanks to the growing number of stock investing apps.
Every day, millions of people from all over the world make various kinds of investments to boost their savings. If you're planning to take your place among them, keep reading. Cause today, we're going to be talking about the 5 best investment apps for beginners, available on the App Store and Play Store, with their details.
E*TRADE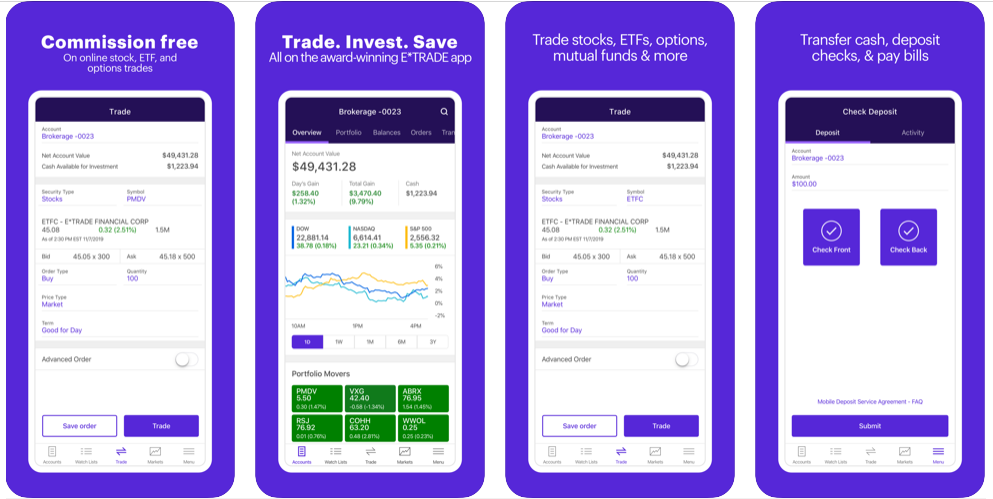 We're starting our best stock investment apps list with US-based E*TRADE that was founded by William A. Porter and Bernard A. Newcomb 38 years ago, in 1982.
With the award-winning E*TRADE mobile app, you can trade, invest and save up your money quite effortlessly.
It doesn't ask for commission on online US-listed stock, ETF and options trades. You can also trade mutual funds, transfer your money, pay your bills and deposit checks.
The E*TRADE app provides users with useful quotes, the latest news in the markets, research & various tools, screeners and more.
It also provides the ability to watch live Bloomberg streaming videos.
In case you need any help while using E*TRADE, you can easily access the customer service and chat with them within the app.
Acorns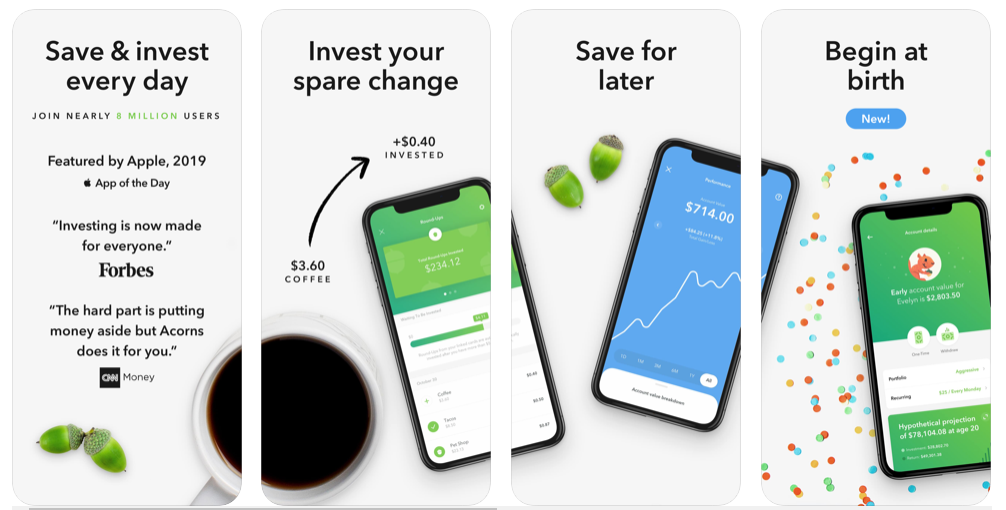 Founded by Jeffrey James Cruttenden and Walter Wemple Cruttenden III in 2012, Acorns is among the best investing apps preferred by millions of beginner and professional investors around the world as it's quite easy to use.
Using the Acorns app, you can invest with automatic Round-Ups and Recurring Investments, save up for your retirement with Acorns Later, create an investment account for you kids with Acorns Early, gain extra money from more than 350 brands that ''invest in you when you shop'' and more.
Press Highlights
Forbes: ''Investing is now made for everyone.''
Business Insider: "Acorns is my favorite money app, because it makes it simple & cheap to make small investments."
---
Also Read: The Best Apps for Productivity
---
Robinhood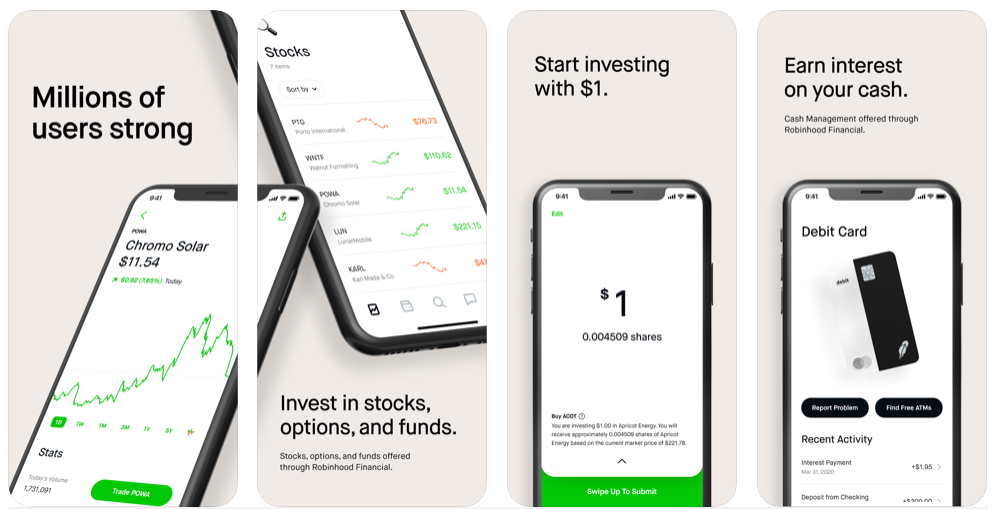 The next investment app for beginners in our list is Robinhood which was founded in 2013 by Baiju Bhatt and Vladimir Tenev. It enables users to invest in stocks, funds, options and cryptocurrencies including Bitcoin (BTC), Ethereum (ETH) and Dogecoin (DOGE).
---
Also read: Robinhood Revenue and Usage Statistics
---
Used widely by both professionals and beginners, Robinhood allows users to start with just $1 and provides them with useful services and tools to help them easily learn about investing and join the financial market.
You can also set up customized news to learn about the latest developments and keep up with the market.
Fidelity Investments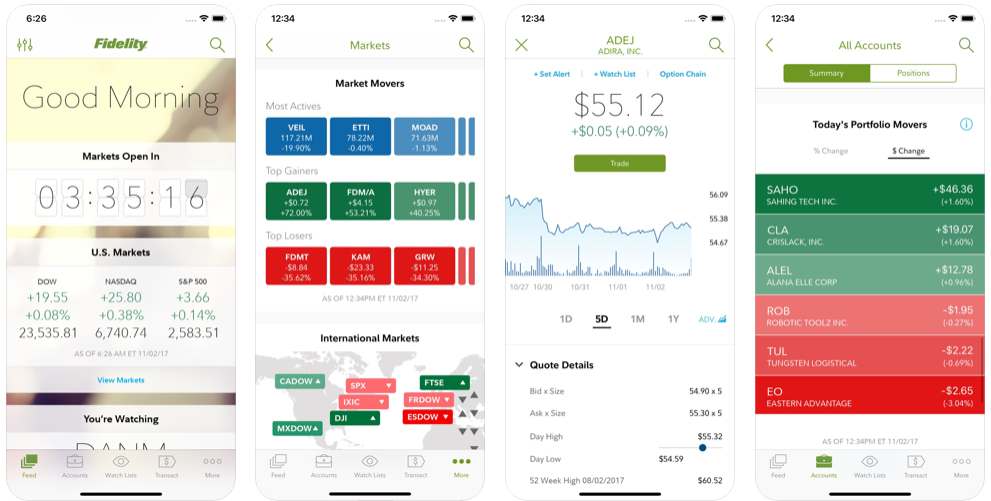 Thanks to its 70 years of financial experience, Fidelity takes its place among the best stock investment apps in the market.
It allows users to trade, manage their money, deposit their checks, pay their bills and more with its easy-to-use interface. Fidelity is seen by the majority as the best Robinhood alternative in terms of its trading features, offering of investments , and commissions & fees.
Fidelity also provides its investors with the ability to access the latest news about their investments.
Just like E*TRADE, it lets users watch live Bloomberg videos.
---
Also Read: The 7 Best Habit Tracker Apps
---
SoFi Invest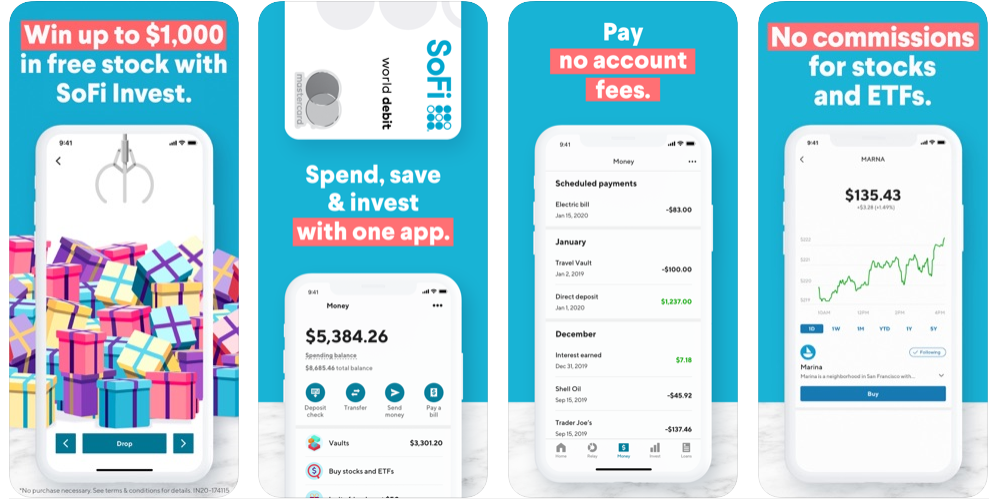 At the end of our beginner investing apps list is SoFi Invest, which has been providing financial services for 9 years. It was founded by Mike Cagney, James Finnigan, Ian Brady and Dan Macklin in 2011, in the USA.
The mobile app SoFi allows users to trade stocks, shares, ETFs and cryptocurrencies including Bitcoin, Litecoin and Ethereum.
It doesn't require you to pay account fees and commissions for stocks and ETFs. In addition, there aren't any account minimums to invest in stocks.
SoFi Invest also lets you track & categorize your spendings and view your credit score rating. If you are looking for alternatives to Robinhood as a young investor, SoFi Invest is an investment app you must check out.