Traveling the world is a dream come true, but managing your finances on the go can be a daunting task. Luckily, the best travel budget apps like Zoho Invoice, TravelSpend, PocketGuard, Trabee Pocket, and Revolut have your back. These powerful tools will not only help you keep your expenses in check but also ensure you get the most out of your hard-earned money. Without further ado, here are the best travel budget apps!
Zoho Invoice
Zoho Invoice, a versatile online invoicing application designed for freelancers and small business owners, revolutionizes your financial processes. Create professional invoices effortlessly with customizable templates, enhancing your brand image and building trust with clients. Beyond invoicing, it aids in sending payment reminders and tracking expenses, including travel expenses, automatically calculated based on GPS and mileage.
Also, the app offers seamless time tracking, multiple payment gateways, and insightful real-time business reports. Enjoy instant notifications when clients view invoices or make payments, and facilitate international invoicing with support for multiple currencies and languages. To learn more, explore Zoho Invoice's website.
TravelSpend
Price: Free/In-App Purchase: Up to $64.99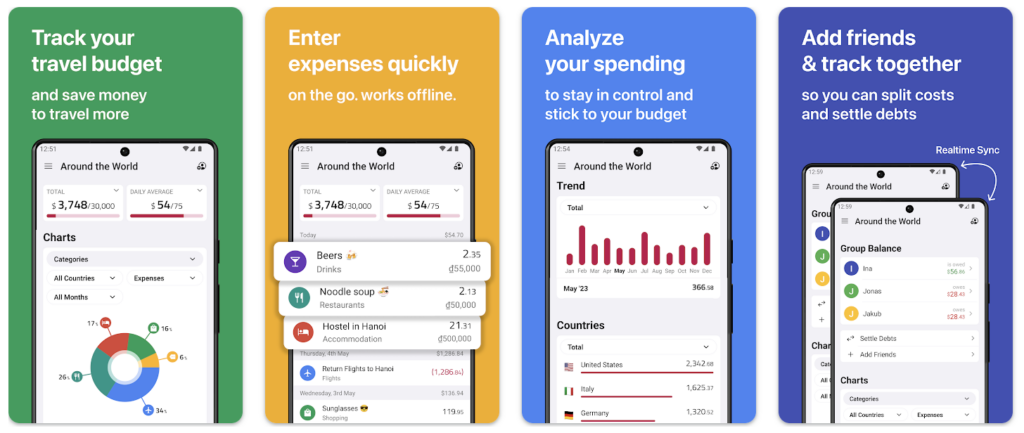 TravelSpend simplifies travel expense tracking, catering to both trip planning and on-the-go spending, and it stands out among the best budget apps. With TravelSpend's user-friendly interface and offline functionality, the app allows you to effortlessly record expenses, add photos and spread costs over multiple days. Stay within your travel budget with ease and eliminate currency exchange worries, as TravelSpend automatically converts expenses into your home currency. Collaborate with fellow travelers, split expenses, and gain valuable insights through visualized spending data. When it's time for expense reports, exporting data is a breeze. Visit TravelSpend's website to get more information.
---
Also Read: The 10 Best Apps for Backpackers
---
Budget & Bill App: PocketGuard
Price: Free/In-App Purchase: Up to $99.99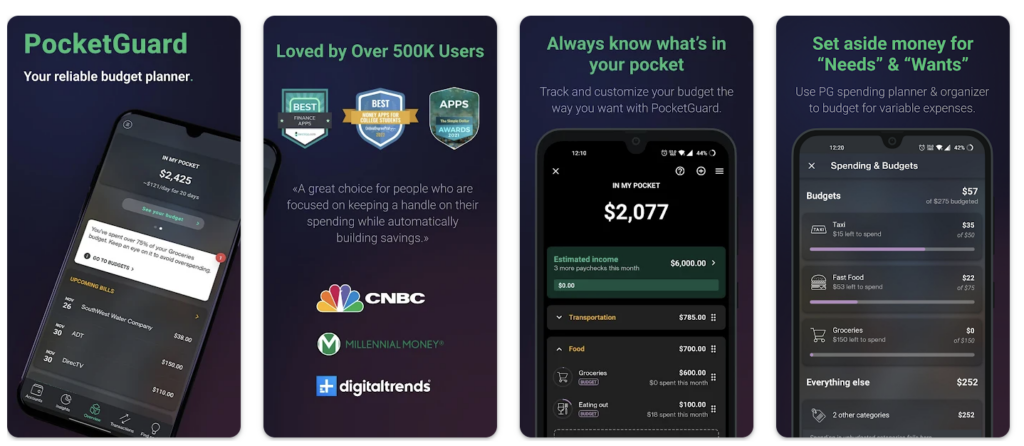 PocketGuard, your trusted personal finance manager, offers an array of features to streamline your financial life. It syncs with your bank accounts, categorizes expenses, and generates insightful reports. The "In My Pocket" feature calculates your disposable income, ensuring you're on track with your financial goals. Never miss a bill payment again with the bill tracker, and optimize your financial journey with tools for debt management and goal setting. Bank-level security safeguards your sensitive information, and a premium subscription is available for enhanced features. Browse PocketGuard's website for more detailed information.
Budget & Bill App: PocketGuard on Google Play
Budget & Bill App: PocketGuard on the App Store
Trabee Pocket
Price: Free/In-App Purchase: Up to $1.99

Trabee Pocket simplifies travel expense management with its convenient and offline-friendly approach. Capture expenses on the go, check travel statistics, and effortlessly view your spending in your home currency. Customize expense categories to fit your preferences and export data seamlessly for reporting purposes. Whether you're a frequent traveler or on a one-time adventure, Trabee Pocket ensures your travel expenses are organized and easy to manage, and it is considered to be one of the best travel budget apps. Check out Trabee Pocket's website to learn more about the app.
Trabee Pocket on the App Store
---
Also Read: The 10 Best Travel Booking Apps
---
Wallet: Budget Expense Tracker
Price: Free/In-App Purchase: Up to $144.99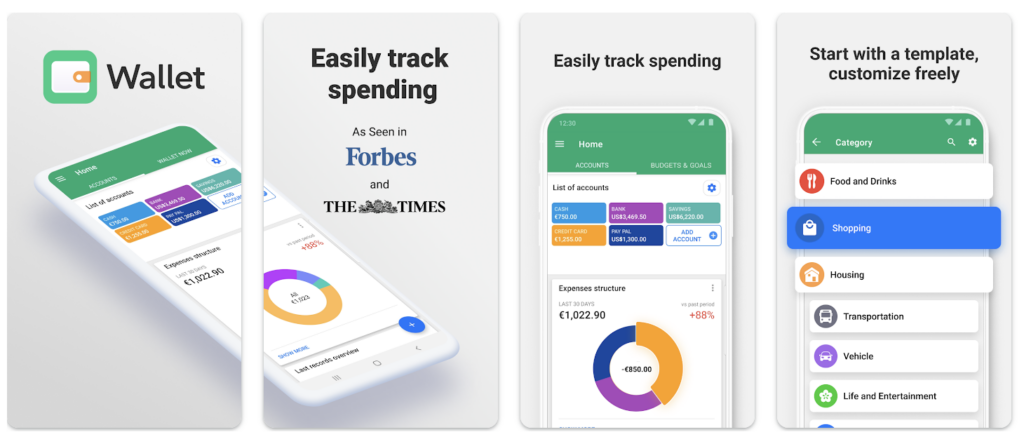 Wallet offers users a comprehensive personal finance management solution with a user-friendly interface, and it deserves to be one of the best travel budget apps. It's perfect for individuals who want to gain control over their finances effortlessly. With automatic bank updates from over 3,500 participating banks worldwide, you can easily track your expenses and income. The app provides flexible budgeting options, helping you plan your spending, save money, and reach your financial goals. Gain insights into your spending habits through insightful reports and financial overviews, helping you optimize your budget effectively. You can also manage bills with ease, ensuring you never miss a due date. Wallet's features extend to sharing selected accounts with family, friends, or colleagues, making it a versatile tool for financial management. Plus, its security measures, such as PIN codes, biometrics, and bank-level encryption, guarantee your sensitive information remains safe. Wallet simplifies your financial life, allowing you to focus on what matters most to you.
Wallet: Budget Expense Tracker on Google Play
Wallet: Budget Expense Tracker on the App Store
Revolut
Price: Free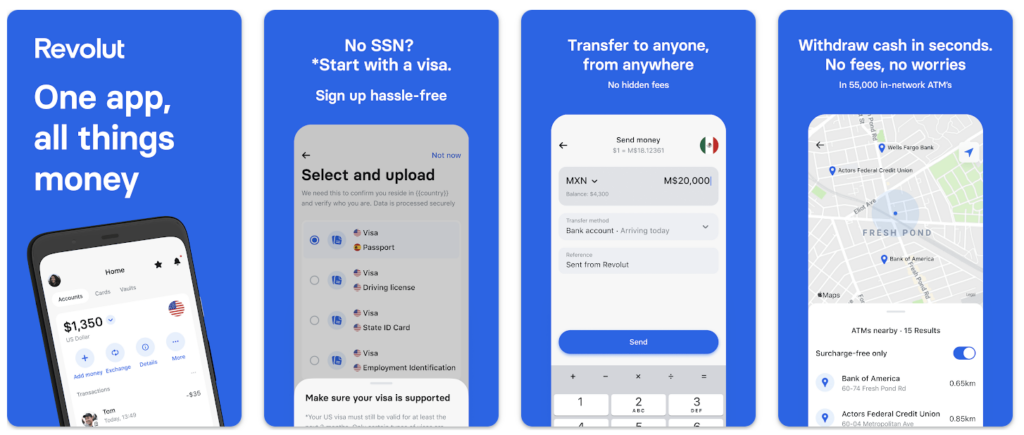 Revolut offers a comprehensive financial ecosystem within a single app. Seamlessly manage your budget, spend, save, exchange, and transfer money worldwide with no hidden fees. Enjoy instant peer-to-peer payments in various currencies and low-cost international transfers. Get a grip on your card's security with features like freezing and generating virtual cards. Dive into the world of stock trading and investment and access cashback offers and discounts at your favorite brands and restaurants. Maximize your money with budgeting tools, savings options, and real-time financial insights. To learn more, explore Revolut's website.
---
Also Read: The 8 Best Rideshare Apps
---
Splitwise
Price: Free/In-App Purchase: Up to $39.99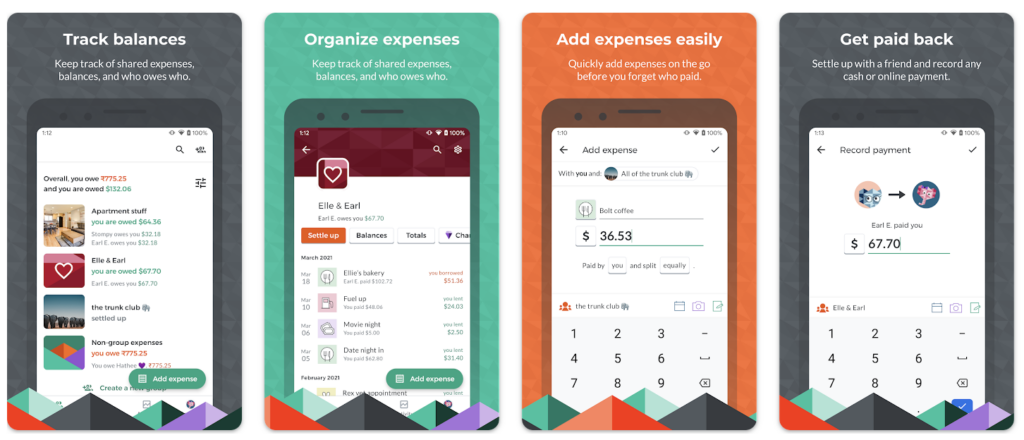 Splitwise alleviates the hassle of sharing expenses among friends, family, or colleagues. Organize group bills effortlessly, whether it's for rent, travel, or social outings. The app's intuitive interface allows you to create groups or private friendships, add expenses, and split costs equally or unequally. With multi-platform support and features like multi-currency support and bill recurrence, Splitwise adapts to various situations. Stay updated with real-time notifications, an activity feed, and seamless integrations with payment platforms like Venmo and PayPal. It's the go-to solution for reducing the stress of managing shared finances and IOUs. For more information, go to Splitwise's website.
Expensify
Price: Free/In-App Purchase: Up to $4.99 for iOS
Expensify streamlines expense tracking, receipt management, and travel expense organization, and it ranks among the best travel budget apps. Capture and upload receipts with the Receipt Scanner, and let the app automatically categorize expenses. Customize categories and tags to match your needs. For businesses, multi-level approval workflows automate expense policies, reducing manual effort. Sync your accounts with accounting and finance tools and stay updated on expenses and travel plans. Enjoy multi-currency support for global expense management. Expensify integrates seamlessly with productivity tools and ensures compliance with industry standards. For more detailed information, visit Expensify's website.
---
Also Read: The 8 Best Road Trip Apps
---
Tripcoin – Travel budget
Price: Free/In-App Purchase: Up to $4.99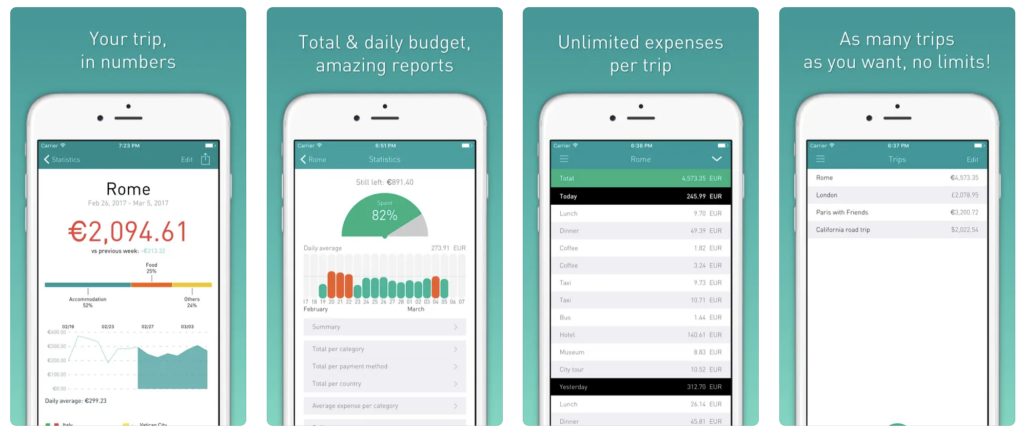 Tripcoin helps travelers budget with ease. Manage unlimited trips and entries, even offline, in 150+ currencies. Keep an eye on your daily and total budgets, and visualize your spending habits through graphs and reports. The app allows you to snap receipts, record locations, and split expenses over several days. With Dropbox and iCloud backups, your data remains secure. Tripcoin simplifies your financial organization during vacations, business trips, or a global adventure, and it is available on the App Store.
Tripcoin – Travel budget on the App Store