Mobile marketing analytics platform Adjust and app intelligence provider Apptopia released its Fintech Deep Dive: Digital Currencies 2022 Playbook, a look at the key drivers of cryptocurrency app adoption in 2021. The report reveals that global crypto app growth skyrocketed 902% year-over-year in the fourth quarter of 2021, with standout markets by growth rates being the U.S. (645%), APAC (475%), EMEA (284%) and LATAM (182%).
Per the report, crypto apps saw massive user growth globally in 2021 as app downloads surged past 400% YoY. The most notable rise in installs took place in Q4 2021 — a 106% YoY increase following a 49% drop in downloads from Q2 to Q3.
These moves correlate with Bitcoin and overall crypto market price movements and market capitalization, indicating that new price highs attract new user interest. Bitcoin reached new all-time highs twice in 2021. The first boost took place in April at nearly $64,000, followed by a decline over the summer and then a new peak of around $69,000 in November — with increases in downloads reflecting these moves.
---
Also Read: Romance scammers collected $139 million in cryptocurrencies in 2021
---
Crypto apps also outperformed stock trading apps on user engagement metrics such as session lengths, sessions per user per day, retention rates, and stickiness, indicating an engaged and high-retention user base for crypto apps.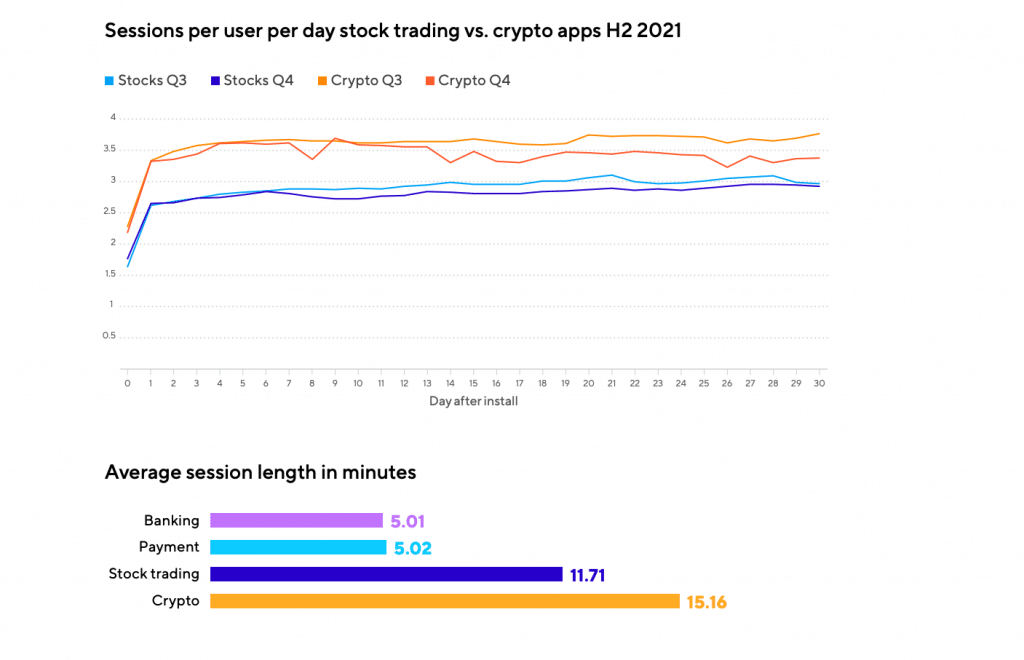 Crypto app sessions follow a very similar pattern to downloads. Sessions rose 63.4% from 2019 to 2020 (mirroring growth in installs), before seeing a stunning 567.4% growth in sessions in 2021. The trend within 2021 remained similar to installs yet more muted, with a 29% decline from Q2 to Q3, before a 46.81% rise in Q4.
As with retention rates, crypto apps perform above stock trading apps in Q3 and Q4 2021 in terms of the number of sessions per user per day. In Q3, the median number of crypto app users bounced between 2.27 and 3.76, growing over 30 days; while for a stock trading app user, sessions per day range from 1.64 to a high of 3.08. In Q4, stock app sessions per user per day range between 1.76 and 2.94, while for crypto apps they sit between 2.17 and of 3.68, with every day past Day 0 3.3 or above.