Food delivery, one of the fastest-growing app categories in 2020, has continued its momentum in 2021 without slowing down. According to a new report from Adjust, global food delivery app downloads increased by 25% in 2020 compared to 2019, and are up by a further 21% so far in 2021. 
Food delivery app installs saw the biggest growth in APAC, up 37% with an additional 6% increase in 2021. EMEA, on the other hand, saw the lowest growth in 2020, up 12% but the market is booming in 2021, up 37% in 2021.
---
Also Read: Global e-commerce app downloads up 10% in 2021
---
Global food delivery app sessions have also increased. It skyrocketed 88% in 2020 as compared to 2019, and up by a further 43% so far this year. App sessions in APAC grew 128% in 2020 compared to 2019, and have seen a boost of 42% by the end of the third quarter of 2021. Similarly, sessions in North America jumped a whopping 122% in 2020 and have grown by a further 45% in 2021. While not quite as momentous as the others, sessions in EMEA also saw significant increases, at 41% and 42% in 2020 and 2021, respectively.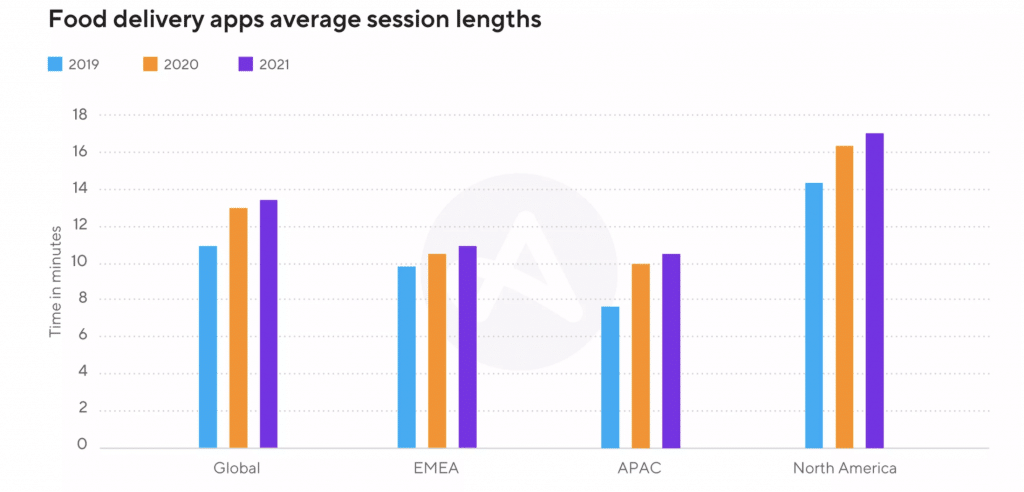 Average session duration increased consistently across all regions as sessions and installs increased. The global average session length in 2019 was 11.03 minutes, increasing significantly to 12.85 minutes in 2020 and rising to 13.59 so far in 2021.
Food delivery applications attracted the attention of investors as well as users, and we heard a lot of investment news from companies in this vertical throughout 2021. Indian food delivery firm Swiggy raised $800 million at around $5B valuation in April. Just 5 months after this round, the company announced that it closed a $1.25 billion funding round led by SoftBank Vision Fund 2 and Prosus. Spanish food delivery app Glovo raised 450 million euros ($528 million) in a Series F funding round led by Lugard Road Capital and Luxor Capital Group in April.