According to a new report jointly published by Adjust and Sensor Tower, global installs of e-commerce apps have risen 10% so far in 2021 compared to 2020.
The report found that app downloads also rose regionally in EMEA (15%), LATAM (11%) and APAC (9%). Sensor Tower data shows that Shopee is the world's top e-commerce app in 2021 so far, with Brazil as its key market.
In-app revenue in the e-commerce vertical has also increased significantly in 2021, with May being the biggest month so far. Not only are shoppers spending more money in-app, they're spending more of their time in-app overall per day. Globally, average session lengths are up from 10.07 minutes in 2019, to 10.42 minutes in 2020, to 10.56 minutes in 2021 so far – suggesting this year's shopping season is likely to reach an all-time high.
In terms of app downloads growth so far in 2021, India has seen the most impressive spike, with Indonesia and Mexico also outperforming their 2020 numbers. According to a recent report, India was also the largest mobile games market in the world for downloads in the first half of 2021, with 4.8 billion installs.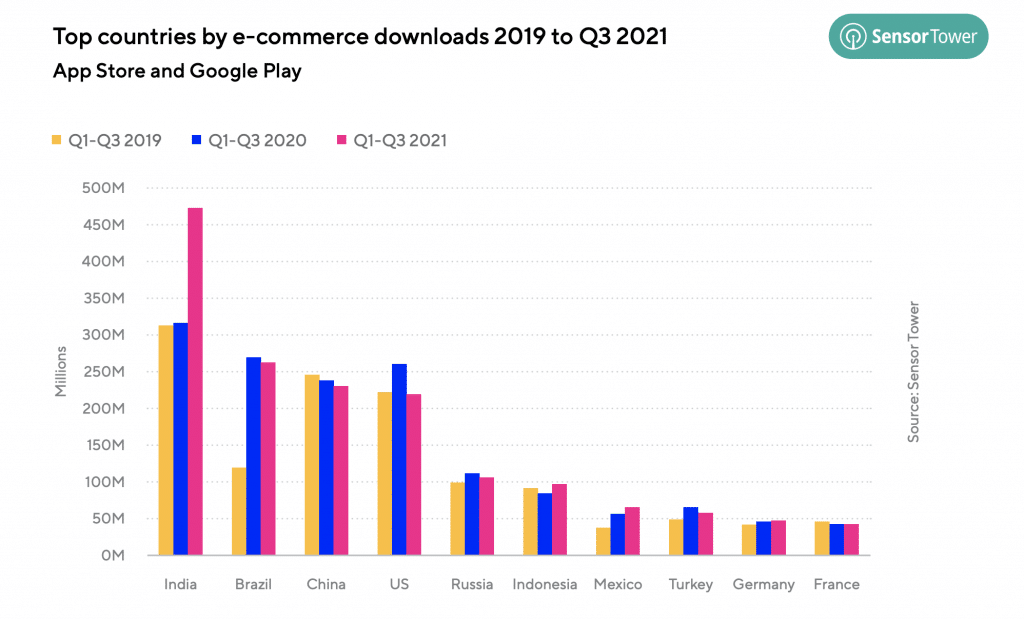 Globally, the share of paid installs relative to organic installs is slightly lower in the first half of 2021 (0.44 and 0.42) compared to Q1 of 2020 (0.49), but up from Q2 of 2020 (0.34).
After a slight drop in Q1 2021, compared to 2020, retention rates picked back up in Q2 2021. Day 1 came in at 26% in Q2 of 2021, up from 21% in Q1 and matching Q2 2020. Q2 2021 then maintained higher retention rates than any other quarter — holding at 17% for Day 7, 14% for Day 15, and 11% for Day 30.
According to the report, Q1 and Q2 of 2021 saw an uptick in eCPI (effective cost per install) compared to the same time the previous year. Globally, the cost to acquire users for e-commerce apps rose from $1.06 in Q1 of 2020 to $1.67 in Q1 of 2021. Q2 saw a more dramatic rise, with install costs rising from $1.31 in Q2 of 2020 to $2.42 in Q2 2021.
APAC has seen the highest rise in eCPI, more than tripling from 2020 to 2021. Costs went from $0.69 in Q1 2020 to $1.60 in Q1 2021, and $0.42 in Q2 2020 to $1.88 in Q2 2021. In EMEA, the change was similar in absolute terms but more modest in relative terms, rising from $1.06 in Q1 2020 to $1.36 in Q1 2021, and from $1.48 to $2.49 in Q2 2021.
Adjust's data also shows the App Tracking Transparency (ATT) opt-in rate for e-commerce hovering at an average of 17% — far higher than initial industry projections. Adjust predicts that consent rates will continue to rise over time as users become more educated on the value of relevant advertising.