The global Fintech app market, which has been growing steadily in recent years, has seen faster growth since the outbreak of COVID-19. According to a new report published by Sensor Tower, worldwide downloads of Fintech apps exceeded 6.1 billion in 2021, up 25.2% year-over-year. 
In the first quarter of 2022, cumulative downloads of Fintech and crypto apps reached a new peak of 1.74 billion, the report finds. Asia is leading the growth of Fintech market with 880 million downloads, up 44% from pre-pandemic levels in Q4 2019. It is followed by Latin America, Europe, Middle East, and Oceania.
While payment apps and crypto apps are the main drivers in Europe and North America, Latin America experienced a boom in banking apps. Despite the progress made by crypto apps in Asia, their popularity is generally lower than in Europe and the US.
SEA has demonstrated its potential as an emerging market for Crypto apps in this region, with the number of downloads rising from 6 million in 2020 to 21 million in 2021. In the first quarter of 2022, Crypto apps accounted for 7 percent of Top50 Fintech apps downloads in SEA.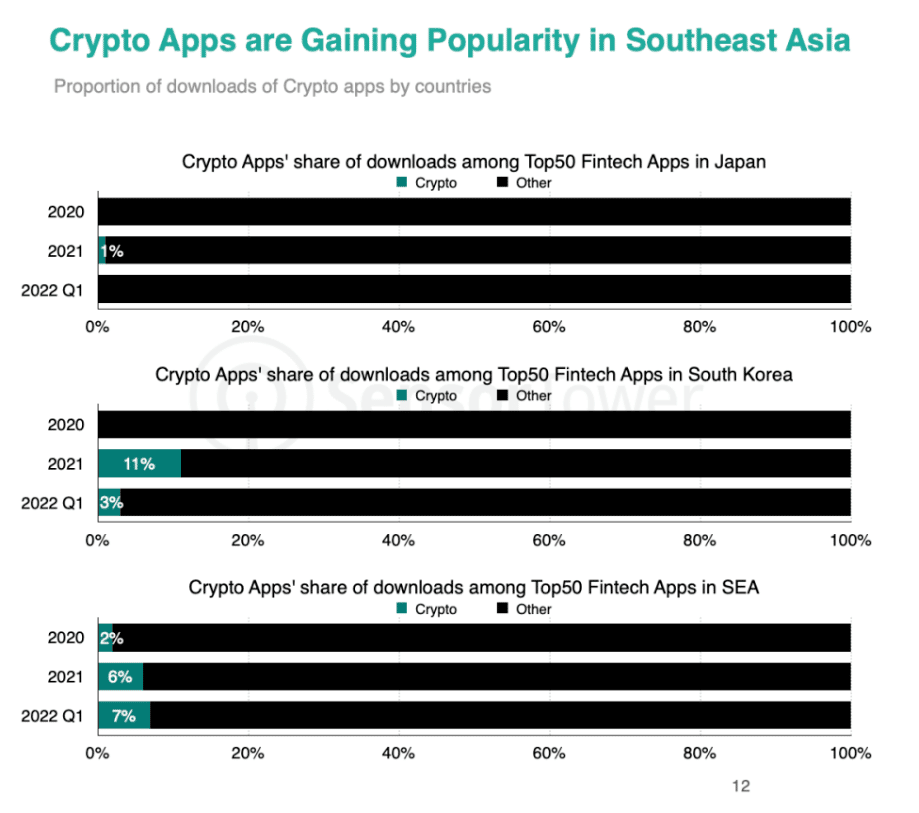 With the development and application of Blockchain technology, the global Crypto app market is expanding year by year and its growth has accelerated since the onset of COVID-19. The total number of downloads of the world's top 30 Crypto apps in 2021 exceeded 500 million, 2.8 times that of 2020. In the first quarter of 2022, the number of downloads of Crypto applications exceeded 100 million.
Bitcoin's market value saw its biggest growth in 2021, hitting over $70,000. The rise of global Bitcoin market value also drives the active use of Crypto apps. Data shows that the top crypto apps in the US saw daily active users peak from April to June and October to November in 2021, basically coinciding with spikes in Bitcoin's closing price.
According to a recent report, global crypto app growth skyrocketed 902% year-over-year in the fourth quarter of 2021, with standout markets by growth rates being the U.S. (645%), APAC (475%), EMEA (284%) and LATAM (182%).
When it comes to retention rates for fintech apps, per a recent report, it declined slowly from H1 2020 in 2021, where they had a day 1 rate of 25%, a day 7 rate of 17%, a day 14 rate of 14%, and a day 30 rate of 12%.