According to a new report from Adjust, fintech app installs and sessions rose 34% and 53%, respectively, globally in 2021.
Per the report, stock trading and crypto apps made up 7% and 2% of all fintech app installs, respectively, but accounted for 17% and 6% of sessions. Crypto apps also had the longest average session length in 2021 at over 15 minutes.
Regionally, North America came out on top for installs with a 69% YoY increase in 2021, followed by LATAM (62%), APAC (29%), and EMEA (16%).
When it comes to retention rates for fintech apps, it declined slowly from H1 2020, where they had a day 1 rate of 25%, a day 7 rate of 17%, a day 14 rate of 14%, and a day 30 rate of 12%. Dropping a few percentage points over the following 18 months, the numbers have started to bounce back, with H2 2021 posting a day 1 rate of 23%, day 7 rate of 16%, day 14 rate of 13%, and a day 30 rate of 11%.
In terms of total time spent in app per day, H1 of 2021 was the highest point, with a day 0 average of 2.8 minutes per day, 3.7 on day 7, 3.3 on day 14, and 3.1 on day 30. H2 followed closely behind, starting with 2.7 minutes on day 0 and 3 minutes on day 30.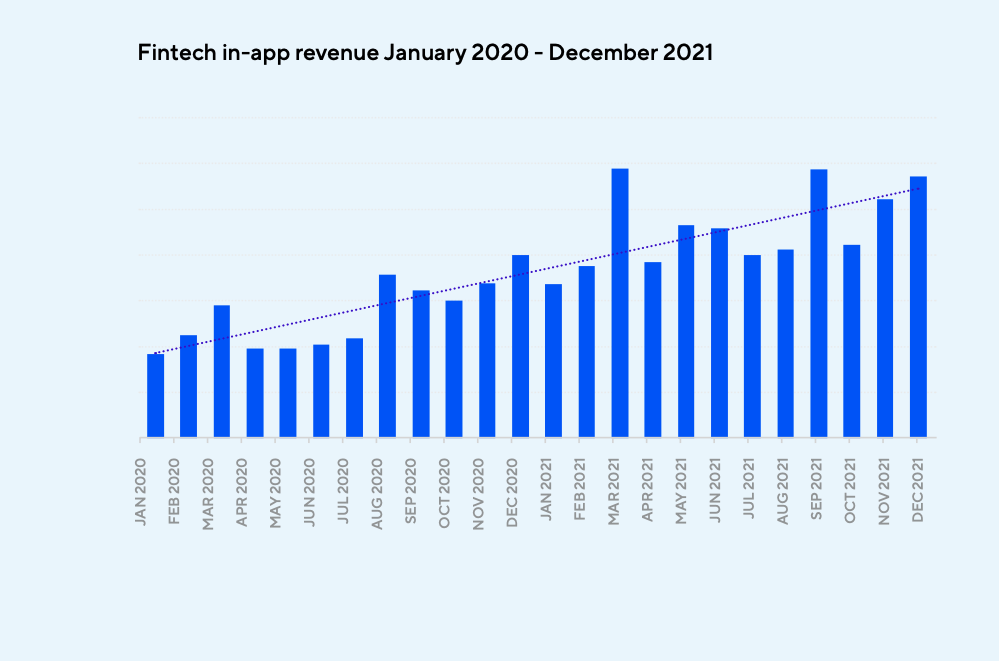 On the other hand, in-app revenue for fintech apps steadily and consistently trended upward from January 2020 through December 2021, with March 2021 the highest performing month. While third-parties and advertising are the key ways that fintechs monetize, subscription models have become increasingly prominent, helping to drive the uptick in in-app revenue, as many fintechs
have emerged from the growth stage into the profitability stage.
The rollout of Apple's iOS 14.5 and AppTrackingTransparency (ATT) framework in April 2021 pushed the mobile marketing industry to reassess the way it handles user privacy and tracking. Although early predictions hypothesized industry-wide opt-in rates as low as 5%, Adjust data shows that this figure is actually approximately 25% (having grown from 16% in May 2021), and gaming has hit 30%.