The global games market revenue declined by 5.1% year-on-year to $182.9 billion in 2022, according to a new report from Newzoo. That's slightly below the $184.4 billion the games market data company previously predicted. The company expects the market to hit $206.4 billion by 2025.
According to the report, while mobile games revenue dropped by 7% YoY to $92 billion last year, the mobile segment accounted for half of the total games revenue. It was followed by console games at No.2, which generated $52.2 billion, down 3% YoY.
Meanwhile, downloaded/boxed PC games and browser PC games saw $35.5 billion and $2.3 billion in revenue last year, both down 2.6% and 15% respectively.
When it comes to spending by region, Newzoo said that Asia-Pacific saw the most spending at $84.8 billion, which also fell by 9% compared to the previous year. North America revenue dropped by 2% to $33 billion, and Europe revenue decreased by 2% to $33 billion.
Unsurprisingly, 49% of the total consumer spending on games in 2022 came from the United States and China.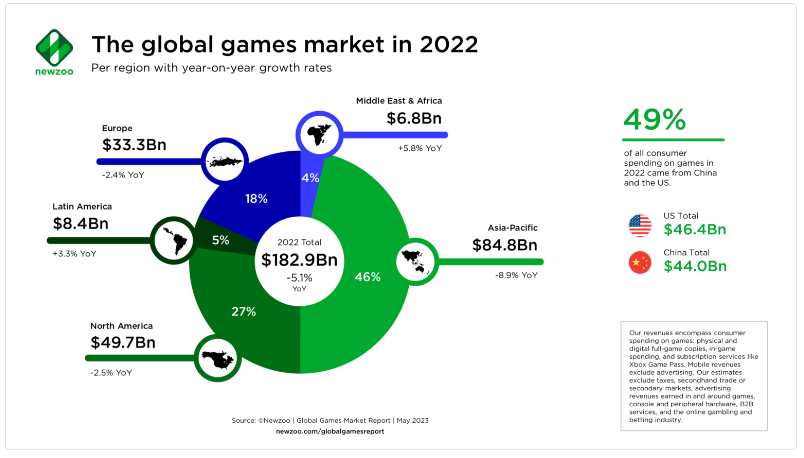 According to a previous report from Newzoo, 60% of engagement on media platforms now happens on mobile.