Mobile game advertising platform Gamelight has broadened its scope to 9 countries worldwide, introducing its services in France, Italy, Spain, and the Netherlands, in addition to the United States, Germany, the United Kingdom, Canada and Australia.
Germany's Gamelight is the largest rewarded marketing platform worldwide, launched by LOUD Ventures. This innovative platform leverages its vast user base across multiple self-published game recommendation platforms to drive high-quality users to mobile game publishers globally.
The company built a unique ROAS algorithm that analyzes users' playtime, engagement, competitor game usage & demographics data to identify users with the highest likeliness of long-term engagement on Gamelight's partners' games. Having exclusive access to the said data points gives Gamelight a clear advantage over other UA sources that are simply connected to third-party apps.
Gamelight partners with the largest mobile game publishers worldwide to provide their games with new, loyal users to drive up their ROAS, ARPU and Retention rate. Advertisers have complete control over user acquisition campaigns through Gamelight's self-serve dashboard, enabling them to acquire the most fitting users for their games by utilizing targeting options that Gamelight provides.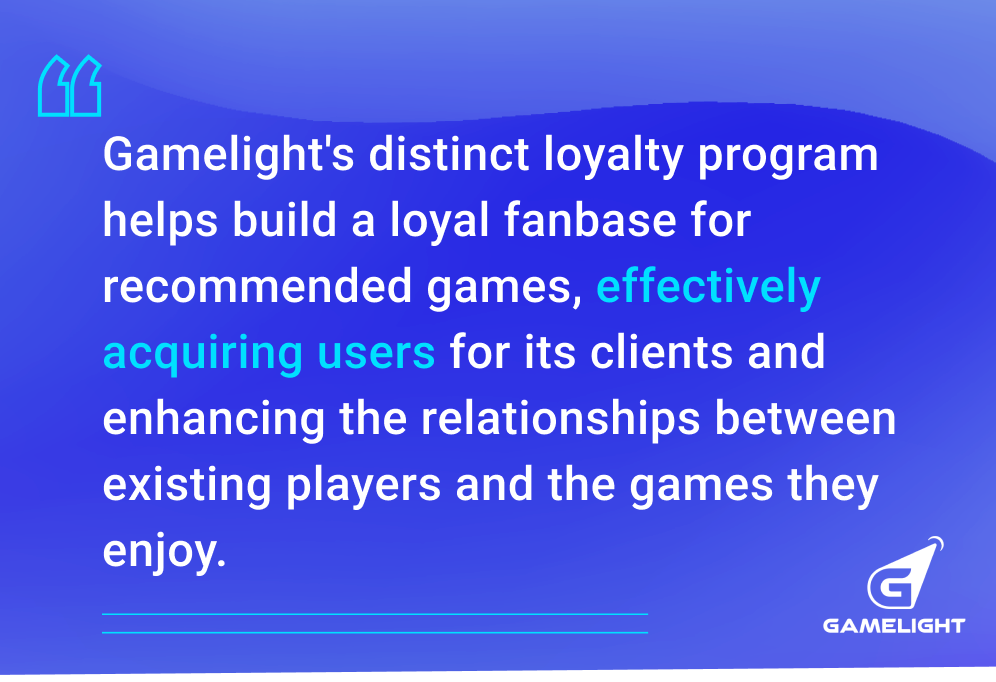 Gamelight excels with a perfect 100% advertiser retention rate and 0% churn rate, making it the ultimate choice for mobile game advertisers. 
The platform uses a rewarded playtime system where users earn points by playing and engaging with recommended games. Gamelight's distinct loyalty program helps build a loyal fanbase for recommended games, effectively acquiring users for its clients and enhancing the relationships between existing players and the games they enjoy.
Explore the Gamelight dashboard and its unique features HERE. 
To talk to one of Gamelight's mobile game marketing experts, write to partners@gamelight.io