According to a new report by independent economists from Analysis Group, Apple's App Store ecosystem facilitated $1.1 trillion in developer billings and sales in 2022. Over 90% of this figure came from non-App Store transactions, which means that Apple did not get a commission on any of these payments made to developers and other third parties.
Per the study, in 2022, App Store developers generated $910 billion in total billings and sales from the sale of physical goods and services, $109 billion from in-app advertising, and $104 billion for digital goods and services.
Between 2019 and 2020, developer billings and sales rose by 27%; between 2020 and 2021, by 27%; and between 2021 and 2022, by 29%. The report says, particularly small developers saw great success on the App Store; between 2020 and 2022, their revenues increased by 71 percent more than those of bigger developers, outperforming them.
While billings and sales from American developers have surged by more than 80% since 2019, developers' billings and revenues in Europe have increased by an above-average 116%.
"We've never been more hopeful about — or more inspired by — the incredible community of developers around the world," said Tim Cook, Apple's CEO. "As this report shows, the App Store is a vibrant, innovative marketplace where opportunity thrives, and we're as committed as ever to investing in developers' success and the app economy's future."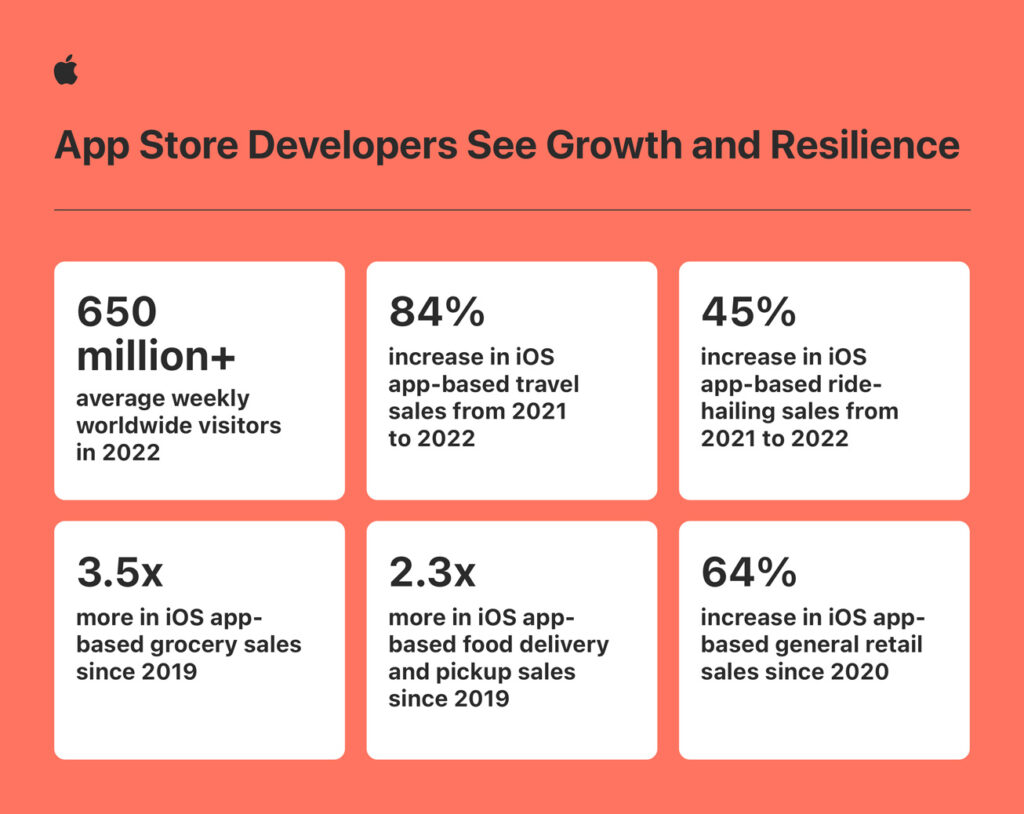 54% of downloads in 2022 took place in locations outside the home countries of the app developers. According to fresh data from Apple, there were more than 650 million weekly visits to the App Store worldwide in 2022. Additionally, last year, consumers downloaded and redownloaded apps a weekly average of over 747 million and 1.5 billion times, respectively.
When it comes to app categories, sales of travel-related iOS apps rose by 84%, while those of ride-hailing apps rose by 45% in 2022. One of the app categories with the fastest growth was food and grocery. Additionally, over the past few years, enterprise apps have become more and more popular among businesses worldwide.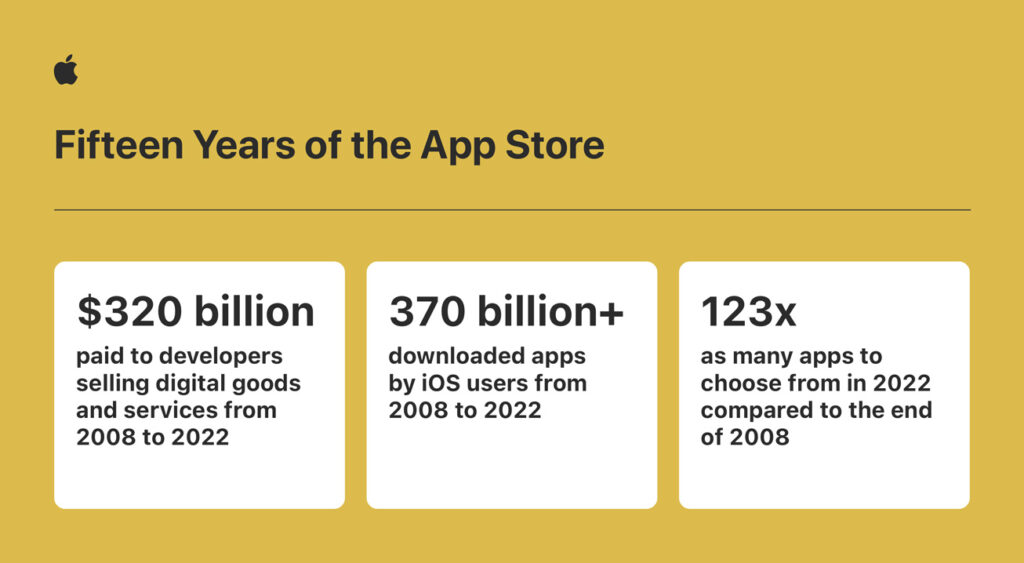 According to the research, iOS developers earned more than $320 billion from the App Store from 2008, when the App Store was launched, to 2022. Analysis Group research revealed that iOS users downloaded more than 370 billion apps during that time period. Today, there are 123 times more apps to choose from – nearly 1.8 million – compared to the thousands of apps available in the App Store at the end of 2008.
Last month, Apple revealed that its App Store prevented over $2 billion in fraudulent transactions in 2022, and rejected 1.7 million app submissions for failing to meet privacy, security, and quality standards. The company said that its app marketplace stopped 714,000 accounts from making further purchases and stopped 3.9 million stolen credit cards from being used to make fraudulent purchases.