Apple announced on Tuesday that its App Store prevented more than $2 billion in potentially fraudulent transactions in 2022, and turned down around 1.7 million app submissions for not meeting its standards.
In a blog post, the company said that its app marketplace prevented approximately 3.9 million stolen credit cards from being used to make fraudulent purchases, and blocked 714,000 accounts from making transactions again. As a result, the company said it prevented a total of $2.09 billion in fraudulent transactions last year.
Of those 1.7 million app submissions it turned down in 2022, 400,000 were rejected due to privacy violations, 153,000 were rejected for spam, copying other apps, or misleading users, and 29,000 were rejected for containing hidden or undocumented features.
In the previous year, Apple terminated more than 802,000 developer accounts due to potentially fraudulent activity. That number dropped to 428,000 last year, which the company said was a result of its new methods and protocols to combat app fraud.
Apple announced that in 2022, it also:
rejected nearly 105,000 Apple Developer Program enrollments due to suspected fraudulent activities,
protected users from nearly 57,000 untrustworthy apps from illegitimate storefronts,
disabled more than 282 million customer accounts linked to fraudulent and abusive activity,
blocked 198 million attempted fraudulent new accounts before they were even created,
prevented nearly 84,000 potentially fraudulent apps from reaching App Store users,
and removed more than 147 million fraudulent app ratings and reviews.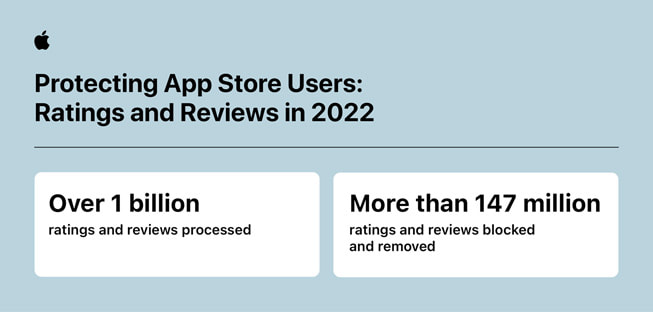 The report comes nearly two months after Apple's main rival Google announced that its Play Commerce service prevented over $2 billion in fraudulent transactions last year.
It also comes at a time when the iPhone-maker is reportedly getting ready to start allowing European users to sideload apps to comply with the upcoming requirements of the Digital Markets Act. The company has long been against sideloading, saying it would expose users to various security risks.