Google announced in a company blog post that it prevented 1.43 million policy-violating apps from being published on Google Play in part due to its new and updated security features and policy enhancements.
The company also said that it banned 173K bad accounts as part of its efforts to combat malicious developers and fraud rings. Last month, Google had revealed that its Play Commerce service, which enables developers to receive payments from consumers in 170 countries, stopped more than $2 billion in fraudulent and abusive transactions by the year 2022.
"We've raised the bar for new developers to join the Play ecosystem with phone, email, and other identity verification methods, which contributed to a reduction in accounts used to publish violative apps. We continued to partner with SDK providers to limit sensitive data access and sharing, enhancing the privacy posture for over one million apps on Google Play," the company said in the blog post.
Google also claims that it prevented around 500K submitted apps from unnecessarily gaining access to sensitive permissions over the past 3 years. Its App Security Improvements initiative assisted developers in 2022 in addressing around 500K security flaws that affected about 300K apps with a total install base of about 250B.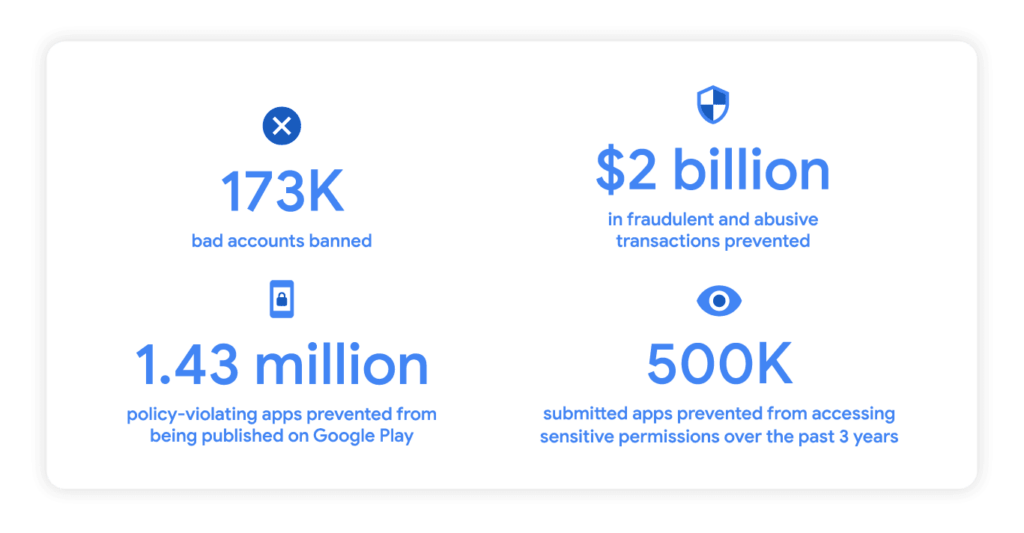 In May 2022, the company launched Google Play SDK Index, a public directory filled with the most widely used commercial SDKs, and data and insights about each one.
Google has also incorporated more security measures in the last year to protect users of Android smartphones. Developers need to upgrade their apps to stop them from using outdated, possibly risky APIs since the company is further requiring apps to abide by newer Target APIs in order to appear on the Play Store.
Last year, the company also rolled out the Google Play Data Safety section, which requires app developers to give users more information about how apps collect, share and secure users' data.
Google also revealed this month that it is introducing the app crush prompt feature, which prompts users to upgrade a crash-prone app if a more stable version is available.