Apple's App Store facilitated $643 billion in billings and sales last year, according to a new study conducted by Analysis Group and shared by the iPhone-maker.
That's up 24% from last year when the App Store facilitated $519 billion. 
$511 billion was generated from the sales of physical goods and services through apps. Retail apps accounted for $383 billion, travel apps accounted for $38 billion and food delivery & pickup apps accounted for $36 billion.
In addition, $86 billion was generated from digital goods and services while $46 billion was generated from in-app advertising. 
According to the study, 90% of the billings and sales the App Store facilitated last year took place outside of the App Store, which means that the company took no commission from them. That's up 85% from 2019.
---
Also Read: Apple reduces App Store fees to 15% for app developers earning up to $1 million per year
---
In addition, it also found that the number of small developers, which generate less than 1 million downloads and $1 million in revenue per year, has increased by 40% over the last 6 years. And more than 90% of them released an app on the App Store.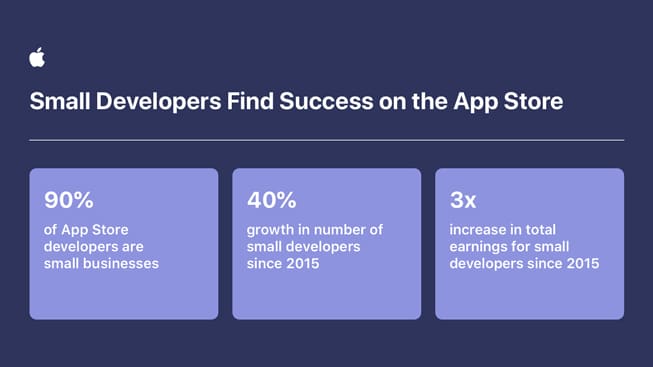 Meanwhile, the company said that 1 in 4 small developers that sell digital goods and services on the App Store have seen at least 25% growth in their earnings since 2016.
"Developers on the App Store prove every day that there is no more innovative, resilient or dynamic marketplace on earth than the app economy," says Apple CEO Tim Cook "The apps we've relied on through the pandemic have been life-changing in so many ways — from groceries delivered to our homes, to teaching tools for parents and educators, to an imaginative and ever-expanding universe of games and entertainment. The result isn't just incredible apps for users: it's jobs, it's opportunity, and it's untold innovation that will power global economies for many years to come."
There's been a growing backlash against the tech giant who's been accused of being anticompetitive due to the commission it cuts for in-app purchases.
Last year, Apple removed Fortnite from the App Store after its developer Epic launched a new payment system which was aimed to bypass the 30% commission. 
Soon later, Epic sued Apple due to the removal accusing the company of being anticompetitive.
Epic Games v. Apple News: