The fact that the time we spent at home has extended since last year compared to previous years is naturally reflected in the amount of content we consume online. Especially on the mobile side, in 2021, apps in many categories from health to personal finance, from games to education saw a significant increase in downloads and revenue.
The data compiled by Lori Lewis and published by AllAccess reveals the level of interaction and time we spend on mobile and the web per minute in 2021. Here are some key figures from the infographic.
If you want to see the online content consumed in an average minute in 2020, you can take a look here.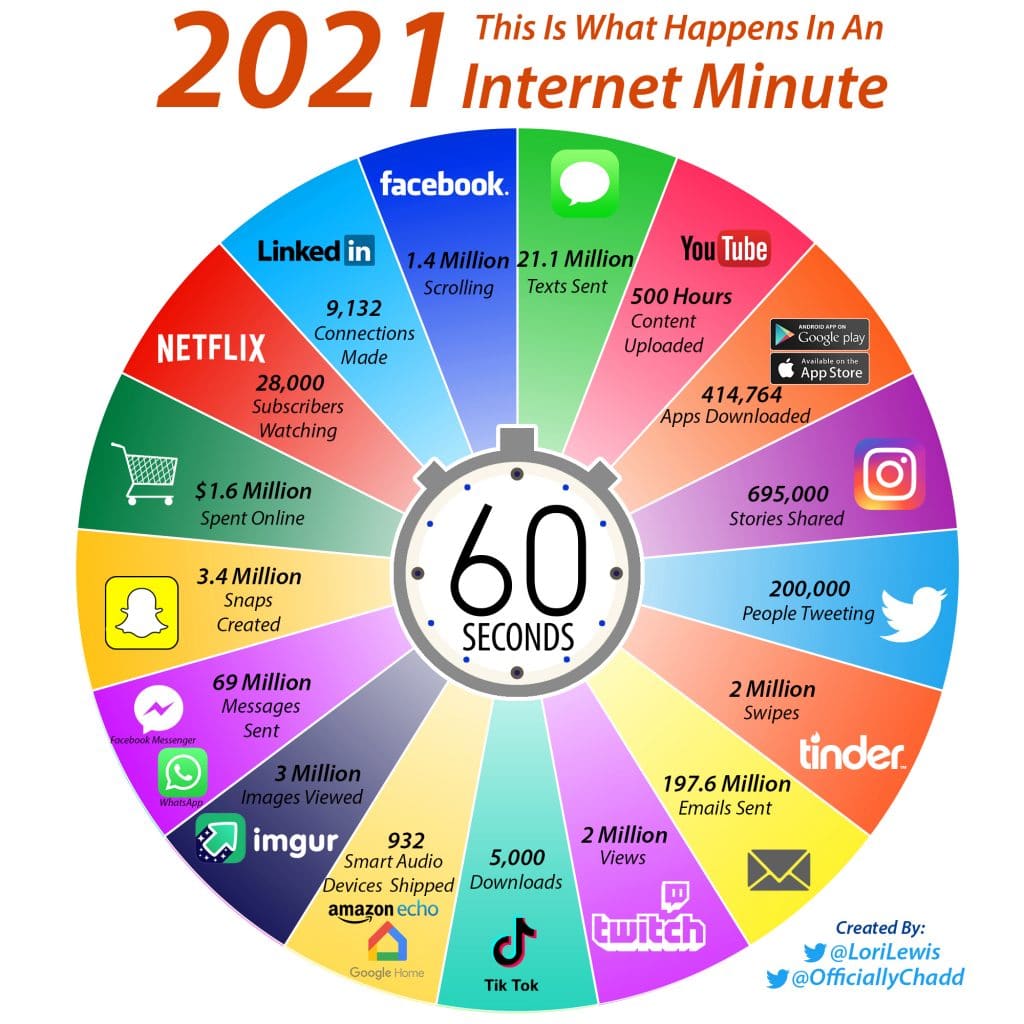 According to the infographic, the number of app downloads through Google Play and the App Store per minute in 2021 has reached 414,764. Per a recent analysis, first-time Google Play app downloads climbed 6 percent year-over-year to 56.2 billion in the first half of 2021 from 53 billion in the year-ago period. Global mobile app downloads through Google Play and the App Store surpassed 36.6 billion in the first quarter of 2021 with an 8.7% YOY increase. 
According to the data, the majority of an average 1 minute spent online was dominated by widely popular social media apps. 60 seconds on the internet in 2021 consist of 200,000 people tweeting, 695,000 stories shared on Instagram, 1.4 million scrolling on Facebook, and 3.4 million snaps created on Snapchat. 
Video content consumed per minute on popular platforms also increased significantly in 2021. One internet minute in 2021 contains 28,000 subscribers watching on Netflix, 500 hours of content uploaded on YouTube, and 2 million views on Twitch. 
In Q1 2021, Twitch generated 22 million downloads, up 62% as compared to the first quarter of 2020 when it hit 13.6 million downloads. On the other hand, at the end of Q2 2021, YouTube Shorts had surpassed 15 billion daily views, as compared to the 6.3 billion daily views in the previous quarter. 
Staying at home naturally reflected on the time we spent in messaging apps. According to the infographic, in 60 seconds on the internet in 2021, nearly 70 million messages were sent via WhatsApp and Facebook Messenger.
In 2021, WhatsApp's user base in the world amounted to approximately 1,607.64 million users. The number of WhatsApp users worldwide is expected to reach 1,902.42 million users by 2025. 
The changes made by WhatsApp in its privacy policy also increased the interest in alternative messaging apps like Telegram and Signal in 2021.