As more and more people have moved to online by the outbreak of COVID-19, people have become more dependent to mobile and online apps for almost every aspect of life from social networking to healthcare and education. Working from home and lockdown has increased the online data generation and consumption even in a single minute. DOMO's eight edition of 'Data Never Sleeps' revealed this increase in what's happening online every minute in 2020.
Zoom hosts 208,333 participants in meetings in just one minute. In Q1 2020, the number of Zoom customers with more than 10 employees increased by 354% year-over-year.
---
For more statistics about Zoom: Zoom Revenue and Usage Statistics (2020)
---
YouTube users upload 500 hours of video in every single minute in 2020. According to a recent data, each YouTube visitor spends 11 minutes 24 seconds on average per day on the video streaming platform.
---
For more statistics about YouTube: YouTube Revenue and Usage Statistics (2020)
---
WhatsApp users share 41,666,667 messages in one minute, data says. During coronavirus, WhatsApp usage increased by 40%.
---
For more statistics about WhatsApp: WhatsApp Revenue and Usage Statistics (2020)
---
Instagram users post 347,222 stories and business profile ads in Instagram see 138,889 clicks in a single minute. Another recent study says, there are nearly one billion monthly active users (MAU) and 500 million daily active users (DAU) on Instagram.
In one minute, Twitter gains 319 new users. In Q2 2020, average monetizable daily active users of Twitter was 186 million, up 34% year-over-year.
Facebook users upload 147,000 photos and share 150,000 messages every minute of the day in 2020.
In one minute, DoorDash diners order 555 meals. In 2020, DashPass active subscribers worldwide surpassed 1.5 million. (For more stats on DoorDash Revenue and Usage)
TikTok is installed 2,704 times every minute. In the first quarter of 2020, the popular dating app got 315 million app installs and reported a $5.6 billion increase in its revenue.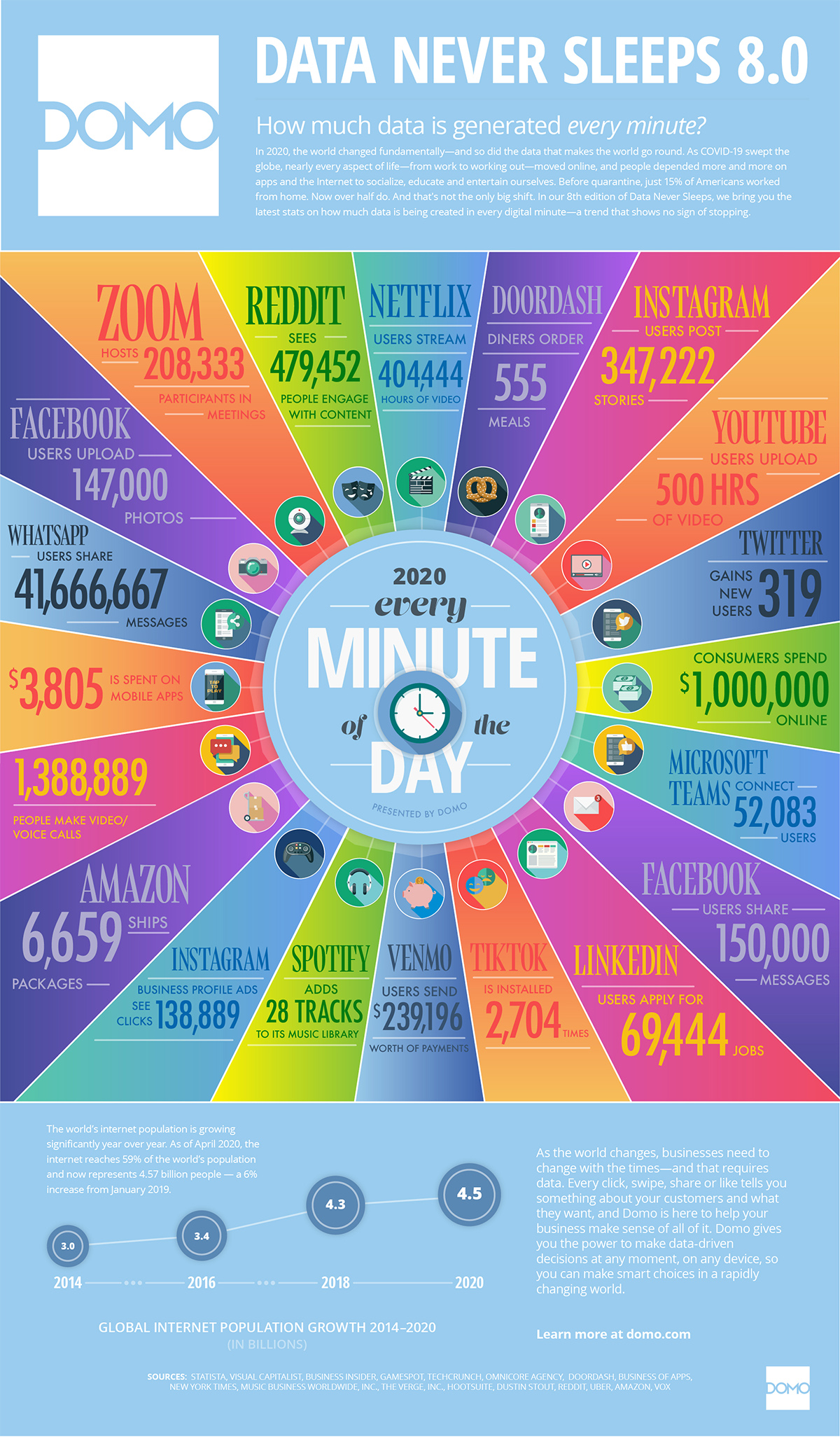 Amounts spend on the apps in a minute also increased in 2020 due to coronavirus outbreak. $3,805 is spent on mobile apps in every minute of a day, while customers worldwide spend $1,000,000 online in a minute. Each day, Amazon ships 6,659 packages in every one minute.