World-famous dating app Tinder has launched its video calling feature named Face to Face globally to make ''dating from home a whole lot simpler''. The company said that the new feature would put safety first.
Tinder first introduced the feature back in July and tested it for 2 months with a small audience. The company has made the feature available globally after receiving positive feedback from users.
"We're excited to share that our Face to Face feature is rolling out to our global community after receiving positive feedback from our members who have had early access to it," said Rory Kozoll, Tinder's Head of Trust and Safety Products. "This adds to our growing list of features built focused on member safety throughout their dating journey, like Photo Verification, Safety Center and our offensive message detection technology. "
Tinder users from all around the world will be able to use Face to Face for free and the feature will be enabled if the both sides want to use it. If one user clicks on the video icon and the other one doesn't, it won't work. During the video calls, there will be a set of ground rules that users will be required to follow.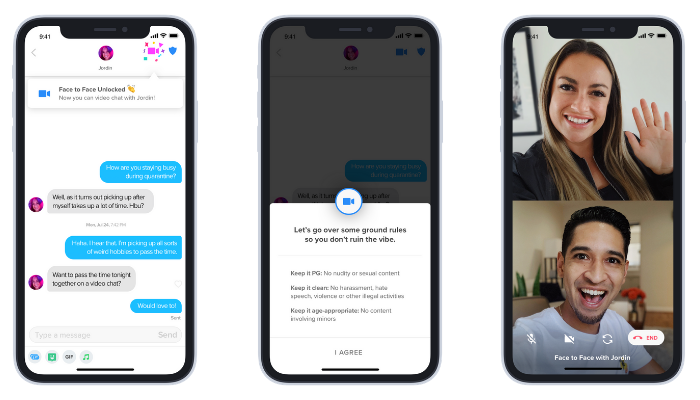 Also, users will be able to disable the Face to Face feature whenever they want and report a problem to Tinder if something bothers them during the calls. The company also created a FAQ page to clarify the use of the new feature. 
According to App Annie data, Tinder currently remains in the top 3 lifestyle apps and a recent survey conducted by SKYN shows that it is the number one dating app worldwide preferred by adults during the Coronavirus pandemic. 
---
Also Read: Tinder Revenue and Usage Statistics (2020)
---
Dating apps are now in higher demand as millions of people around the world are turning to mobile apps as places where they can socialize are now limited in many countries. Accordingly, companies have been introducing new features in order to hold their interest and provide them with a better experience. 
---
Also Read: The 10 Best Dating Apps for Android (2020)
---
Last week, Facebook announced that it expanded Facebook Dating in 32 European countries after a 9 month delay. The company said that more than 1.5 billion matches have been created so far since the first launch of its dating service.