New data from Insider Intelligence shows that popular short video platform TikTok is set to surpass Facebook in terms of influencer marketing spend this year.
According to the report, US advertisers have spent $774.8 million for influencer marketing campaigns on TikTok so far in 2022, $5 million more than Facebook drove.
While YouTube has generated $948 million from advertisers, the company predicts that the short video app will also surpass the Google-owned platform by 2024.
However, it doesn't seem likely for TikTok to overtake Instagram anytime soon, given that the Meta-owned company drove over $2.231 billion in influencer marketing campaigns, three times more than what TikTok generated.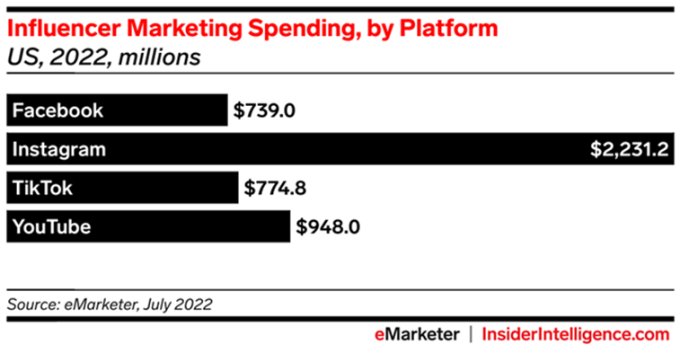 When it comes to marketer adoption, TikTok already overtook YouTube earlier this year. However, the crown still belongs to Instagram with 72.6% of advertisers saying they prefer the platform for their influencer marketing campaigns.
It's currently followed by Facebook (55.2%), TikTok (46%), YouTube (42.5%), Twitter (25%) and Snapchat (17.1%) respectively.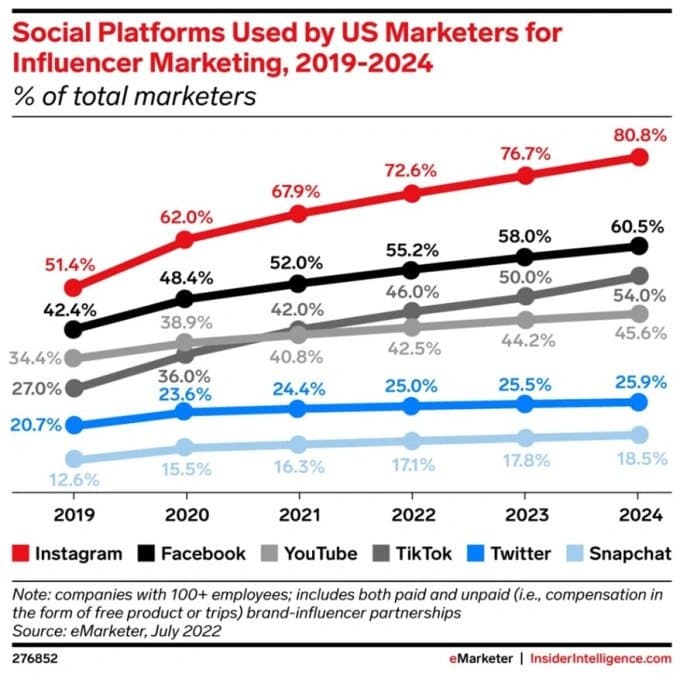 "TikTok is surging in popularity for influencer marketing, but it's still nowhere near Instagram in terms of spending or marketer adoption," said Jasmine Enberg , Principal Analyst at Insider Intelligence. "That's in part due to the higher prices Instagram creators charge for content, but also because of its wide array of content formats, most of which are now shoppable.''
Instagram has been facing criticism for a while for making its platform TikTok-like by testing a full-screen home feed and showing users recommended photos and Reels constantly. After IG users launched a change.org campaign named 'MAKE INSTAGRAM INSTAGRAM AGAIN', which was shared by Kylie Jenner and Kim Kardashian, Instagram's Head Adam Mosseri said the company would phase out the tests soon.
According to Insider Intelligence, Instagram's moves to make its platform more TikTok-like could be a part of its efforts to lure more "micro" and "nano" influencers to its platform.
'…Instagram is trying to be more like TikTok so that it can attract smaller creators, which TikTok is known for,'' said Enberg. ''That's key for Instagram to retain its lead in the influencer marketing space, especially as many creators on TikTok now boast follower counts that rival or surpass those on Instagram and YouTube."
According to another report by Insider Intelligence, TikTok is also expected to surpass Snapchat and Twitter in global ad revenue in 2022. The ByteDance-owned video platform is expected to triple its ad revenue and generate over $11 billion by the end of this year.