U.S. consumer spending in the top 100 photo & video apps across Play Store and App Store reached $457 million in the second quarter of 2021, according to Sensor Tower. 
That's up 34%, or $115 million, than $342 million the apps saw in the same quarter last year. 
While the top 100 apps on Apple's App Store accounted for 83%, Google Play Store saw more increase in Q2 2021 with Android users spending $78 million, up 126% year-over-year. 
Twitter surpassed YouTube in all time RPD – revenue per download
Sensor Tower also found that Amazon's live streaming platform Twitch has surpassed YouTube in all time revenue per download, RPD, in the second quarter of the year. While Twitch RPD reached $6.20 per download, YouTube RPD currently stands at $5.60.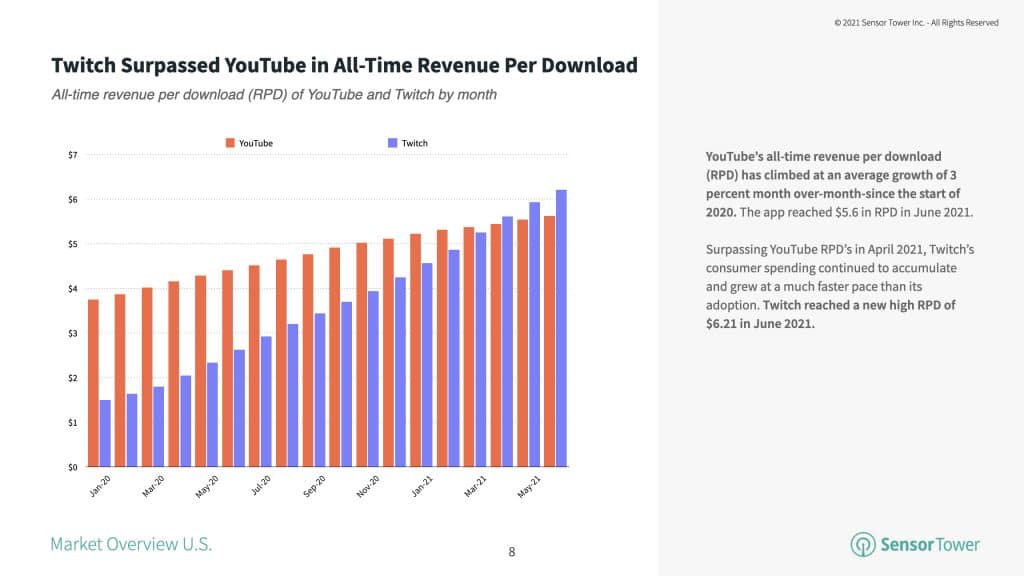 Twitch generated 22 million new installs in the first quarter, which was up 62% from Q1 2020. Although many countries have now lifted lockdowns, the app still saw a strong adoption in the second quarter of 2021. 
---
Also Read: Twitch Revenue and Usage Statistics
---
TikTok generated 34.6 million downloads in H1 2021
Popular short video app TikTok, which recently surpassed 3 billion in lifetime downloads, generated 34.6 million new downloads in the United States in the first half of 2021, almost doubling the downloads of other Top photo & video apps including Instagram and Snapchat.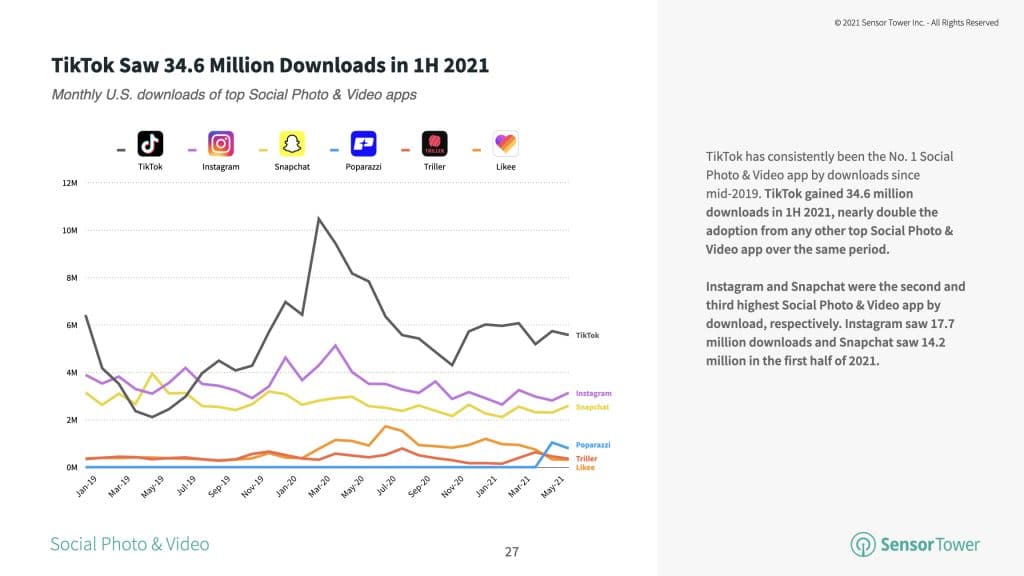 Meanwhile, Instagram generated 17.7 million and Snapchat saw 14.2 million US downloads in 1H 2021.