Knowing the calories of the foods we consume and avoiding processed foods with excessive calories is very important for a balanced diet. Research shows that people who can keep track of calories spend more calories, but manage to keep their weight in balance. With the developing technology, it is now quite easy to keep track of the calories you take and keep control of them.
We have compiled the best calorie counter apps for Android and iPhone which also offers more features like fitness tracker, macro tracker, and water consumption tracker.
MyFitnessPal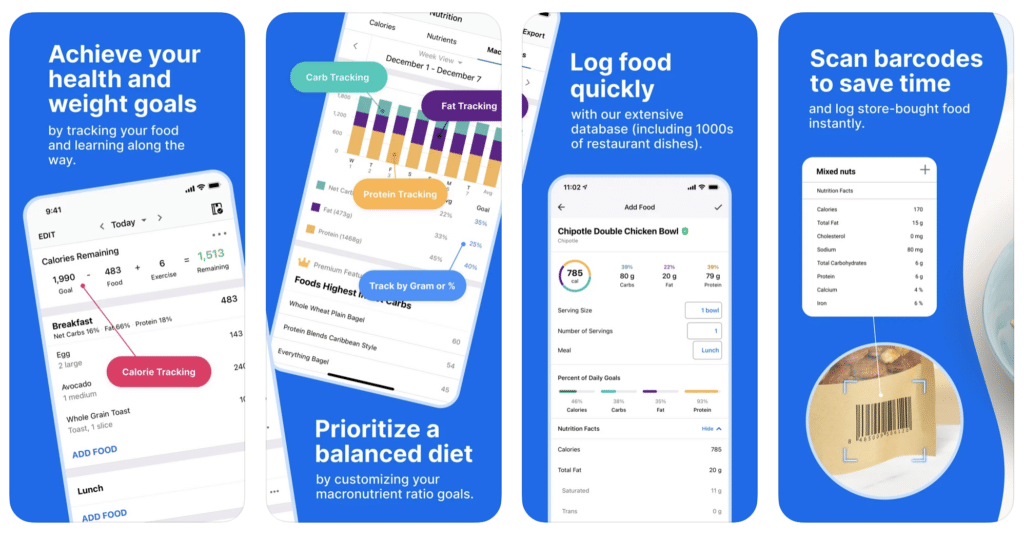 Price: Free
MyFitnessPal is at the top of our best calorie counter apps list with its extremely wide range of uses. The free calorie counter app has more than 200 million members who want to lose weight, tone up, get healthy, change habits, or start a new diet.
The app easily synchronizes with the phone, tablet and computer. In this way, you can safely store your daily, weekly or monthly data. It allows you to track most of the nutrients including Calories, fat, protein, carbs, sugar, fiber, cholesterol, and vitamins.
The calorie tracker app advises you on the goals you set in your menu and helps you with certain directions to reach your target weight.
Before you start using the ap, you need to create an account, select the options on the program menu in accordance with your own order and move forward. You can easily customize your diary by logging meals or creating your own meals.
MyFitnessPal keeps all the nutrients we consume during the day, along with their nutritional values, in its memory and constantly updates. It has over 6 million foods in its database including global items and cuisines.
You can scan barcodes to log foods as well as import the nutritional information for the recipes you cook.
Another important feature of the popular calorie counter app is it has integrations with more than 50 apps and devices including FitBit, Garmin, Apple HealthKit, and Samsung Health. 
App Store: Store Link
Google Play: Store Link
---
Also Read: The 7 Best Water Reminder Apps
---
Lifesum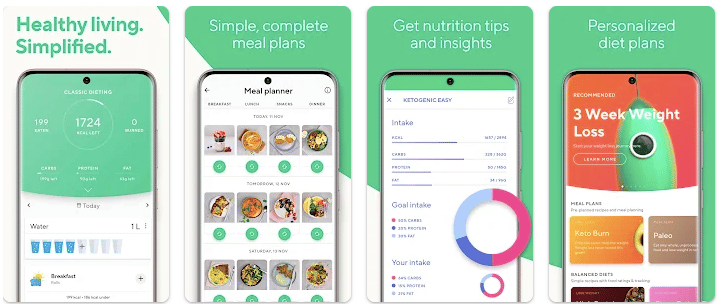 As one of the best weight loss apps, Lifesum is quite popular across the App Store and Google Play with more than 50 million users. While helping users adopt nutritious diets that suit their lifestyle and taste, Lifesum focuses on helping their goals with a calorie counter, water tracker, and macro tracker.
Having integrations with most of the popular fitness trackers, Lifesum supports plenty of diets including keto diet, intermittent fasting, high protein diet, Scandinavian diet, and clean eating diet. The app offers different meal plans for different goals such as 3-week weight loss and vegan for a week.
While Lifesum is free to download and use with limited features, the app offers 1-month, 3-month, and annual Premium auto-renewing subscriptions for a complete experience.
Google Play: Store Link
App Store: Store Link
FatSecret
Price: Free
FatSecret, a free calorie counter tool, has both a comprehensive and descriptive website and a convenient, functional calorie tracker app. When you subscribe to the website or app, the system initially asks you for your current weight, age and activity level. Then you are asked to state your reason for dieting as gaining weight, losing weight or keeping it in balance.
The free calorie counter app automatically calculates the daily calorie need in line with this information and reveals the amount of calories you need to consume every day. Another advantage of the app is the ability to easily calculate the calories of mixed meals with plenty of ingredients.
When you break your diet, it directs you to keep it in balance and helps you to regulate your calorie intake. You can sync your account online to access your info on any device.
App Store: Store Link
Google Play: Store Link
---
Also read: The 5 Best Keto Apps for iOS and Android
---
Lose It!
Price: Free
Lose It! is a very useful calorie tracker app that facilitates calorie tracking and weight loss, including both food tracking and exercise diary. While using the app, you can connect it to a pedometer or a sports device.
The app offers completely personalized options according to your weight, age, height and goals and keeps track of your calories.
We can also say that it has an extensive food database and food diary section. You can also add nutrients to the app's database. You can scan food barcodes or search its database to track your carb, macro, and calorie intake. You can also log food by taking a photo of the food.
The popular calorie counter app allows you to learn your food and calorie intake habits with exclusive personal insights to "identify what is hindering or helping your weight loss progress."
There is even a 'challenges' section where you can step up your game with fun weight loss, fruit/veggie, health and exercise challenges by yourself or with your friends.
App Store: Store Link
Google Play: Store Link
EasyFit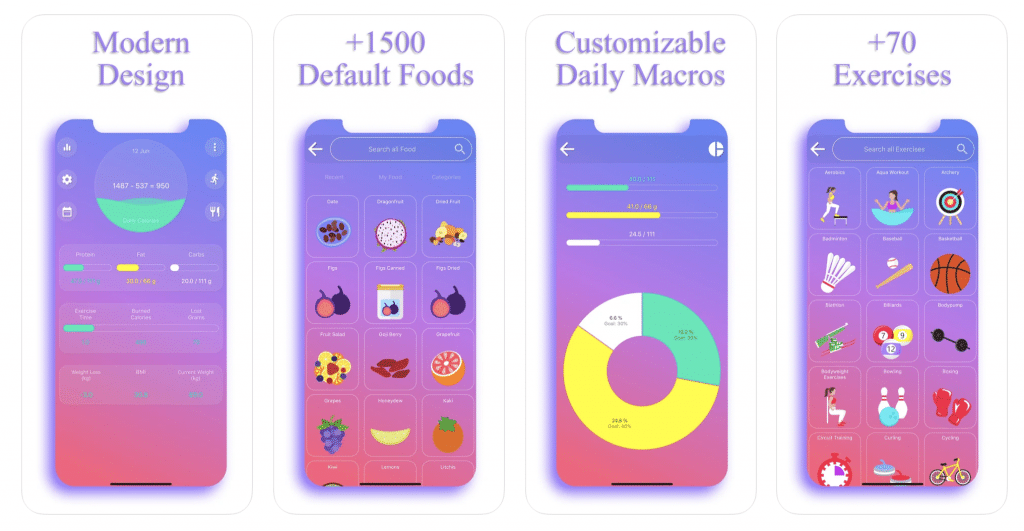 Price: Free
EasyFit enters the best calorie counter apps list with its simple user interface and to-the-point features. Having around 4 million downloads across the App Store and Google Play, EasyFit's calorie counter app allows you to track your calorie and water consumption without storing your personal data for monetization purposes.
Offering homescreen widgets for weekly exercises or daily calories, Easyfit tracks your food, exercises, weight/waist progress, water consumption and macros. It has more than 1500 preexisting foods in its database to let you choose from.
You can create your own food, or mix several of the existing +1500 foods into a new meal letting EasyFit calculate the total calories and macros automatically.
App Store: Store Link
Google Play: Store Link
---
Also Read: The 5 Best Health Apps for Android
Also Read: The 7 Best Health Apps for Apple Watch
---
Cronometer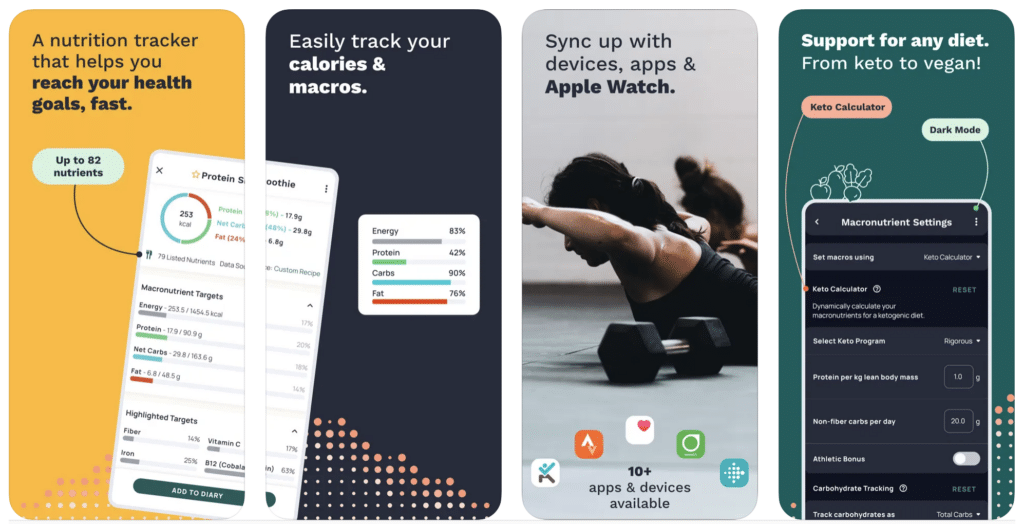 Price: Free
Cronometer proves that it is one of the apps that users can easily keep calorie counting and exercise diary. In the app, suitable profiles are also available for pregnant women and mothers who have just given birth. If you already have a diet program, you can also specify it in the app.
The food calendar is also very useful. In addition to the total calories consumed in the system, there are graphs showing the macronutrient values. Cronometer is very functional as a calorie tracker app that helps you keep track of micronutrients.
You can easily use the other features of the app by paying a low additional fee ($6.99/mo or $39.99/year). You can sync data from health devices and apps to the app, and also have your weight, body fat percentage and sleep data. Thus, it is possible to calculate calories more easily.
App Store: Store Link
Google Play: Store Link