We've listed the 5 best meditation apps for iPhone and Android that will help you reduce and manage stress, calm anxiety, improve your self awareness, get better sleep, wake up more refreshed and more!
Headspace
Let's start with Headspace which is very easy to use and among the best meditation apps for beginners with over 65 million active users from around the world. It is available on both Google Play Store and App Store. You can also access it on your desktop.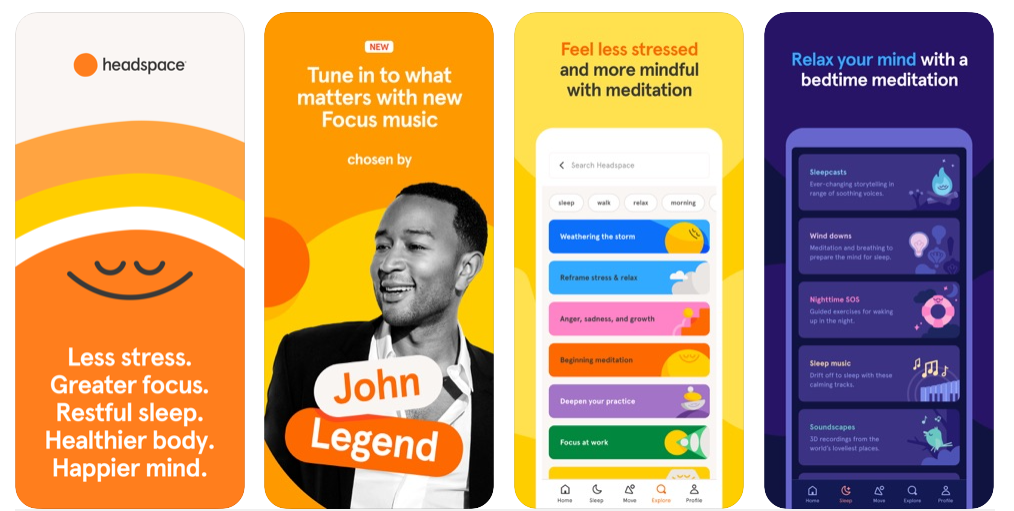 The free plan of the Headspace app offers the Basics 1 course, Navigating Change course and tens of other meditations that will help you release your stress, improve your focus, maximize your sleep quality, strengthen your body & mind and more.
You can subscribe to Headspace Premium if you'd like to get access to the full library and more advanced features. The monthly plan costs $12.99 and you can try it free for 1 week. The annual plan costs $69.99 per year/ $5.83 per month and you can try it free for 2 weeks.
It also has a student plan which costs just $9.99 per year. If you're a student with a Spotify subscription, you can get Headspace completely for free. 
It's also worth to mention that, back in August, Headspace and video-based therapy services provider Ginger announced that they have agreed to merge into one digital mental health and wellbeing company.  
Calm
Next one in our best free meditation apps list is Calm, available on both Android and iOS market used by over 60 million users worldwide to relax, lower and manage stress, calm anxiety, improve concentration, fall asleep more easily, wake up more energized and so much more with guided meditations, bedtime stories, breathing programs and physical exercises that are perfect for both beginners and those who are intermediate and advanced users.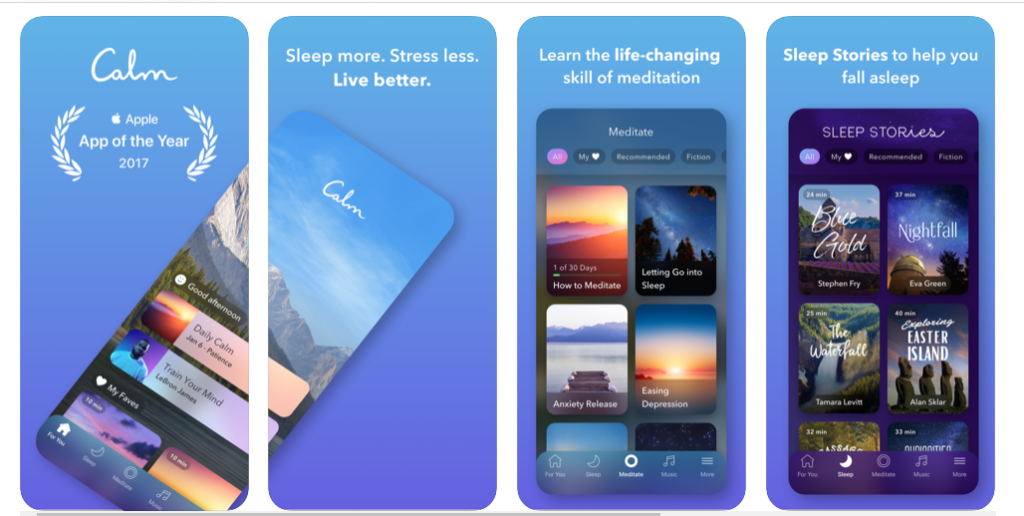 "I'm generally wary of meditation apps because they sometimes weave in too much mystic talk for my taste. But Calm instead contains guidance like 'Concentrate on your body." – New York Times
"Found myself similarly refreshed afterwards" – TechCrunch
While using the Calm app, you'll encounter many famous names including Harry Styles, LeBron James, Kelly Rowland, Lucy Liu and more.
You can use most of the features Calm offers for free. Just like most of the other best meditation apps in this list, it also offers premium subscription plans which you can get $12.99 per month, $59.99 per year and the lifetime subscription costs $299.99.
---
Also read: The 5 Best Yoga Apps for iPhone and Android
---
Insight Timer
Our next best meditation app for Android and iPhone users is Insight Timer. It offers the largest free library of over 55.000 guided meditations and music tracks for anxiety, sleep and stress.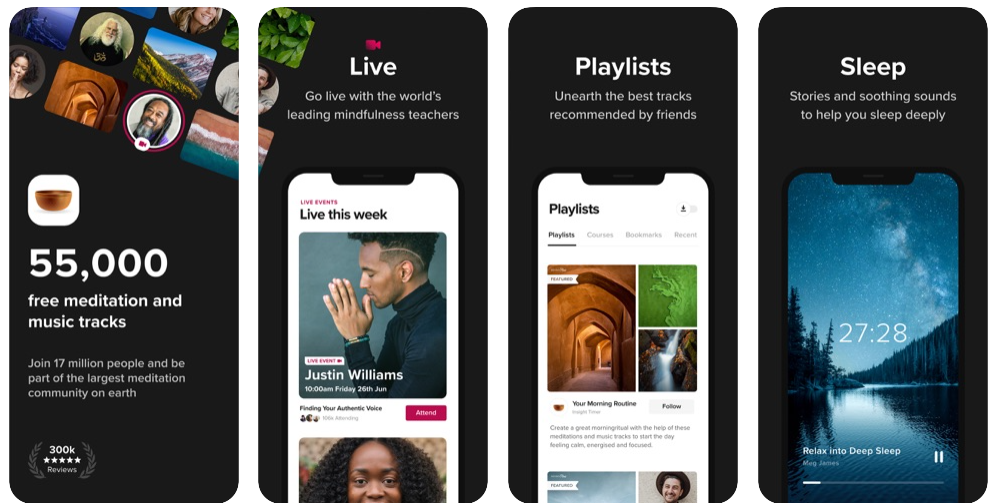 Chosen as the Apps Of The Year Winner by Time Magazine and Women's Health, Insight Timer offers everything you need from a meditation app.
As well as guided meditations, it also offers the ability to go live with famous mindfulness teachers such as Skip Jennings, Russel Brand, Gisele Bündchen, Elizabeth Gilbert, Tara Brach, Mark Williams, Jack Kornfield, Sadhguru and more.
Insight Timer also allows you to create your playlists, access the ones of your friends and join various community groups to connect with people who share the same interests with you.
Most of the features Insight Timer provides are free. It has an in app subscription which you can get $9.99 per month or $59.99 per year for insight courses, offline use, advanced player settings and high quality audio.
MyLife Meditations (Stop, Breath & Think)
MyLife Meditations, formerly known as Stop, Breathe & Think, is among the best meditations apps for Iphone and Android users with over 4,500,000 downloads and 17 million ''emotion check-ins''.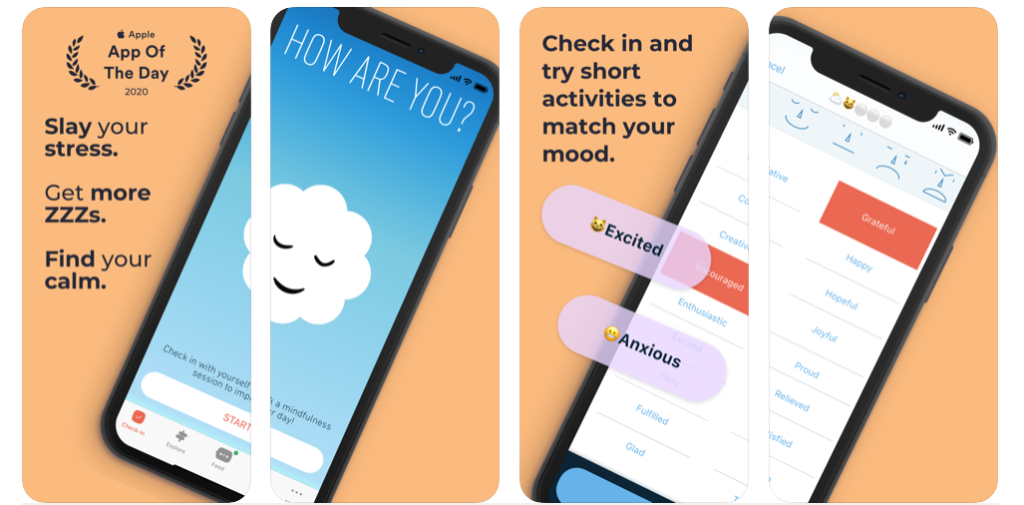 This free meditation app allows you to check in with how you're doing and perform short activities to match your mood, then recommends guided meditations and mindfulness activities to help you find your calm, breath mindfully, reduce your stress, get over anxiety and get better sleep.
In 2017, MyLife Meditation won the Webby People's Voice Award for Best Health App. It has also been featured by Apple, Today Show, Health, Parents and more many times before.
You can use it free for foundational meditations and subscribe to its premium plan for $9.99 and per month or $58.99 per year to get access to all the premium features it offers.
---
Also Read: The 10 Best Free Workout Apps for iOS
---
Meditopia
Our last meditation app for beginners is Meditopia which is available on both Google Play Store and App Store, offering more than 1000 meditations in many categories, sleep stories and relaxing music that will help you ''make meditation a habit in 10 minutes'', lower your stress and manage anxiety & stress.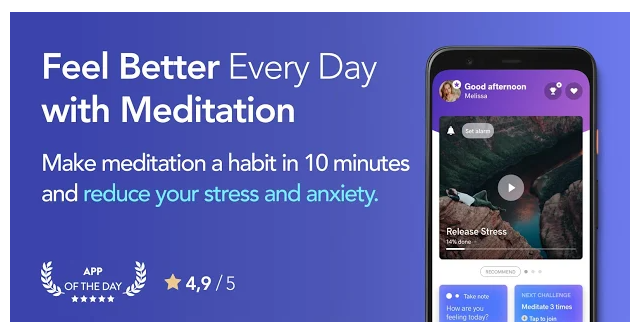 Unlike the other meditation apps in this list, Meditopia is not a free app but you can try it free for 1 week. After the trial ends, it costs $9.99 per month or $59.99 per year.
In this article, we talked about the 5 best meditation apps for iOS and Android users. Feel free to leave a comment and let us know which one you like the most!