Sudoku is the name given to the brain teaser that is solved on a 9×9 graphic created in a standard format and based on the fact that the numbers 1 to 9 must appear once in each row, each column, and each 3×3 square. It is named after a combination of the Japanese words suuji wa Dokushin ni kagiru.
The popular game sudoku, which emerged in Japan in the late 1970s, is played by many people today, regardless of country. It is also possible to play the game, which is used both as brain training and a relaxation tool, on your mobile devices.
In this article, we have brought together the best sudoku apps that you can play on your Android or iOS devices to relax your mind.
The Best Sudoku Apps
Sudoku.com
With over 10,000 classic sudoku games, Easybrain's Sudoku.com is one of the best sudoku apps, with daily challenges, seasonal events that award medals, and being free. The app has all the features you need such as auto-check, note-taking, and highlighting duplicates.
In the popular game where you can participate in daily sudoku challenges to earn rewards or seasonal events for medals, you can either challenge yourself by finding your mistakes or can enable Auto Check to see your mistakes. Unlimited un-do options are also available in the app, which offers detailed statistics to track your progress for each difficulty level.
Sudoku by Brainium Studios
Brainium Studios' Sudoku app, which contains quite a number of classic sudoku games, has statistics to track your progress, features such as auto-fill, auto-clear, and auto-error checking, and the option to play with your friends.
If you want to learn how to play sudoku, you can give a try to this app which has more than 10 million downloads worldwide. The interface of the app, which also has features such as dark mode and unlimited undo and redo, is very clean.
---
Also Read: The Best Flashcard Apps for iPhone and Android
---
Sudoku by PeopleFun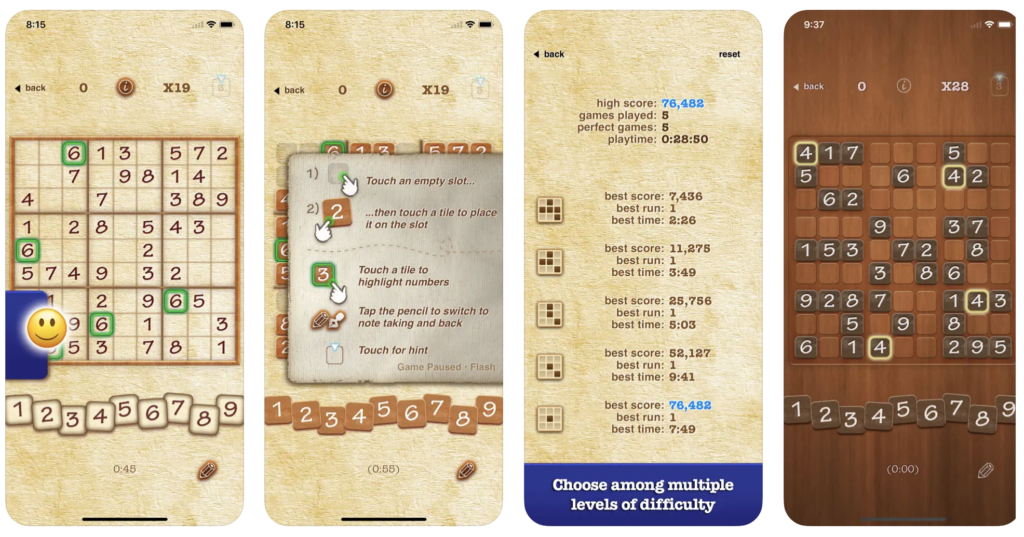 Available only on Apple's App Store, PeopleFun's Sudoku is ideal for those who want to track their score with a leaderboard. You can compete against your friends through Game Center in the app, which has millions of users. The app also allows you to customize the board with different templates.
Sudoku by Beetles Studio
The popular sudoku app with more than 5000 puzzles has four difficulty levels. And it adds 100 sudoku puzzles every week. Vita Sudoku Puzzle Game, which has features such as daily challenges, pencil mode, and highlighting duplicates, is one of the best sudoku apps for Android users.
---
Also Read: The Best Games to Kill Time on Mobile and PC
---
Microsoft Sudoku
Offering classic sudoku games at six different difficulty levels, Microsoft's puzzle game also includes irregular games. Rules in irregular games are the same as in classic games, but blocks have irregular shapes. The game also offers an Ice Breaker mode where placing correct numbers sends shockwaves across the board that break the ice.
In the free game, you can play 3 unique challenges every day. Among the other features Microsoft Sudoku offer are theme selection, unlimited undo, and note taking. If you want, you can purchase its premium subscription for $1.99 per month or $9.99 per year.
Microsoft Sudoku on the App Store
Microsoft Sudoku on Google Play
Sudoku by Guru Puzzle Game
In this app, which is at the end of our list of the best sudoku apps, you can take notes, see your mistakes in real time with auto-check, use hints when you get stuck, and play at night with a dark theme. Offering different features such as unlimited undo and eraser, the application will allow you to spend quality time.