DJ equipment and the resources and time you spend learning them can be very costly. Still, although it won't make you a professional DJ, there are mobile DJ apps that you can use to improve yourself. In this article, we've brought together the best DJ apps for Android and iPhone to help you create great music while having fun.
edjing Mix
Designed in collaboration with professional DJs, edjing Mix is one of the best DJ apps for Android and iPhone, with advanced features that turn your phone into a true DJ setup and offer unlimited creative freedom. You can mix with over 70 million tracks in the popular app, compatible with Tidal Premium, SoundCloud Go+, iTunes, Google Drive, Dropbox, iCloud Drive, files, and more. The app offers almost all DJ tools, including automatic BPM detection, wide audio spectrum, HD recording, crossfader curve adjustment, and more. 
Other Notable Features
DJ Master Class with simple lessons, exercises to practice, and video
MIDI support with DDJ-200
Smart EQ feature that isolates vocals, percussions, and instruments of tracks
4 skins for turntables
Continuous sync between tracks
Wide audio spectrum for optimized beat detection
Smart Volume that automatically adjusts the two songs being played's volume and gain
edjing Mix also offers a Premium version that currently costs $7.99. You may test out the premium features for three days before switching to the free edition, like with many other DJ apps.
Cross DJ
Cross DJ, a free DJ app, helps you to mix in nearly-perfect sync with features such as Accurate BPM detection, quantize mode, and automix. The app also provides you with advanced audio features such as realistic scratch sound and audio FX. However, in the app, you need to make an in-app purchase in order to record and share your mix on social media and use effects such as beat and Low-Pass.
Other Notable Features
Ability to play MP3, AAC, WAV and AIFF
 72 one-shot samples + 12 loops
Keylock mode to change BPM without affecting the tone
 Customizable, manual pitch range (4 to 100%) and manual pitch bend
External mixer feature that controls EQs and crossfader with hardware mixers
Multichannel audio for USB compliant multichannel soundcard
---
Also Read: The Best Music Streaming Apps
---
DJ Studio 5
Only available on Google Play, DJ Studio 5 is a free turntable for DJs that allows you access to everything needed to mix, remix, loop, scratch, or pitch your music. It includes 2 virtual turntables, 10 customizable sample pads, 8 sound effects, 7 skins, and much more features for you to make the perfect music. 
Other Notable Features
No in-app purchases or registration fees, all for free
Compatible with iRigMIX™ from IK Multimedia*
One CUE/RECALL point per deck
Live sound spectrum view with beats detection and zoom
IN/OUT and beat based loops
3-bands equaliser for each deck
djay
djay, one of the best DJ apps for Android and iPhone, allows you to perform live, remix tracks, or enable Automix mode to let the app create a mix for you automatically. Although Spotify integration was removed, it still supports TIDAL and SoundCloud. The audio features of the app are also advanced enough to meet your needs.
Other Notable Features
Remix tools such as Sequencer and Looper
Native integration of Pioneer DJ DDJ-200 via Bluetooth MIDI
Native integration of Pioneer DJ DDJ-WeGO4, Pioneer DDJ-WeGO3, Reloop Mixtour, Reloop Beatpad, Reloop Beatpad 2, Reloop Mixon4
Automatic beat & tempo detection
---
Also Read: The Best Music Recognition Apps for iPhone and Android
---
Pacemaker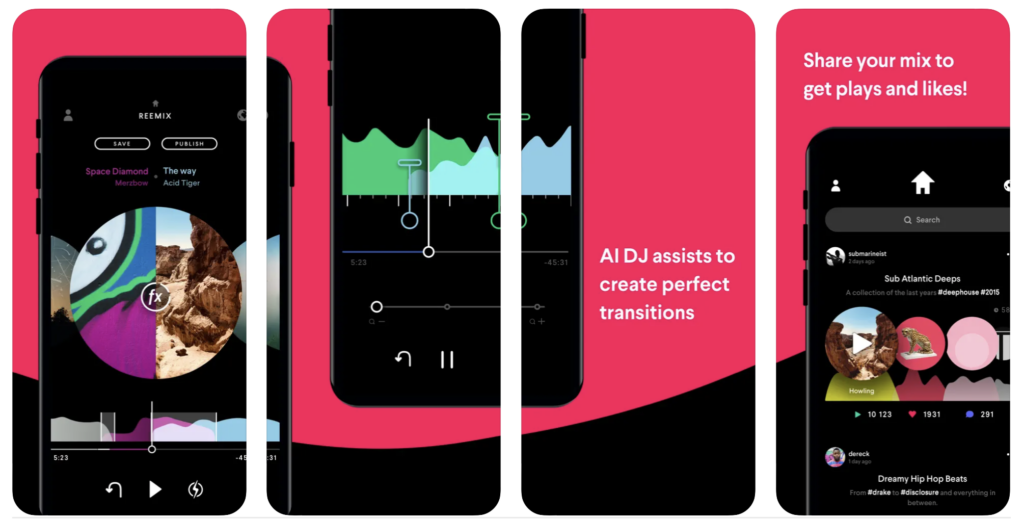 Only available on the App Store, Pacemaker is quite a popular DJ app allowing you to create your mixes and share them with friends. If you wish, you can use its app designed for Apple Watch to add live effects and mix tracks directly from your wrist. Some of the notable features of the app include a community of music lovers, millions of tracks from major record labels, and quick creation and editing options. 
Other Notable Features
Community where you can share your mixtape and search for your favorite artists
(Live Effects) Whitenoise, 8-Bit, ChopChop, Hi-Lo, Reverb for iPhone
(Live Effects) Echo, Roll, Loop, Beatskip for iPad
Music Maker JAM
Music Maker JAM is one of the most popular DJ apps across the App Store and Google Play. You can use the app to create, share and discover amazing tracks across all genres. You can use a reasonable amount of the features it offers for free, but you may need to make an in-app purchase for full access to the advanced editing settings library.
Notable Features
300+ Mix Packs with a 100k+ loops library
Ability to create your own random remix by shaking your device
8-channel mixer
Ability to download samples from several genres such as trap, RnB, EDM, and techno
Music Maker JAM on the App Store
Music Maker JAM on Google Play
---
Also Read: The Best Music Making Apps for iPhone
Also Read: The Best Music Making Apps for Android
---
BandLab
The free BandLab app is one of the most popular DJ apps in both app stores, with over 65 million users worldwide. It offers more than 330 virtual MIDI instruments, over 180 vocal, guitar, and bass effect presents, a 16-track mix editor, and more than 15,000 royaşty-free sound samples. 
Other Notable Features
Ability split your song into 4 stems (vocals, bass, drums, others) for free
A Sampler feature that allows you to create your own 16-pad sound kit by recording sounds around you, or by selecting from over 15,000 royalty-free samples and beats
Metronome and Tuner support
AutoPitch feature with five effects (Classic, Duet, Robot, Big Harmony, and Modern Rap)
Free mastering tool that was designed with Grammy-winning producers and artists