Word games that people of all ages enjoy playing are pretty logical options to improve their vocabulary and kill time. Word games have many exciting benefits, including improving memory and cognitive skills, reducing the risk of mental illness, reducing stress, finding answers and solutions, lowering blood pressure, and boosting the immune system. Each of these games, which we can learn while having fun, has different features. That's why it's so hard to choose. We've listed some fun word games that are compatible with both Android and iOS that might interest you. Here are the best word games for Android and iPhone!
The Best Word Games for Android and iPhone
Wordscapes
Words of Wonders: Crossword
Pictoword
SpellTower
Words With Friends
Scrabble® GO-Classic Word Game
Word Collect
Word Cookies! ® 
Word Trip 
Word Connect
Wordle!
CodyCross
Word Lanes
Wordscapes
Free
Wordscapes, which is among the best word games for iPhone and Android, offers itself for free to the fans of the genre. This game has word-finding, word connecting, word anagram games, and more than 6,000 puzzles. Another feature of this game is that it creates a visual feast with its scenic backgrounds.
Additionally, Word Stacks was created by Spell Blitz, the makers of Word Flowers, Word Mocha, Wordscapes Uncrossed, and Word Chums.
Words of Wonders: Crossword
Free
Words of Wonders is a free game to test your vocabulary, find hidden words, and explore levels with different designs. The design of this game, which is quite simple to play, is beautiful and fascinating. Additionally, the Pro Membership fee is $3.99 per week, allowing you to play ad-free.
Pictoword
Free
Bringing a completely different perspective to the word game, Pictoword is by far one of the best word games for Android and iPhone. In this game that everyone will enjoy playing, the players try to find 1 correct word by looking at 2 pictures. It offers the opportunity to improve yourself while having fun with more than 300 word puzzles. This picture word game provides general culture development in many categories such as countries, cities, celebrities, serials, and movies. The game's best features include no time limit, offline play, and solo mode.
---
Also Read: The Best Match-3 Games for Android and iOS
---
SpellTower
Free
SpellTower is a free word game aiming to use vocabulary and strategy correctly. This fun word game was released in 2008 by Zach Gage and Jack Schlesinger.
The game aims to collect points by deliberately reducing the words rising from the bottom of the screen. Moreover, this game has 11 different modes, and the modes vary according to level and preference. A few of the modes are Zen Mode, Rush Mode, Puzzle Mode, Extreme Puzzle Mode, Tower Mode, and Daily Tower Mode.
There is also a website where you can examine SpellTower in more detail and see how it is played.
Words With Friends
Free
Words With Friends is a multiplayer game as the name suggests, but can also be played in solo challenge mode if desired. In this game, besides playing with strangers, you can play with your family or friends with game creation. Words in the game can only be formed horizontally and vertically, and in this respect, it is similar to Scrabble. In addition, with Words With Friends Pro, you have the opportunity to play ad-free.
Scrabble® GO-Classic Word Game
Free
Scrabble® GO-Classic Word Game is the latest version of the oldest known word game and one of the first games that come to mind when it comes to the best word games for iPhone and Android. This game offers an Official scrabble board, Authentic puzzle, Scrabble dictionary, and Custom word tiles game experience. There are also four fast-paced competitive game modes such as Duels, Word Drop, Tumbler, and Rush. The most impressive features of this game are its Multiplayer playing and chat features, so players can have fun with their loved ones and communicate with chat emojis.
---
Also Read: The Best Puzzle Games for iPhone
---
Word Collect
Free
Another popular word game, Word Collect Game, gives you 500 coins on your first login and daily bonus money for free hints. The game is pretty easy to play, and the level gets harder as you progress. You can play this game, which offers more than 900 levels, offline.
Word Cookies! ®
Free
Word Cookies is one of the best word games for Android and iPhone that attracts attention with its design and unique theme. This word puzzle aims to use the given letters, turn them into words and combine them. The game has no time limit and includes multiple hints to make it easy to play. There are different daily rewards in the game, but if you want to earn more you can fill Jack's cookie jar with extra words. Additionally, you can play games like word scramble and word hunt offline.
Word Trip
Free
Word Trip offers a great word game experience with different relaxing themes. Players will be able to enjoy more than 5000 puzzles while playing games in unique destinations that will put their minds at ease. The game has multiple daily rewards and offers the opportunity to compete with other players in word game missions. Unfortunately, the only downside of this game is that the ads are a bit too much and long.
---
Also Read: The Best Android Puzzle Games
---
Word Connect
Free
Word Connect is appreciated by gamers for its engaging vintage style. While this game is among the best word games, what makes it incomparable is that it has 13596 levels and is supported by Oxford dictionaries.
Moreover, the game has many different modes like normal mode, puzzle mode, and daily mode. The game offers players daily bonuses, and they can have a hidden bonus by finding extra words. This game has no time limit and no obligation to play online. In addition, players can check previous levels and customize the game with 11 alternative themes thanks to the game's level lists.
Wordle!
Free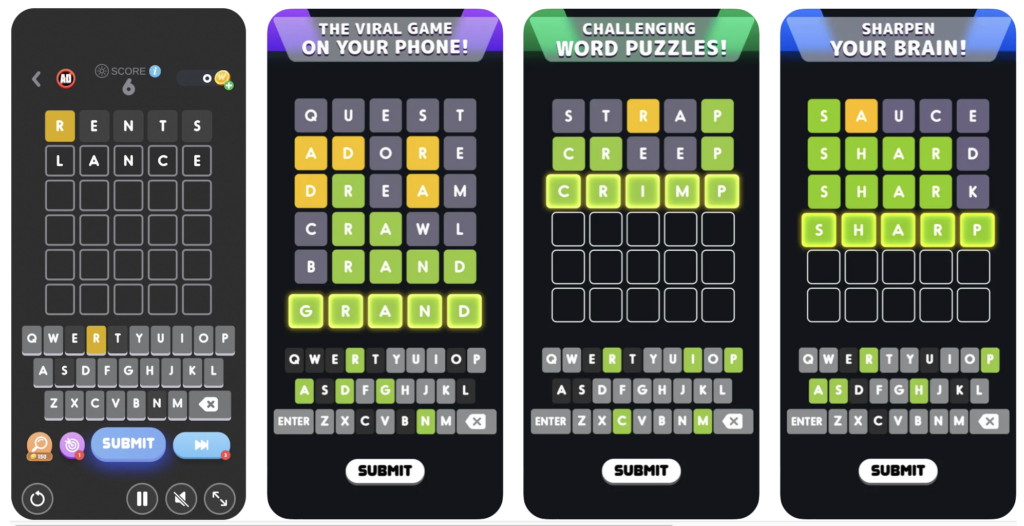 In Wordle, one of the most popular word game of recent times, a word is asked every day. The questions asked consist of five letters, so the words you will guess must be five letters.
You have six chances in total to guess the words correctly. There are yellow and green colored clues in word predictions. For example, you wrote a word. The letter a in the word you write has green color and the letter b has yellow color. This indicates that the letter a is in the right place and the letter b is in the wrong place.
Gray color reveals that there are no letters in the word. Green, yellow and gray color clues help you find the right word. If you want to find the word without a clue, you can turn it off in the settings.
---
Also Read: The Best Hacking Games for Android
---
CodyCross
Free
With over 50 million downloads on the Google Play Store, CodyCross is the modern take on the classic crossword puzzle. So if you enjoy solving crossword puzzles, you'll probably have a good time with this game for a long time.
There are many levels in the game, which both entertains and teaches new information. There are also various daily rewards available. If you can't solve the puzzle, you can get hints.
Word Lanes
Free
There are mixed letters in the production called World Lanes, which includes various questions. You are trying to find the appropriate solution with the drag and drop method. For example, for the question "Italian's famous cheese pastry", you need to find the word "Pizza". There are very successful visuals in the background of the game, which has more than 800 levels.
---
Also, if you want to keep your brain active and do more brain training in your spare time, you can check out our article "The Best Brain Training Apps".