Do you want to adopt a pet but don't know how to care for it? There's a fun way to find out. How about feeding a virtual pet that you can learn about while having fun and that you can grow by taking care of its personal care? All you have to do is decide what kind of cute virtual friend you want and download the app that appeals to you on your device. We have listed the most popular and best virtual pet apps for you.
Bubbu
Price: Free/In-App Purchase: Up to $114.99
Bubu is an emotionally cute virtual pet cat. It loves taking selfies, dancing, visiting friends, and eating delicious food. You should also ensure that it is not hungry, bored, sleepy, or sick. You can furnish your kitten's house as you wish and make it happy by buying new clothes for Bubu.
In addition, the game includes more than 30 mini-games such as Catchers, Cat Connect, Find the Cat, 2048, Paint the Cat, Jump, Pop Balloons, Cheese Builder, Fish Ninja, Cat Sings, Nightmare, Jumping Cat, Diver, and Stick Ninja. While enjoying the games, don't forget to spin the wheel of luck every day!
My Boo
Price: Free/In-App Purchase: Up to $109.99
Baby Boo wants you to dress it, feed it, clean it, and take care of it! Name it and do multiple activities with it throughout the day. Dress up cute Boo in stylish clothes and share its best moments with your friends. Boo loves pizza, candy, fruit, cookies, and even sushi. Feed it and watch it grow every day with pleasure. Furthermore, you can decorate Boo's room colorfully and spend time with it playing mini-games such as Bubble Pop, Basket Boo, Piano Boo, and Matching.
---
Also Read: ​​The 5 Best Dog Training Apps for iPhone and Android
---
My Talking Tom
Price: Free/In-App Purchase: Up to $99.99
My Talking Tom app is one of the best-known among the best virtual pet apps. Enjoy the fun world of this virtual pet that talks and chats. Create countless memories with it as you explore travel destinations and immortalize your memories by photographing them. Also, play multiple mini-games and enjoy your free time.
Talking Tom series on Google Play
Talking Tom series on the App Store
Dogotchi: Virtual Pet
Price: Free/In-App Purchase: Up to $2.99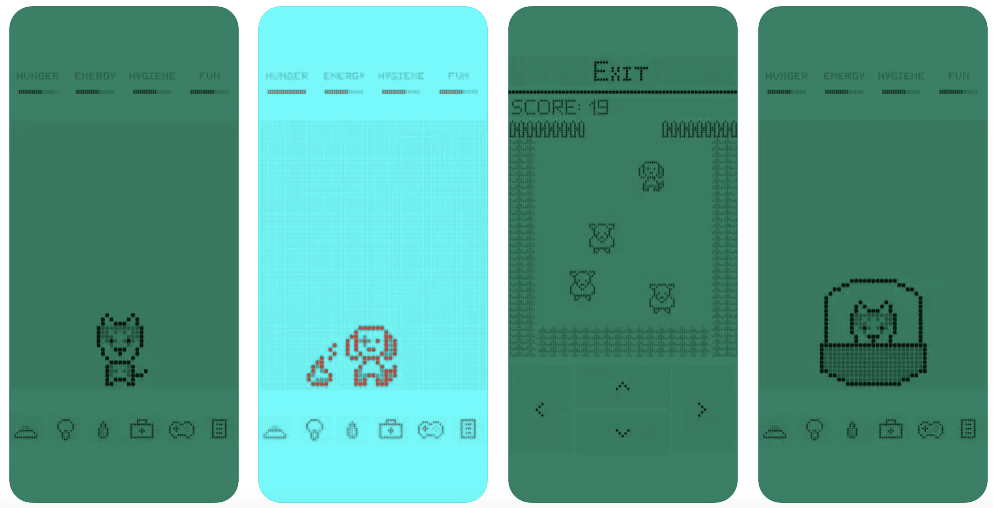 Dogotchi is a retro-style simulation game started by Wildagotchi. You can start the game with three different breeds of Old English Sheepdog, Husky, and Pug, and three new kinds of dogs are unlocked for every two dogs that reach adulthood. There are three games for each pet, and when all the locks are unlocked, you can take care of twelve dogs in total. While playing fun games, you should not forget to take care of your pet's personal needs. Moreover, Dogotchi offers a chance to customize the game with many color options.
---
Also Read: The 10 Best Cat Apps
---
Hamster Life
Price: Free/In-App Purchase: Up to $74.99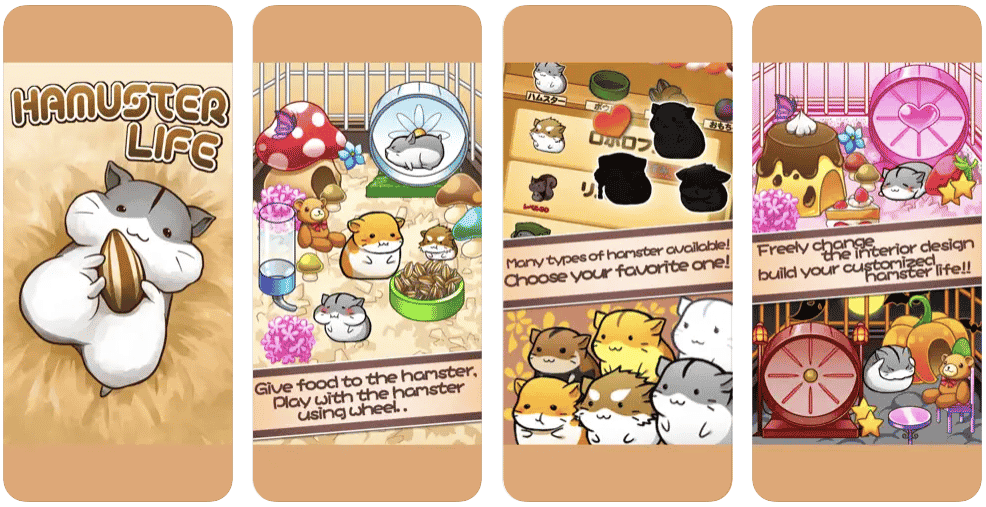 Are there any hamster lovers here? Hamster Life is an app that will make you feel like you have a hamster in real life. It is just one of the best virtual pet apps, as it has been downloaded more than 10 million times. There are hundreds of ways to care for your hamster, and it just requires love and attention from you. Give it food and water, and love it. Let your hamster play in the facility and thus earn money. Additionally, you can decorate your pet's environment or even add multiple hamsters.
Cat Sim Online: Play With Cats 
Price: Free/In-App Purchase: Up to $39.99

Live like an adult cat or kitten in a new RPG adventure set in a 3D world. Choose from different types of cats and start a big family. Have fun in online multiplayer games with your loved ones and discover new genres by completing missions. Customize your chosen cat with its fur, color, and clothes. Help the mother cat give birth, raise your family, and protect your family against enemies. In addition, explore the big 3D world, from the city to the countryside, and enjoy meeting new people.
Cat Sim Online on the App Store
---
Also Read: The 5 Best Dog Walking Apps
---
Neko Atsume: Kitty Collector
Price: Free/In-App Purchase: Up to $3.99
Neko Atsume, which attracts the attention of cat lovers, is a pretty simple and fun game. First, you place food and some toys in your garden, and then you wait for the cats to visit. You can discover more than 40 types of cats and even see rare breeds. Save every cat you see in your Cat book and become a master cat collector. Also, you can visit the app's website for a more detailed review.
Pou
Price: Free for Android, $1.99 for iOS/In-App Purchase: Up to $24.99
Offering an extraordinary pet experience, Pou deserves to be among the best virtual pet apps. How about taking care of an alien pet? Pou attracts the attention of pet lovers with its unusual style. Feed your pet and buy it new clothes. Play games with it in the playroom and experiment with potions in the labs.