Living alone is very difficult for most people. Some people want a roommate for financial relief or because they don't like living alone. So how do you find someone reliable? How about using professional applications in the field of finding roommates while waiting for news from the people around us? Check out the best roommate finder apps we've listed for you while you sip your coffee. Here are the best!
SpareRoom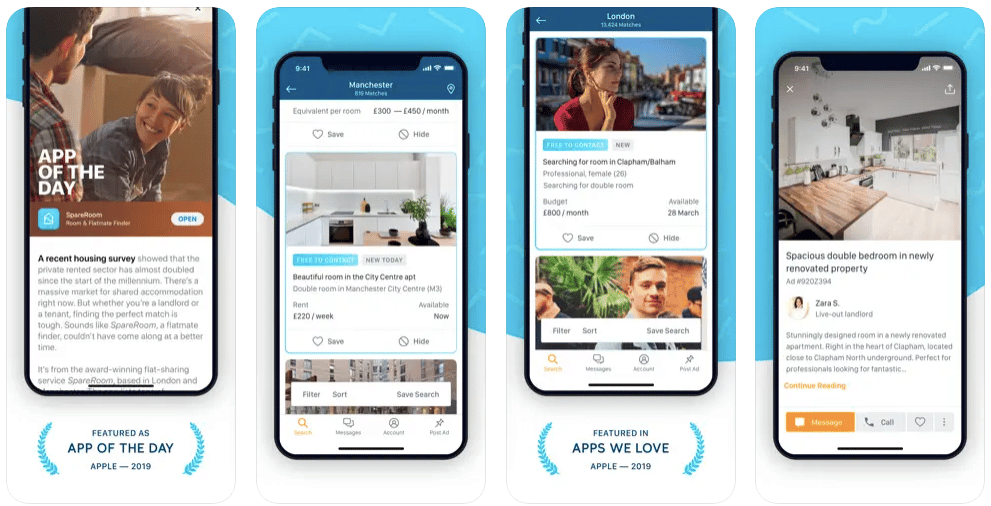 Price: Free/In-App Purchase: $11.99 – $28.99
SpareRoom is one of the UK's leading roommate-finding apps offering flat sharing services. Also, the app is one of the best roommate finder apps, helping over 11 million people find the perfect roommate or flat share. Suitable for everyone, the app offers thousands of flat-sharing opportunities to choose from in London, Manchester, Birmingham, Leeds, Edinburgh, Glasgow, and across the UK.
In addition, SpareRoom's award-winning customer support team is available to assist you when you need support, encounter a problem, or want to provide feedback. You can contact the customer support team with the new feedback option at the bottom of the main screen in the app.
Plus, for more information, you can check SpareRoom's website.
---
Also Read: The 5 Best Interior Design Apps
---
Roomaters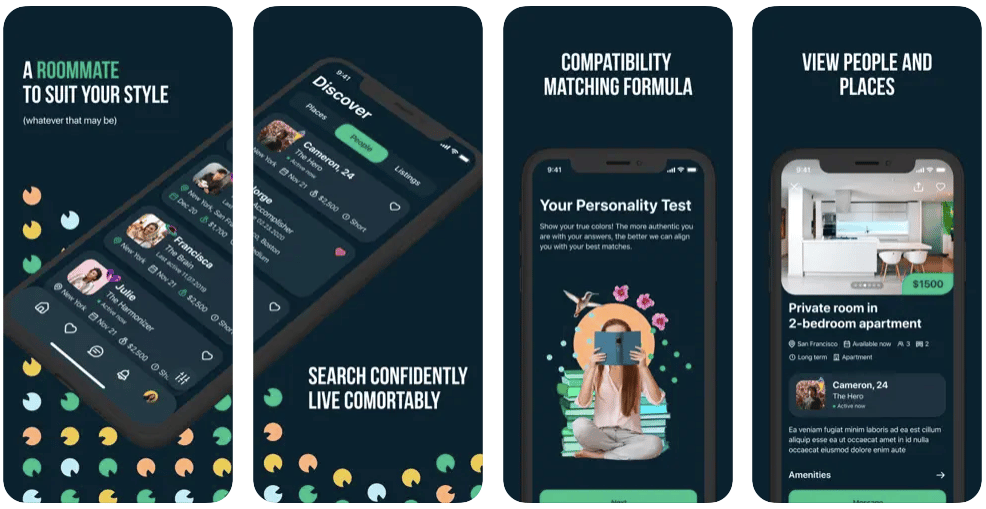 Price: Free
Roomaters is a roommate finder app that connects roommate seekers based on lifestyle similarities and personality compatibility. The app helps users make informed decisions about their future roommates. Also, Roomaters is an app that combines data-driven matching technology with a personality test developed by a relationship psychologist and aims to make it easy for you to identify your correct roommates. Based on users' responses, the app's matching technology can immediately identify what users are likely to click on or like.
Plus, the app is an excellent resource for searching for cozy local apartments in your area. Roomaters allows you to learn about home amenities, locations, and photos. You can send message requests and chat with potential roommates via the app's secure in-app messaging platform.
Plus, visit Roomaters' website for more information on the app.
---
Also Read: The 5 Best Homework Planner Apps For Students
---
Roomi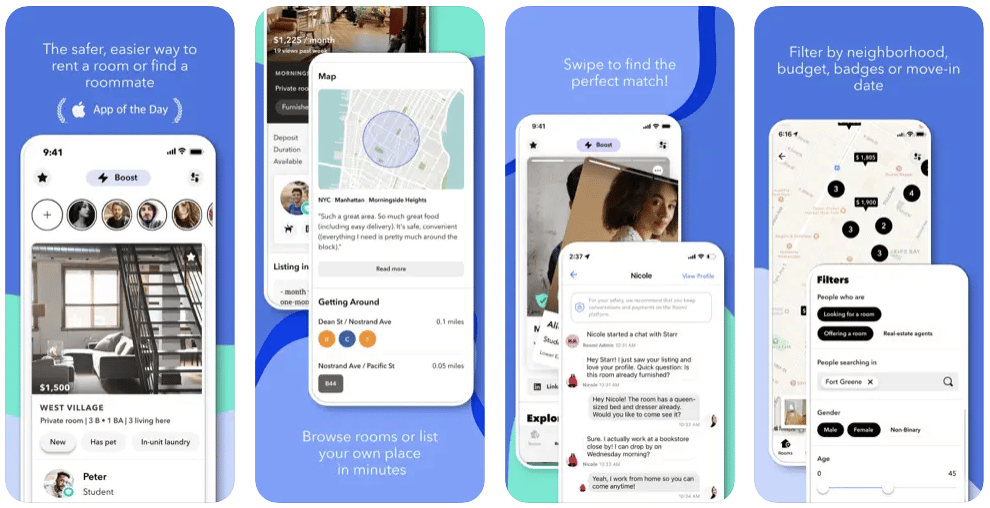 Price: Free/In-App Purchase:
Roomi can be safely used in over 200 cities worldwide and is among the best roommate finder apps. The app helps you rent your spare room at no extra cost and find a flatmate or roommate on your terms. Also, the app allows you to rent rooms from verified roommates and quickly find monthly rental apartments, rental rooms, and sub-rents.
Furthermore, the app has paid features such as verification with an ID and Background check, login boosting to speed up house/roommate search, and profile boosting to find rental rooms faster.
Plus, you can find more information on Roomi's website.
---
Also Read: The 5 Best Dog Training Apps for iPhone and Android
---
RoomEasy
Price: Free/In-App Purchase: $7.99 – $24.99
RoomEasy is an app to help you find the right roommate/flatmate and is one of the best apps for roommates. The app allows you to view all profiles looking for apartments in your preferred city.
Also, personal tags added to the profile in the app help you understand personal information and filter accordingly. Student, musician, early bird, Non-Smoker, Foodie, Clean, or Animal Lover are just a few of the profile tags.
Moreover, users can view all the apartments in the city of their choice and review their amenities and amenities through RoomEasy. Also, RoomEasy provides its users with apartments for rent from cities such as New York, San Francisco, Houston, Charlotte, Amsterdam, London, Portland, San Diego, Chicago, Indianapolis, Boston, Los Angeles, and Barcelona.
Plus, for detailed information, you can visit RoomEasy's website.
Roommates by Roomster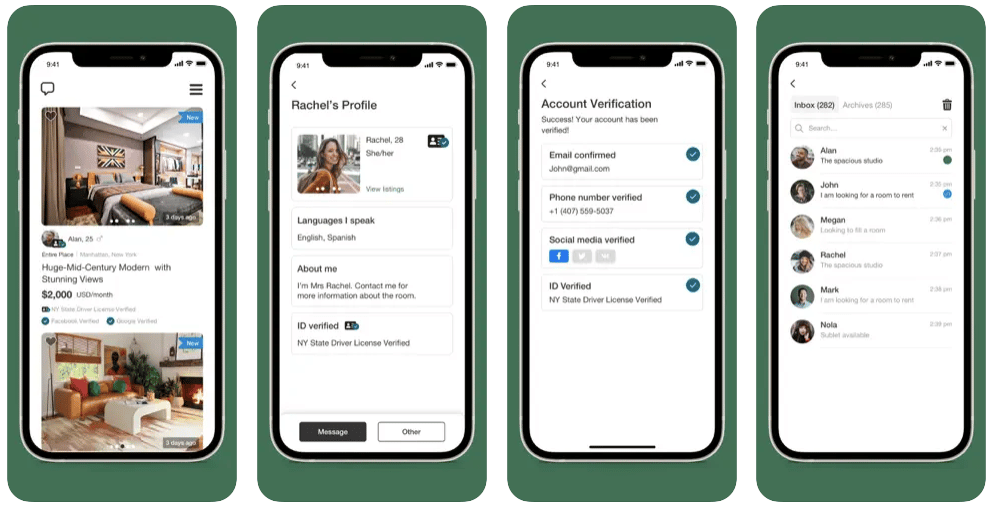 Price: Free/In-App Purchase: $2.99 – $49.99
Founded in 2003, Roomster is an app that has secured the experience of sharing a house and is among the best apps for roommates. The app brings together like-minded people from around the world and connects people at all price points in 192 countries.
Additionally, you can chat with your potential roommate and ask questions with Roomster's in-app messaging feature. The app offers the latest rooms posted by people looking for roommates and is constantly up to date.
Furthermore, the app has customer service that provides 24/7 service. In case of a problem, customer service will assist you and guide you in the right direction.
Plus, you can access more information on the app's website.